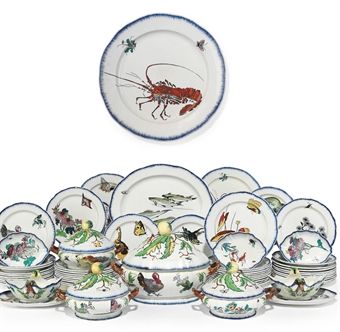 A Creil pottery 'Service Rousseau' part dinner-service, circa 1866, printed Creil L M & co./Montereau/modàle E.Rousseau/A/Paris, impressed numerals
Printed and painted in a bold palette with Japonaiserie designs after Felix Braeguemond and Eugene Rousseau, including stylised fish, birds, insects and flowers, within blue feuilles-de-choux borders, comprising:
A large oval two-handled tureen and domed cover with fruit finial
Three circular vegetable tureens and covers with fruit finials
A large oval fish-dish
Two oval two-handled double-lipped sauceboats and fixed stands
Three circular dishes in two sizes
Three fluted oval small dishes
Three soup-plates
Thirty-seven plates
(some damages, losses and restoration) (53)
Estimate £6,000 - £10,000. Lot sold £20,000
Provenance : Almost certainly a wedding present to Lady Rachael Charlotte Wyndham-Quin (1872-1901) on the occasion of her marriage to Desmond FitzGerald, 27th Knight, on 28 October 1897 and thence by descent.


Notes: The 'Service Rousseau' is considered to be one of the earliest interpretations of Japonisme in French decorative arts. Inspired by Hokusai's woodcuts that Felix Bracquemond had 'discovered' in 1856, the service was exhibited to great acclaim at the Paris Exhibitions of 1867, 1878 and 1889, the London Exhibition of 1871 and the Vienna Exhibition of 1873. Bracquemond's engravings for this service were so successfully reproduced that the designs were continued into the 20th Century.

For a discussion of this service see Philippe Thiébaut et al, 'Art, Industrie et Japonism, Le Service 'Rousseau' Exhibition Catalogue, Musée d'Orsay, 7 March - 26 June 1988, and Régine de Plinval de Guillebon, Fäience et Porcelaine de Paris, Dijon, 1995, p. 209, pl. 201. E.
Christie's. Glin Castle - A Knight in Ireland. 7 May 2009. London, King Street www.christies.com Photo: Christie's Images Ltd. 2009