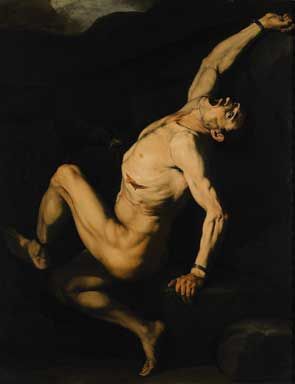 Jusepe de Ribera, called Lo Spagnoletto (1591-1652), Prometheus, oil on canvas, est: £800,000-1.2 million. Photo: Sotheby's
LONDON.- Sotheby's London announced a two-day single-owner sale of property from The Barbara Piasecka Johnson Collection at its New Bond Street saleroom on the evening of Wednesday, July 8, 2009 and then the following day on Thursday, July 9. As an art connoisseur, humanitarian and philanthropist, Barbara Piasecka Johnson - the wife of the late J. Seward Johnson Sr, one of the co-founders of the Johnson & Johnson medical and pharmaceutical firm - has been a well-known figure in the art world for many decades and her distinguished collection is internationally renowned for its quality and focus on Renaissance works of art and Italian and Spanish Baroque painting. The spectacular single-owner sale will bring to the market a wealth of paintings, sculpture, furniture and objets d'art - all with a unique spiritual aesthetic - and is expected to total in the region of £5 million. It will be a tribute to Mrs Piasecka Johnson's knowledge and judgment as a collector and art lover. Highlights from the collection will be exhibited at Sotheby's New York, Madrid and Paris in the months and weeks leading up to the sale.

Old Master Paintings will form the core of the single-owner sale and these span a period of some 200 years, from the late Gothic period to the High Baroque. The selection is particularly rich in Italian Renaissance and early Baroque works but also features major examples from the Spanish, French, Netherlandish and German schools. One of the key attributes of the group is how it reflects the enormous role that religion has played in the greatest works of Western Art.

With an estimate of £800,000-1,200,000, Jusepe de Ribera, called Lo Spagnoletto's dramatic Prometheus will be one of the stars of the paintings on offer. The painting, a masterpiece of High Baroque art, represents one of the most important re-discoveries and additions to Ribera's work in recent years and it is also of significance given that it is arguably his first rendering of a mythological subject as well as a prime example of his terribilità. The composition's epic scale - it measures 194cm by 156 cm - also reflects the fact that it was the artist's first undertaking on the theme of the giants or titans of classical antiquity, a subject for which he is perhaps best known; the torture of Prometheus is one of the most famous of the Greek myths. Prometheus is the precursor to two of his most celebrated works – the great Tityus and Ixion of 1632, which today hang in the Museo del Prado in Madrid.