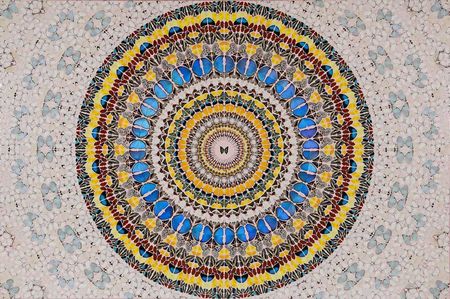 Damien Hirst, Tranquility, from the "Butterfly" series. This is the first time that a work by Damien Hirst has been offered at auction in Hong Kong, and also the first time that a work from his "Butterfly Series" has appeared at auction in Asia
HONG KONG.- Seoul Auction, Korea's leading art auction house, will present an exceptional array of Western and Asian art in the Modern and Contemporary Art sale to be held on 15 May, 2009 at 2pm at the Grand Hyatt Hong Kong. A total of 112 works with an estimated total value of HK$78 million (US$10 million) by leading Western and Asian artists and emerging artists from Korea, Japan, China, Indonesia and India will be featured, reflecting the dynamic vibrancy of Asian artistic talent.

"Seoul Auction played a pioneering role as the first auction house to offer Western masterpieces in Hong Kong in our debut sale last October," said Misung Shim, Managing Director, Seoul Auction Hong Kong Ltd. "Now we are very privileged and excited to present a masterpiece from Damien Hirst's renowned "Butterfly" series to the Asian audience for the first time. The inclusion of this iconic work as the highlight of our sale demonstrates our commitment to establishing Hong Kong as a truly international art hub."

"We have assembled a carefully curated selection of acclaimed Western masters as well as works of superlative quality by Asian artists. We offer these works at attractive prices and a competitive buyer's premium, providing a unique opportunity for international collectors to acquire superb works of art." Ms Shim remarked.

WESTERN ART The star lot in the sale is Tranquility, a spectacular work by the famous British artist Damien Hirst from his highly acclaimed "Butterfly" series (Estimate on Request). This is the first time that a work by Damien Hirst has been offered at auction in Hong Kong, and also the first time that a work from his "Butterfly Series" has appeared at auction in Asia.

Damien Hirst's (b. 1965) butterfly paintings drew attention at his first solo exhibition in London in 1991. He bred butterflies in a box in his studio and put them live on the canvas, capturing the processes of their hatching and death in his work. He gained international reputation in the 1990s when he exhibited cows, sheep and a shark in vitrines full of formaldehyde. In 2007 he recalled the theme of death in For the Love of God (2007), a human skull encrusted with 8,600 diamonds, symbols of eternity.

The butterfly is a symbol of eternity and resurrection in both Western and Oriental cultures. Hirst applies live butterflies to the canvas to present his ideas of life and death. Since 2002, his butterfly works resemble the rose windows of Gothic cathedrals which brought beautified light inside the church. Hirst uses such religious symbols to express a longing for eternal life. Tranquility appears like a Mandala or kaleidoscope, a huge canvas with countless butterflies spreading outwards. The butterflies are dead but immortalized on the painting. Thus he expresses his belief that neither religion nor science, but only art remains perpetual.

Also on offer are two silkscreen prints with glaze diamond dust: For the Love of God, the Diamond Skull and For the Love of God, The Laugh by Damien Hirst (Estimate: HK$180,000-280,000/ US$23,000-35,000).

A bronze sculpture by the Colombian artist Fernando Botero (b. 1932) depicts a Greek goddess, though small in scale, well represents Botero's distinctive style (Estimate: HK$1,100,000-1,700,000/US$140,000-210,000). Botero portrays people from all walks of life in his paintings and sculptures. His distinctive figures with their ludicrously exaggerated proportions are full of individuality and humour.

Nana with Handbag by the French artist Niki de St. Phalle (1933-2002) is a painted polyester resin sculpture in the artist's unmistakable style (Estimate: HK$390,000-500,000/ US$50,000-64,000). Nana" is somewhere between "mama" meaning mother, "nonna", Italian for grandma, and "nanny" meaning nurse, thus representing all women in contact with children. Niki de St. Phalle habitually made plump, pleasurable images of women in primary colours, instead of the slim, elegant female bodies adored by society.
JAPANESE ART The highlight of the Japanese section of the sale is Venus No. 1, Statue of Venus (Obliterated by Infinity Nets) by Yayoi Kusama (b. 1928) expected to fetch over HK$3.5 million (US$448,720). Kusama has become a legend in Japanese contemporary art. Since childhood she has experienced hallucinations and sees everything as if covered by fields of polka dots, or "infinity nets". Both in her paintings and sculptures, she started to paint these dots and sees them as cells, particles and messages from the universe. Dating from 1998, this is one of the most important pieces in the "Infinity Nets" series. The red monochromatic web-like patterns go beyond the surface of the canvas into a third dimensional space.

Another remarkable work is The Girl in Green by the leading contemporary Japanese artist Yoshitomo Nara (b. 1959) (Estimate: HK$1,200,000-1,700,000/ US$154,000-218,000). Nara is influenced by Japanese comic books (anime and manga) and American pop culture. He uses cartoonish lines to depict dreamy-eyed children who look cute and vulnerable, yet at the same time mischievous or even malevolent.

CHINESE ART Leading the Chinese section is Pink Rose in a White Vase by the esteemed Chinese master Sanyu (Chang Yu, 1901-1966), expected to realize in excess of HK$5.5 million (US$705,130). Known to many as the "Matisse of the East", Sanyu began to use flowers as his main motif in his still-life paintings in the 1930s. His soft colour schemes together with his bold usage of lines evolved from his training in Chinese ink painting, which he melded with Western Modernist art.

Untitled 06-1 by Zeng Fanzhi (b. 1964), executed in 2006, is another highlight (Estimate: HK$3,900,000-4,680,000/ US$500,000-600,000). The strong appeal of Zeng Fanzhi's recent works comes from the tension created by the furiously intense brush strokes. In contrast with the restrained lines of his "Mask Series", since 2003 his work is characterized by an erratic chaos of scratched lines on the canvas.

Army Princess by Ling Jian (b. 1963) is a stunning portrait (Estimate: HK$700,000-780,000/ US$90,000-100,000). According to Ling Jian, the cold skin of the lady in his painting symbolizes a high degree of spiritual indifference and melancholy that come about when ideals have vanished.

KOREAN ART Among the wide diversity of Korean art works on offer is an impressive oil painting Pens 7 (Estimate: HK$900,000-1,200,000/ US$115,000-154,000) by Hong Kyoung Tack (b. 1968) from his famed "Pencil" series, in which he rearranges pens using sleek textures and gorgeous colours within a geometrical structure.

Lee U Fan (b. 1936) draws and repeats lines on a canvas until the pigment on his brush runs out. From the Line (Estimate: HK$950,000-1,300,000/ US$120,000-170,000) is perhaps the most highly regarded in his oeuvre, as it unveils his artistic theory through a focus on existence, extinction and continuous formation. Clark Gable by Kim Dong Yoo (b. 1965) (Estimate: HK$440,000-770,000/ US$56,000-100,000) is made up of stamp-sized, pixel-like units each depicting Vivian Leigh, which from a distance, appear as an image of co-star Clark Gable.

INDONESIAN AND INDIAN ART
Super Soccer Player by the Indonesian artist I Nyoman Masriadi (b.1973) (Estimate: HK$1,170,000-1,400,000/ US$150,000-180,000) is typical of his style, reflecting both his strong political ideas and his passion for life.

Bad or Good, Indonesia is My Homeland is a superb painted aluminum bronze sculpture by Agapetus A Kristiandana (b. 1968) (Estimate: HK$250,000-300,000/ US$32,000-38,000). Agapetus uses surrealist animal shapes to symbolize human isolation and alienation. This sculpture shows that even under the shackles of reality, human beings still long for a sense of belonging.

Two outstanding works by Indian artists are featured in the sale: Looking Towards Future by Chintan Upadhyay (b. 1972) (Estimate: HK$824,000-1,000,000/ US$105,000-128,000) and Somnium Genero 06 @0230 HRS by Thukral & Tagra (b. 1976, 1978) (Estimate: HK$220,000-330,000/US$28,000-42,000).