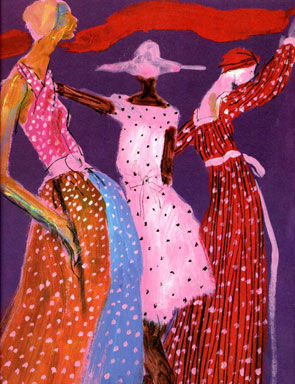 Block illustration 1970. (No designer identified). Photo: Courtesy, Museum of Fine Arts, Boston
BOSTON, MA.- The Museum of Fine Arts, Boston, has been chosen to receive the archive of original drawings by one of the 20th-century's most influential fashion illustrators, Kenneth Paul Block (1924-2009). As the primary illustrator for noted women's fashion magazines Women's Wear Daily (WWD) and W from the late 1950s to the early 1990s, Block documented one of the most transformational periods in fashion history. The gift from the artist, which includes 1,844 original 20th-century fashion illustrations and couture sketchbooks, as well as five boxes of supporting materials, positions the MFA as a leader in the collection of 20th-century fashion illustration. The drawings included in this gift are representative of Block's four-decade-long career, and reflect the work of a wide range of designers including, Yves Saint Laurent, Pierre Cardin, Halston, Oscar de la Renta, and Geoffrey Beene. Jean S. and Frederic A. Sharf, Eminent Benefactors of the MFA, have made an additional generous gift to assist the Museum in cataloguing and photographing the archive in preparation for its availability on the web.

"Kenneth Paul Block was arguably the greatest fashion illustrator of our time, and the MFA is honored to house his life's work," said Malcolm Rogers, Ann and Graham Gund Director of the MFA. "This collection will greatly expand the range of the Museum's holdings in the area of fashion illustration, and will be a valuable complement to our 20th-century fashion collection."

Included in the gift are Block's editorial illustrations, where he captured the designs of the moment at the bi-annual Paris fashion shows, as well as portraits of American society figures such as Babe Paley, the Duchess of Windsor, Nan Kempner, C.Z. Guest, and Jacqueline Kennedy. Also featured are advertising illustrations for individual cosmetic firms such as Charles Revson of Revlon, designers such as Halston, and department stores such as Lord & Taylor and Bergdorf Goodman. Other works include freelance designs for posters and book covers, Block's couture sketchbooks from 1966 and 1969, and a large assemblage of newspaper and magazine tear sheets.

"The illustrations created by Kenneth Paul Block while elegant and extraordinarily accurate depictions of fashionable dress, also reflect the times in which they were worn and the evolution of women's place in society," said Pamela Parmal, David and Roberta Logie Curator of Textile and Fashion Arts. "These illustrations will serve as a valuable resource for scholars, fashion designers, and students for generations to come."

Block is the subject of a recent book, Drawing Fashion: The Art of Kenneth Paul Block (Pointed Leaf Press, 2008) written by Susan Mulcahy, with an introduction by Isaac Mizrahi and a forward by frequent subject and client Yves Saint Laurent. His work also was included in a recent exhibition, In the Line of Fashion, currently on view at the Society of Illustrators Museum in New York.
Portrait of Gloria Guinness from 1962 wearing a beige Dior linen dress in Palm Beach. It appeared on page one of Women's Wear Daily on February 7, 1962. The jeweled pin she is wearing is a miniature of the flag from the Guinness yacht and the sculpture on the table is by Isamu Noguchi. Photo:Courtesy, Museum of Fine Arts, Boston.