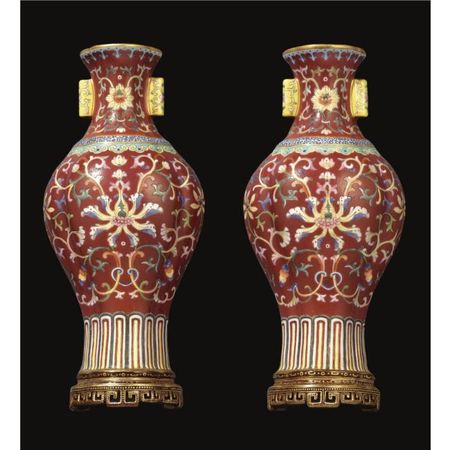 A fine pair of 'famille-rose' wall vases. Qianlong seal marks and period
each of flat-backed lobed baluster form with tall flaring neck set with a pair of tubular handles and supported on a pierced simulated wood stand, brightly enamelled to the front face with leafy lotus strapwork reserved on a rich crimson ground between ruyi and lotus-lappet bands, the reverse pierced for suspension and enamelled with tiny florets reserved on a crimson ground, the interior glazed turquoise. 21cm., 8 1/4 in. Est. 30,000—50,000 GBP
NOTE: The present pair of vases is an excellent example of the dexterity of 18th century imperial porcelain manufacturers at Jingdezhen who produced an immense variety of styles and constantly devised further novelties to satisfy the Qianlong emperor's predilection for idiosyncratic forms and designs. Once a large palette of enamel colours was attained, the possibilities were virtually unlimited. During Qianlong's reign, simulations that were often difficult to distinguish from the 'real' were produced and these pieces became the trompe-l'oeil of ceramics. The present pair of wall vases, with bases simulating wood, is a good example of the technique of combining the 'real' with the trompe-l'oeil.
Another noteworthy invention of the Qianlong period was the wall vase, which was made in pairs, flattened at the back as though cut in half and was generally hung inside sedan chairs. In a poem inscribed on one porcelain wall vase, the Qianlong emperor comments on the pleasure provided by these vases when filled with wild flowers, which allow him to enjoy their fragrance while the 'red dust' (cares of the world) cannot reach him (see China. The Three Emperors 1662-1795, exhibition catalogue, Royal Academy of Arts, London, 2005, p. 445). A group of Qianlong wall vases of different forms, several with simulated wood stands, can be seen in situ at the Sanxitang (The Studio of Three Rarities) in the Palace Museum, Beijing, illustrated in the exhibition catalogue Treasures from the Palace Museum, Peking, Tokyo, 1982, pl. 33.
Compare wall vases of various shapes and simulated stands; for example see an ovoid vase decorated with bands of decoration with an imitation wood stand sold in our London rooms, 7th April 1981, lot 284; a pear-shaped version with an inscription sold in these rooms, 29th November 1977, lot 156; and an ovoid vase also with an inscription and a stand imitating lacquer , sold at Christie's Hong Kong, 26th April, 1999, lot 526.
Sotheby's. Fine Chinese Ceramics & Works of Art. 13 May 09. London www.sothebys.com photo courtesy Sotheby's.