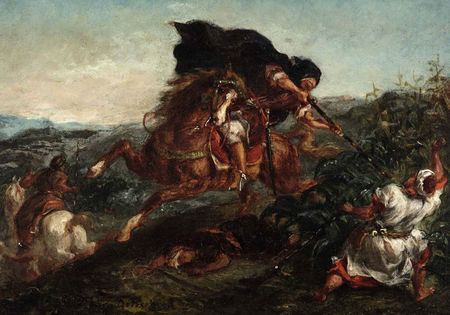 Eugène Delacroix, Le Combat, oil on paper laid on panel, est: £300,000-500,000. Photo: Sotheby's
LONDON.- Sotheby's forthcoming sale of 19th Century European Paintings in London on Wednesday, June 3, 2009 will bring to the market a fine selection of works from the Orientalist genre, a corner of the international market that has seen its profile continually gather momentum on the international stage in recent years. In 2008 Sotheby's sales of Orientalist Art worldwide brought a combined total in excess of $36 million.

Eugène Delacroix's (1798-1863) Le Combat is the most valuable of the Orientalist works on offer in London in June with an estimate of £300,000-500,000. Painted circa 1856-58, the highly focused composition epitomises the eminent French artist's dynamic North African subjects. The work – which is brimming with energy – portrays a cloaked combatant on his rearing horse taking two attackers, lying in ambush, by surprise and it combines Delacroix's first-hand experience of Morocco with his own romantic vision.

Widely celebrated as the most innovative, influential and accomplished artist of the 19th-century Orientalist school, Delacroix brought to this work a love – and understanding – of the Near and Middle East that is second to none. He was already an established artist when he was invited to join a diplomatic delegation to Morocco led by Charles de Mornay, who had been summoned by the King to appear before the Sultan of Morocco, Moulay Abd er-Rahman. The North African journey proved a thrilling experience for Delacroix and it heralded a whole new departure in his work, providing an endless array of subjects that would dominate his painting for the rest of his career. Perhaps the most important legacy of the North African trip was that it inspired Delacroix to synthesise his classical tradition – the basis of his artistic training – with a new-found exoticism that touched his romantic temperament. This inspiration is evident in Le Combat with his mixing of the North African costumes and the pyramidal form of the riders and horses, a quintessentially classical construct taken from the Venetian Renaissance. Le Combat has been in the same private collection since 1975 so its appearance at auction represents a rare opportunity for collectors in the Orientalist field.

Talking about Le Combat, Claude Piening, Senior Director in 19th Century European Pictures at Sotheby's, commented: "We're thrilled to be offering this exceptional work by Delacroix in June. Top Orientalist subjects by the artist such as this rarely appear on the market, and this one certainly ranks as the most important that we have seen at Sotheby's since we sold Femmes à la Fontaine for £1.2 million in June 2006. The composition is full of energy, colour and drama and it really epitomises what French Romanticism is all about."

Rudolf Ernst (1854-1932), one of the most celebrated and sought-after Orientalist painters of the 19th century, is represented by The Visit, estimated at £100,000-150,000. Ernst's best-known Orientalist subjects include colourful portrayals of the traditional professions and customs of the Ottoman world. The Visit is unusual, however, in that it depicts a figure arriving at an entrance and not the more typical entrance with a figure standing guard. The painting has been in a private collection since the 1980s.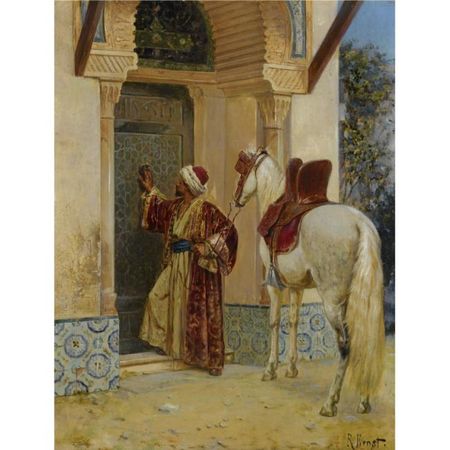 Rudolf Ernst, The visit, oil on panel, 39 by 30cm., 15½ by 11¾in. Est. 100,000—150,000 GBP
The British artist Edwin Long (1829-1891) had a penchant for travel and spent a great deal of time in Spain in particular. In 1874 he also visited Egypt and Syria and it was this trip that ignited his career as an Orientalist painter. The Palace Guard, estimated at £80,000-120,000, captures a maidservant leaning leisurely against an intricately ornamented wall while observing a palace sentry drinking coffee. The painting clearly demonstrates Long's mastery at painting textures and surfaces; the textiles, embroidery, metals and tiles are all executed with impressive skill.
Edwin Long, The palace guard, oil on canvas. Est. 80,000—120,000 GBP
Two works by the French artist Théodore Chassériau (1819-1856) will feature and both have exemplary provenance. Tête de jeune algerienne juive, estimated at £50,000-70,000, is being offered for sale by the estate of the artist while Cavalier arabe faisant boire son cheval, estimated at £40,000-60,000, was once part of the collection of the artist's second cousin, Baron Arthur Chassériau, who was an avid art collector and founder and Vice-President of the Société des Peintres Orientalistes.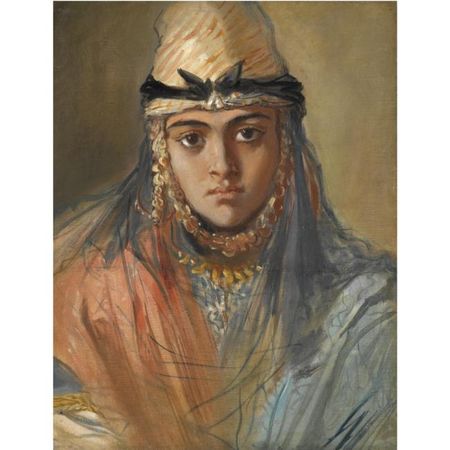 Théodore Chassériau, Tête de jeune algerienne juive, oil on canvas, 52.8 by 40.4cm., 20¾ by 16in. Est. 50,000—70,000 GBP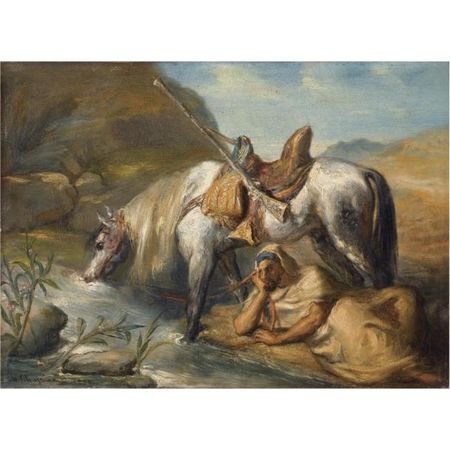 Théodore Chassériau, Cavalier arabe faisant boire son cheval, oil on panel, 27 by 36cm., 10½ by 14¼in. Est. 40,000—60,000 GBP
Further highlights of the sale include compositions by the French artist Germain Fabius Brest (1823-1900) and the American Walter Gould (1829-1893) and Harem Girls Fishing by the Bosphorus by the Italian artist Fausto Zonaro (1854-1929). The latter work – which closely relates to another oil of this subject that was sold at Sotheby's in 2007 - has never appeared at auction before having descended through a number of private Italian collections and is expected to bring £40,000-60,000.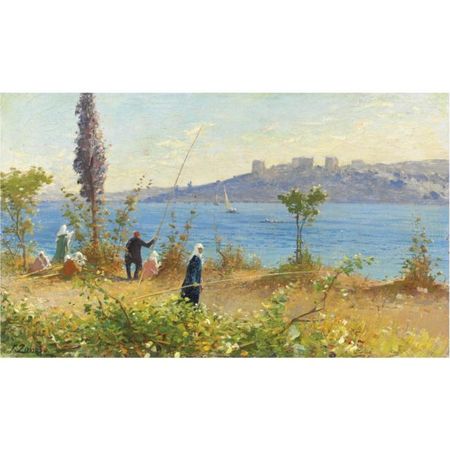 Fausto Zonaro, Harem alla pesca sul Bosforo (Harem Girls Fishing by the Bosphorus), oil on canvas laid on board, 41 by 67cm., 16¼ by 26¼in. Est. 40,000—60,000 GBP