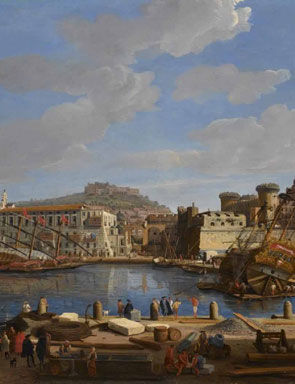 The Darsna delle Galere and Castello Nuovo at Naples, 1703, Caspar van Wittel, Oil on panel, 755 x 1410mm, © National Maritime Museum, Greenwich, UK.
SALEM, MA.- The Peabody Essex Museum presents The Golden Age of Dutch Seascapes, 70 works by Dutch masters of maritime art working in the time of Rembrandt and Vermeer. Painted during the peak years of Dutch artistic achievement between 1600 and 1700, these superlative, emotional works are the first in which European artists realistically depicted natural settings, rendering coastal atmospheres with great focus and virtuosic technique. Artists such as Jacob van Ruisdael, Jan Porcellis, Simon De Vlieger and Ludolf Backhuysen were masters of air, light and water, and used their prodigious talent to convey a world of political allegory and mystical allusion on canvas.

"These paintings offered a completely new experience in Western art — a you-are-there quality that places the viewer within the setting, amidst thunderstorms, driving wind, and white-capped seas," said Daniel Finamore, the Museum's Russell W. Knight Curator of Maritime Art and History, "The ocean was no longer a mere backdrop, but a vital natural force to be contemplated, confronted and rendered with passion."

Nothing matches the sea as a subject for its versatility, its many moods, and the endlessly intriguing optical effects of water and light. Dutch masters of paint and color attracted to the seascape developed novel approaches to composition and technique. The methods pioneered by the artists in this exhibition traveled well, spreading from the Netherlands to England, the rest of Europe, and ultimately to the Americas, serving as the foundation for the many examples of maritime paintings in the collection of the Peabody Essex Museum. Fittingly, the Museum is the only U.S. venue for this exhibition, originating from the National Maritime Museum, Greenwich, UK.

The Sea – A New Subject
With works celebrating Dutch trade and commemorating military victories, the seascape became a popular genre serving the tastes of a prosperous Dutch Republic. Aristocratic patrons and wealthy burghers commissioned works intended for intimate viewing and public display.

A Sea of Symbols
The sea and the vessels traversing it bore rich meaning for Flemish and Dutch artists, who voraciously mined the visual vocabulary offered by maritime subjects. A ship could represent the progress of an individual soul or the unified destiny of a nation with equal impact. Storms and shipwrecks supplied ample drama in the form of obvious danger from greater powers, as in Seascape with Sailors Sheltering from a Rainstorm by Bonventura Peeters the Elder, while half-hidden rocks and submerged sea creatures suggested mystery, uncertainty or the realm of the supernatural. Military assertions and ecclesiastical refuge took geological forms that clearly communicated the artist's position — or that of his patron — on Dutch political or spiritual life.

Vistas of the Netherlands
As the Dutch emerged as a world military and economic presence, they projected an increasingly consistent image of their country and lifestyle through their art. Luminous streams of sunlight amid atmospheric clouds characterize a typical lowland sky. Coastal cities as depicted Abraham Storck were recognizable to 17th-century inhabitants and represented the general nature of Dutch life at the time, rather than resorting to biblical allusions or historical conventions.

Far Horizons
National exploration and expansion enlivened Dutch painting, fueling a particular desire for Scandinavian and Mediterranean scenes. Commercial relationships ultimately altered Dutch taste and imagination with fir trees and glaciers from the North, and idealized monuments and ruins from the South. Art aficionados would be familiar with such Italian settings, and the very sight of them evoked pleasure, elegance and exoticism. The sun-suffused A Spanish Three-Decker at Anchor off Naples by Abraham Willaerts breezily captures Mediterranean light and atmosphere and would have deftly transported Dutch viewers abroad.

Patronage, Battles and the Exotic
The inspiration of military might in Golden Age painting cannot be overstated. Netherlandish forces were unabashed in their celebration of naval victories and heroes. Pictures such as A Dutch Settlement in India, Probably Surat by Ludolf Backhuysen were commissioned by Dutch provincial potentates, cities or by the admirals themselves. Artists often accompanied the fleet to commemorate battles, at times compressing various episodes of a naval event into a single scene, bringing all of the pictorial power of war and seascape to bear. The interplay of gun smoke, fire and water tested the limits of artistic technique and infused every painting with potency and true bravado.

The Conservation of Dutch Paintings
The preservation of fine art is as fascinating as the works themselves. The Peabody Essex Museum will host a conservator on site in The Golden Age of Dutch Seascapes galleries to offer our visitors the opportunity to see a painting restored to its original condition, in real time. The conservator-in-residence will be available to answer questions about conservation materials, methods and the project in progress.
Italianate Harbour Scene with the Monument of Ferdinand I de' Medici at Leghorn, 1670, Hendrik van Minderhout, Oil on canvas, 1475 x 2615mm, © National Maritime Museum, Greenwich, UK.