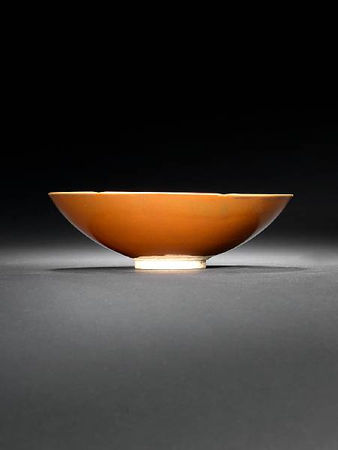 A rare 'Dingyao-type' persimmon-glazed bowl, 11th/12th century

Finely potted with gently rounded sides rising to a six-notched rim, supported on a short foot, applied overall with a lustrous persimmon russet glaze, thinning to a pale mushroom colour at the rim, the glaze stopping short of the base to reveal the pale white body. 17.8cm (7in) diam. Sold for £5,040
Provenance: Sven Björkland, Sweden, purchased in the 1970s

Note: The shape and russet colour of the present bowl is reminiscent of Northern Song and Jin Dynasty lacquer and it is believed that Ding wares with persimmon glazes were produced after lacquer prototypes. The similarity in colour and form in the two materials is demonstrated by a persimmon-coloured lacquer tea-bowl stand, excavated from a Song tomb at Heqiao, Jiangu Province and a persimmon-coloured Ding ware teabowl-stand, as illustrated and discussed by R.Krahl, 'Song Lacquer: Model for Imperial Porcelain', Chinese lacquer from the Jean-Pierre Dubosc collection and other, Eskenazi, London, 1991, p.10, figs.3-4.

Ding-type wares with black or russet glazes have been excavated from the Song and Jin Dynasty kiln site in Jianci village in Quyang County, the different excavation strata have helped establish a chronology for russet-glazed wares. See R.D.Mowry, Hare's Fur, Tortoiseshell, and Partridge Feathers, Cambridge, 1996, p.104, where it is argued that examples where the foot is of uniform thickness; the bottom edge of the foot ring gently rounded; and knife marks from shaping the foot are clearly visible, all date from the 11th century. Whereas, from the mid-12th century onwards, the foot ring is almost fully coated with glaze. Two 11th century conical bowls from this exhibition are published in ibid, pp.107-110, Catalogue nos.14-15. A comparable lobed example (17.2cm) and dated to mid-Northern Song is illustrated in Song Ceramics from the Kwan Collection, Hong Kong, 1994, pp.82-83, Catalogue no.23.
Bonhams. Fine Chinese Art, 14 May 2009. New Bond Street www.bonhams.com