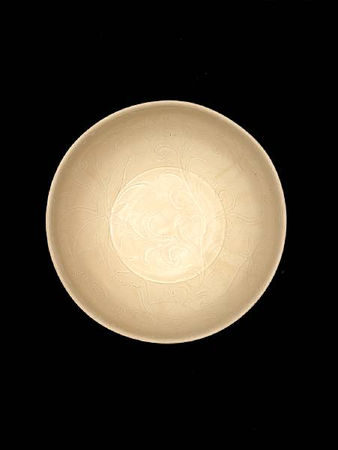 A rare carved Dingyao deep 'lotus' bowl, Song/Jin Dynasty

Thinly potted with deep rounded walls rising to the slightly flared rim, supported on a short foot ring, the interior freely carved with a single undulating lotus spray bearing blossoms, the exterior carved with six vertical grooves, covered overall with an ivory-toned glaze pulling at crevices and stopping short of the unglazed rim and foot ring, box. 25.6cm (10in) diam. (2). Estimate: £70,000 - 90,000 - Unsold
Provenance: A Canadian private collection, Toronto
J. Abraham Cohen Collection, New York

Note: Ding wares are ranked among the 'five great wares of the Song', a term used by collectors of the Ming and Qing dynasties, and the Dingzhou kilns have been identified at Quyang in Ding County, Hebei Province.

Ding wares are renowned for their elegant form, the natural fluidity of the carved lines and the quality of the porcelain body. The lotus blossom, decorating the present lot, is one of symbols of the bajixiang (Eight Buddhist Emblems), representing purity and integrity because it rises clean out of the muddy water in which it grows. It was a popular motif throughout the Song Dynasty, frequently featuring on white-glazed Ding ware.

Compare a similar Ding deep bowl from the Tokyo National Museum, excavated at a Koryo tomb in kaesong dated 1152, with the interior carved with lotus design and the exterior with vertical grooves, included in the Nezu Institute of Fine Art, Tokyo, exhibition White Porcelain of Ding Yao, Tokyo, 1983, Catalogue no.121. See also related Ding deep bowls from the Qing Court Collection, carved with lotus, but also on the exterior, illustrated in The Complete Collection of Treasures of the Palace Museum. Porcelain in the Song Dynasty I, Hong Kong, 1996, pls.47 and 55; and a related large Ding bowl from the Victoria and Albert Museum, London, accessioned in 1926, no.C217-1926. A smaller deep bowl, incised on the interior and exterior with lotus, sold at Sotheby's London, 14 May 2008, lot 253.
Bonhams. Fine Chinese Art, 14 May 2009. New Bond Street www.bonhams.com