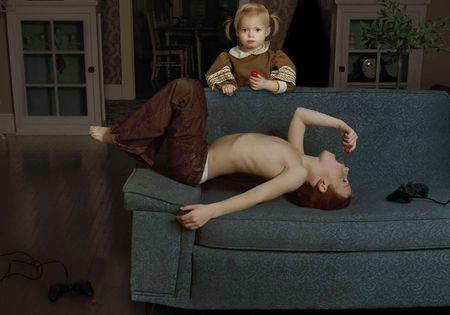 Julie Blackmon, "Cherry", 2006. 24 x 24" Pigment print. Courtesy of the artist and Catherine Edelman Gallery, Chicago
BOULDER, CO.- On June 5, 2009, the Boulder Museum of Contemporary Art will present "Pure Pleasure". This exhibition celebrates the re-opening of the museum following a four-month closure. The museum has undergone renovations to include installation of an elevator and upgrading our jewel of an historic building. We are excited to be able to make our exhibits and programs accessible to a larger community.

"Pure Pleasure" highlights the rich and varied talents of a renowned group of artists from the region and beyond. In diverse media, including photography, painting, assemblage, ceramics, video and installation, these artists explore the boundaries of varied definitions of pleasure.

Bucking recent trends in contemporary art, in which work often appears incomprehensibly esoteric, shockingly grotesque, or intentionally offensive, this exhibition has been conceived to delight the senses. Through pleasures derived from beauty, spectacle, wonder, and nostalgia, while not expecting to redeem a world in pain, we can hopefully allow art to provide a counterbalance or salve to the uncertain and precarious times in which we live. Artists in this exhibition include; Phil Bender, Julie Blackmon, Deborah Dell, Rebecca DiDomenico, Ana Maria Hernando, Tsehai Johnson, Mark Sink and Kristin Hatgi, and Stacey Steers.

Phil Bender is an avid collector of ephemera and pop culture. By amassing and assembling his finds repetitively, he affords us the opportunity to view the seemingly mundane in a new light, as fascinating examples of design and form. For this exhibit Bender will display items found in Paris, France, a place he fondly refers to as bringing him pleasure. Born in 1947 in St. Louis, he is a graduate of Metro State College and the University of Colorado. In 1980 he was one of 7 Colorado artists to found Pirate; A contemporary Art Oasis, one of the first cooperative galleries in the region. He has been exhibited and collected widely in venues including the Denver Art Museum, and the Museum of Contemporary Art Denver.

In the series of photographs "Domestic Vacations" Julie Blackmon uses her family as muse. Her work is rich and playful with an undercurrent of stress and dysfunction. Eerily composed children mingle in a mid-Western household, these photos are vibrant and humorous. A glimpse at familial situations, "Domestic Vacations" doesn't always look perfect and hopefully doesn't always seem serious, what Blackmon embraces is the truth in the maternal realities of chaos while keeping a loving look at family life. An award winning photographer, Julie Blackmon's work has been exhibited at Photo-eye Gallery in Santa Fe, the Catherine Edelman Gallery in Chicago, the Museum of Contemporary Photography in Chicago and the Society for Contemporary Photography in Kansas City, Missouri.

Deborah Dell a ceramicist from Denver, work is unabashedly defined as beautiful. For the series displayed in "Pure Pleasure" she found inspiration in Portuguese gardens. Dell stresses that these vessels are to be used, displaying flowers that enhance the complexity of their design and the beauty of botanical forms. Architectural influences are also implied, building the top of the vase with a decorative woven pattern reminiscent of cloister windows. Deborah Dell teaches ceramics in the art department at Red Rocks Community College.

Rebecca DiDomenico is an active member of the Boulder art community. Last year, she traveled to a Malaysian festival in Borneo where she experienced the beauty and pageantry of a ceremony in which she witnessed boats floating downriver adorned with exquisite colorful umbrellas. Umbrellas are traditionally used to both represent a form of reverence and respect for spiritual deities as well as literal protection from the elements. The multi-sensory sculptural sphere she is creating draws inspiration from both the architectural underpinnings of Buckminster Fuller and her travels. Using a variety of materials both natural and manmade, every umbrella is adorned with unique materials; men's ties, colored baubles, buttons, children's dresses, t- shirts, mirrors and moss. Born in Greenbrae California, she attended Claremont College Trebhuvan University in Nepal, and the University of Colorado. Exhibitions and collections include Denver International Airport, San Francisco Craft and Folk Art Museum, Museum of Contemporary Art Denver and BMoCA.

Ana Maria Hernando is a painter, sculptor, printmaker and poet. She is interested in what she describes as fleeting moments of beauty. During numerous recent adventures in the mountains of Peru, this artist, known for imagery of flowers, began collecting petticoats worn by indigenous women and girls. Her installation will utilize those pod like cultural adornments and by placing them upside down and inserting lacy materials to resemble petals and pistils, will create a garden of delights with flowers which harbor personal histories. Born in Buenos Aires Argentina, she attended the California College of Arts and Crafts and the School of the Museum of Fine Arts in Boston. Her work has been exhibited nationally and internationally. Collections and exhibitions include International Center of Bethlehem, Tweed Museum, BMoCA, MCA Denver, Museo de las Americas and Denver International Airport. In 2008 she was a recipient of the Neodata Visual Artist Fellowship.

Tsehai Johnson's ceramic installations impress and delight as they navigate the boundaries of domestic life through investigations of labor and pleasure. In "Pure Pleasure" she, will explore the logic and principals of pattern and ornamentation to create order out of chaos. Using clay, a material that can be both mundane and elegant, she will create exotic wallpaper that cascades down the walls into luxurious carpets, encouraging reflection on the tension between beauty and use as expressed through the objects that populate our lives. Born in Ethiopia in 1966, this well-known Colorado artist attended Reed College, Massachusetts College of Art, and the University of Colorado. Exhibitions and collections include Foothills Art Center, Dairy Center for the Arts, Ft. Collins Museum, BMoCA, Museum of Outdoor Arts, and the Museum of Ceramics in N.Y. She is the recipient of a Colorado Council of the Arts Fellowship.

Mark Sink describes himself as a lover and collector of beauty. Involved in many aspects of the art world, this Denver photographer, who, in his early years in New York befriended and photographed Andy Warhol and Jean Michel-Basquiat, is known for his continued devotion to the medium of photography. For this exhibition, Sink, in collaboration with Kristin Hatgi will be displaying a recent series of works, romantic portraits, hung salon style, which hearken back to an earlier time. Sink attended Metropolitan State College and the University of Colorado. His photographs have been exhibited and collected widely in the U.S. South America and Europe, including the Denver International Airport, MCA Denver, Denver Art Museum, the Andy Warhol Estate, the Museo de Bellas Artes in Venezuela, Bloomingdales, and Polaroid Corporation.

Stacey Steers's "Phantom Canyon" is an animation made from over 4,000 hand-made collages. It tells a fanciful and surreal tale about a woman's encounter with enormous insects, an alluring man with bat wings and their pivotal journey. In these collages Steers combines snippets of ancient engravings with figures from 19th century motion photographer Eadweard Muybridge. Binding a sequence of dream-like events, the figures are beautifully composed in every frame of this film, juxtaposing reality with a jarring other worldly tale. Steers's films have been shown widely, highlights include, the Sundance Film Festival, the San Francisco International Film Festival, MoMA/MacDowell Centennial exhibition, Brooklyn Academy of Music and the Corcorran Gallery in Washington DC as well as over 30 film festivals around the world. Exhibitions include a solo show at the Scottsdale Museum of Contemporary Art, Arizona, the Museum of Contemporary Art in Denver, and Lugar a Dudas Artspace, Cali, Colombia.
Ana Maria Hernando, "La Montana Trae Barcas de Azucenas" (The Mountain Brings Us Boats Full of Lilies), Variable dimensions, 2008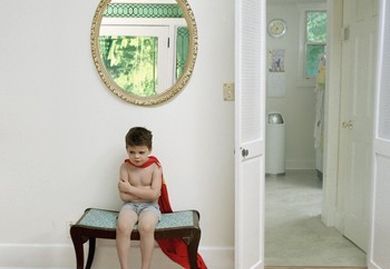 Julie Blackmon, "Time Out" Digital pigment print, 22 x 22", 2006. Courtesy of the artist and the Catherine Edelman Gallery, Chicago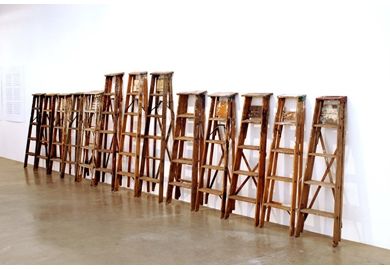 Phil Bender, "Ladders" Installation, 2007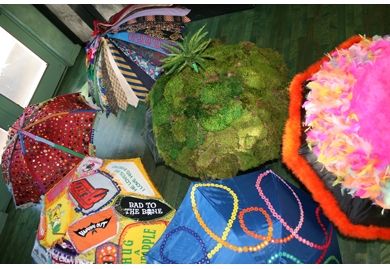 Rebecca DiDomenico, "The Only Real Umbrella Around," Installation of embellished umbrellas, 2009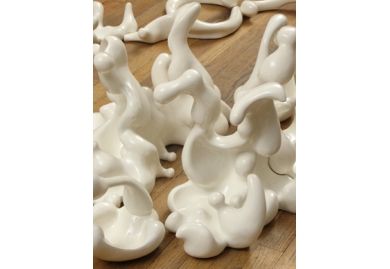 Tsehai Johnson, "Exploding Carpet", Porcelain, Installation, variable dimensions, 2007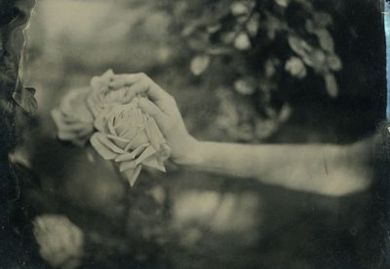 Mark Sink and Kristin Hatgi, Series of Ambrotypes