Helmut Newton, Flight Lieutenant US Navy, Los Angeles, 1990. Colour print mounted to aluminium, h: 48 x w: 48 in / h: 121.9 x w: 121.9 cm. Signed, titled, dated & numbered verso.
May 14 - Jun 19, 2009. Spurred by the astonishing success of the Christie's Constantiner sale in New York, December 2008, Hamiltons proudly announces their forthcoming exhibition HELMUT NEWTON. The Christie's sale, which included the largest selection of Newtons ever sold at auction, fetched a world record price of $662,500 for his photograph Sie Kommen, highlighting the strength and importance of Hamiltons' long standing involvement with Newton's market, having worked with the photographer and his oeuvre for over two decades.
"The superb results achieved for this collection demonstrate the potential of works bought with true passion and considerable connoisseurship to perform magnificently even in the present uncertain economic climate. The results also confirm the central position that Helmut Newton has rightly been accorded as a master photographer of the 20th century…" Philippe Garner, International Head of Photographs, Christie's.
Newton came to prominence in the seventies for his trademark balance between sophistication and style, coupled with his sharp social observation and provocative eroticism. Hamiltons' exhibition presents a selective survey of the photographer's rich career, contrasting some of his most iconic images alongside lesser known; large format alongside small; and black and white alongside colour. Among the highlights are Woman Examining Man, Saint Tropez, 1975 and Catherine Deneuve, Paris, 1983.
Newton, born in Berlin in 1920, commenced his photographic career at sixteen working for renowned Berlin photographer, Yva. At eighteen he emigrated to Australia then moved to Paris in 1957. There he began work as a fashion photographer and his images regularly appeared in magazines including, most notably, Vogue. His work has been the subject of numerous exhibitions and is permanently enshrined in many institutional collections and the Helmut Newton Foundation, Berlin. Awards include the German Große Bundesverdienstkreuz, the French Grand Prix national de la photographie and the World Image Award.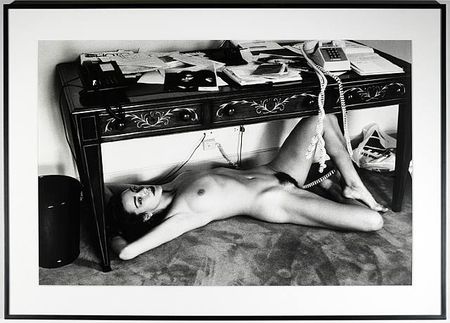 Helmut Newton, Domestic Nude X, Young Woman Lying Under my Desk, Chateau Marmont, 1992. Gelatin silver print, h: 30 x w: 40 in / h: 76.2 x w: 101.6 cm. Signed, titled, dated and editioned by artist verso.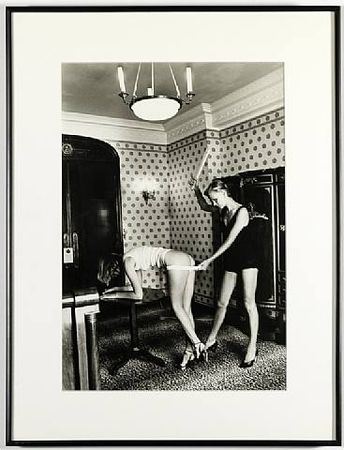 Helmut Newton, Negresco, Nice, 1976. Gelatin silver print, h: 20 x w: 16 in / h: 50.8 x w: 40.6 cm. Signed by artist verso
Helmut Newton, Woman Examining Man, Saint Tropez, 1975. Gelatin silver print, h: 24 x w: 20 in / h: 61 x w: 50.8 cm. Signed, titled, dated, numbered, annotated & copyright stamps verso