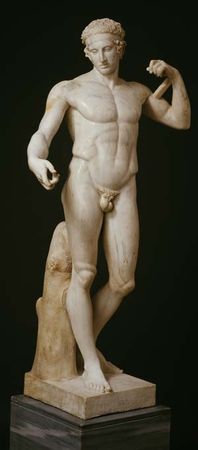 Diadumenos, 140-150 n. Chr.; Marmor. H. 202 cm. Madrid, Museo Nacional del Prado, Inv. Nr. E-88. Foto:Klut/Estel © Skulpturensammlung, Staatliche Kunstsammlungen Dresden


DESDEN.- Two of the oldest collections of antiquities outside Italy are being brought together in a spectacular exhibition: classical sculptures from the Museo Nacional del Prado go on display alongside works from Dresden's Skulpturensammlung.

Both collections have their roots in Rome, are similar in the diversity of their holdings and incorporate major works of classical sculpture. During the Baroque era, they were prized as particularly valuable objects and displayed in the palaces of papal families in Rome. King Philip V acquired antiquities from the collection of Livio Odescalchi for Madrid in 1724. In 1728 August the Strong succeeded in purchasing sculptures from the Albani and Chigi collections.

The sculptures in this exhibition were produced in the Roman Imperial Period (late 1st century BC – 4th century AD). They not only testify to the culture and art of Rome itself but are also representative of their lost Greek precedents. The Romans appropriated Greek culture in a unique way. Greek sculptures were copied, modified or recast and displayed in both public and private settings.

Since the rediscovery of classical art and culture during the Italian Renaissance and the age of Humanism, these sculptures were cherished by collectors and were regarded by artists as standards and models.

The title "Transformed gods" alludes to the changes which the image of the gods underwent in ancient Greece and Rome. Whereas in the age of Classical Greece statues of the gods had an aura of dignity and earnestness about them, later depictions primarily emphasised their elegance and grace. Later, the Romans took the traditional images of the gods as models and gave them the features of individuals, thus transferring the power and attributes of the gods to themselves.

Classical sculptures also experienced further transformations which are illustrated in the exhibition. When ancient statues were found, Baroque sculptors replaced missing parts in an effort to restore them, thus altering their character. Later, in the wake of further archaeological research, these additions were later removed so as to restore the classical original to its unadulterated form. Today, thanks to comprehensive restoration work, many of the Dresden antiquities appear in a completely new light – yet another transformation!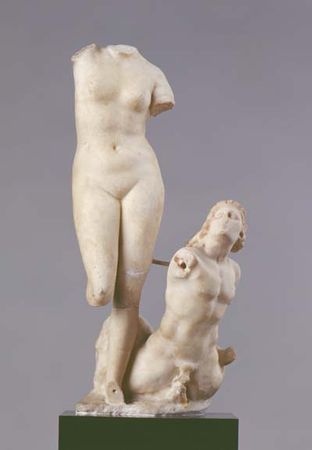 Aphrodite-Triton-Gruppe, Alexandrinisch, um 150–125 v. Chr. nach einem Vorbild des frühen 2. Jh. v. Chr., Marmor. H. 46 cm, Skulpturensammlung, Inv. Nr. Hm 196; Foto:Klut/Estel; © Skulpturensammlung, Staatliche Kunstsammlungen Dresden
Statue eines jugendlichen Athleten , sog. Alexander; Abguss eines Torsos der ersten Hälfte 2. Jh. n. Chr. nach einem Vorbild des späten 5. Jhs. v. Chr. mit Marmorergänzungen des 17. Jh.; Marmor, Acrystal. H. 162 cm; Skulpturensammlung; Foto: Klut/Estel; © Staatliche Kunstsammlungen Dresden; Verwendung nur mit Genehmigung und Quellenangabe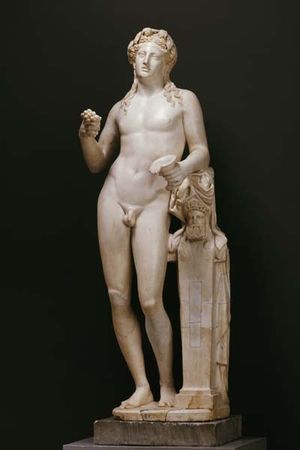 Statue des Dionysos, um 150 n. Chr. nach einem Vorbild um 125-100 v. Chr., Marmor. H. 168 cm, Madrid, Museo Nacional del Prado, Inv. Nr. E-87; Foto:Klut/Estel; © Skulpturensammlung, Staatliche Kunstsammlungen Dresden
Dresdner Knabe, Römische Kopie der frühen Kaiserzeit nach einem Bronzewerk des Polyklet oder seiner Schule gegen 430 vor Chr.; Marmor, Höhe: 157 cm ; Foto: Jürgen Karpinski; © Staatliche Kunstsammlungen Dresden; Verwendung nur mit Genehmigung und Quellenangabe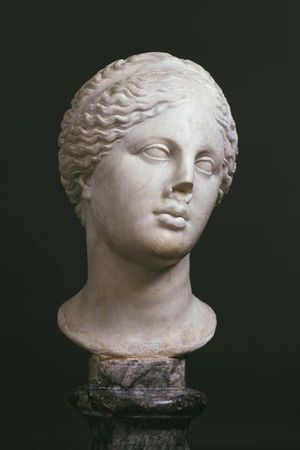 Kopf der knidischen Aphrodite, 120-130 n. Chr. nach einem Vorbild des Praxiteles um 350 v. Chr., Marmor. H. 40 cm, Madrid, Museo Nacional del Prado, Inv. Nr. E-54; Foto:Klut/Estel; © Skulpturensammlung, Staatliche Kunstsammlungen Dresden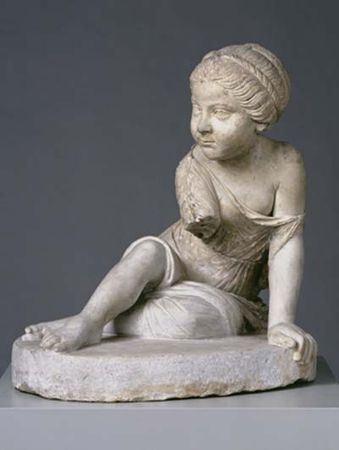 Sitzendes Mädchen mit Porträt, 160-170 n. Chr., Marmor; Skulpturensammlung; Foto: Klut/ Estel; © Staatliche Kunstsammlungen Dresden; Verwendung nur mit Genehmigung und Quellenangabe
Tanzende Mänade, Griechenland, Mitte des 1. Jh., Nachbildung in reduziertem Maßstab nach einer Statue des Skopas aus dem 3. Viertel des 4. Jh. v. Chr.; Marmor; Skulpturensammlung, Foto: Jürgen Karpinski; © Staatliche Kunstsammlungen Dresden; Verwendung nur mit Genehmigung und Quellenangabe
Silen und Hermaphrodit, Marmor; Höhe: 90,6 cm; Skulpturensammlung; Foto: Klut/ Estel; © Staatliche Kunstsammlungen Dresden; Verwendung nur mit Genehmigung und Quellenangabe
Dresdner Zeus, 120-130 n. Chr. nach einem Vorbild des Phidias oder seines Umkreises um 430-420 v. Chr.; Marmor. H. 212 cm; Foto:Klut/Estel; © Skulpturensammlung, Staatliche Kunstsammlungen Dresden
Buste einer Romerin, 100-110 n. Chr. Marmor. H. 62.5 cm. Inv. Nr. E-17. Museo Nacional del Prado. Photo: Estel/Klut. (c) Staatliche Kunstsammlungen Desden