Pan Hsin-hua, Practicing Qi, 2008
NEW YORK - Goedhuis Contemporary takes great pleasure in inviting you to the opening reception of a special exhibition of recent paintings by Taiwanese ink painter Pan Hsin-hua from May 20 – June 20 at its New York gallery. It is the eighth in a series of shows on the New Ink Painting that Goedhuis Contemporary will stage in the next two years, and marks Pan Hsin-hua's first solo exhibition in the United States.
Born in Taiwan in 1966, Pan Hsin-hua creates surrealistic paintings that are in the classical brush and ink style rooted in Chinese traditional ink painting. He graduated from Taipei National University of the Arts, and his works have been exhibited extensively in Taiwan. Five of his paintings were included in the recent exhibition "Form Idea Essence Rhythm: New Aspects of Contemporary East Asian Ink Painting" at the Taipei Fine Arts Museum.
Taiwan has benefited from an unbroken link with Chinese civilization unlike Mainland China, with the result that Taiwanese artists have spontaneously been able to incorporate a more developed traditional sensibility into their renderings of contemporary life and culture. Pan Hsin-hua skillfully blends both the past and the present into his paintings which examine the relevance of tradition in contemporary culture. His archaism echoes the blue-and-green style of the masters of the late Song and early Yuan Dynasty, such as Qian Xuan and Zhao Mengfu, as well as those of the late Ming Dynasty artists like Cui Zizhong, Wu Bin, Ding Yunpeng and Chen Hongshuo. At the same time, he introduces an ironic and irreverent flavor into his work by integrating unconventional pictorial elements, usually of an explicitly contemporary and playful nature.
Pan Hsin-hua, Rising to Heaven, 2007

Pan Hsin-hua, Inquiry to Shepherd Under the Pine Tree, 2008
Pan Hsin-hua, Practicing Qi V, 2009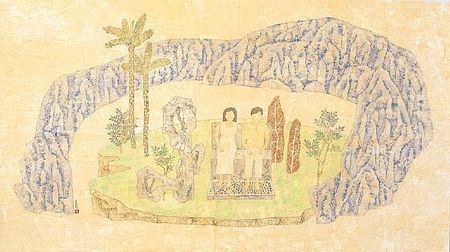 Pan Hsin-hua, Two-person Scenery, 1996