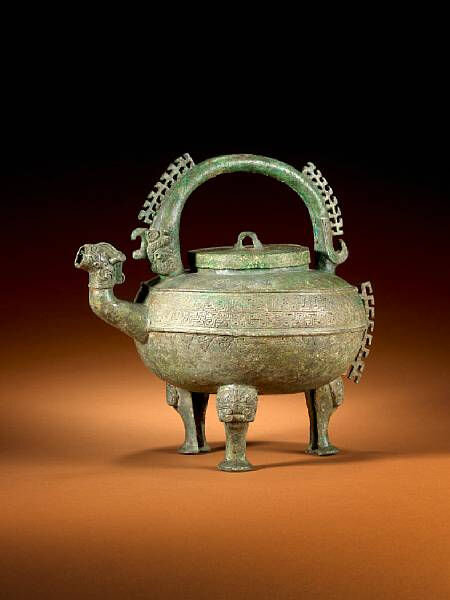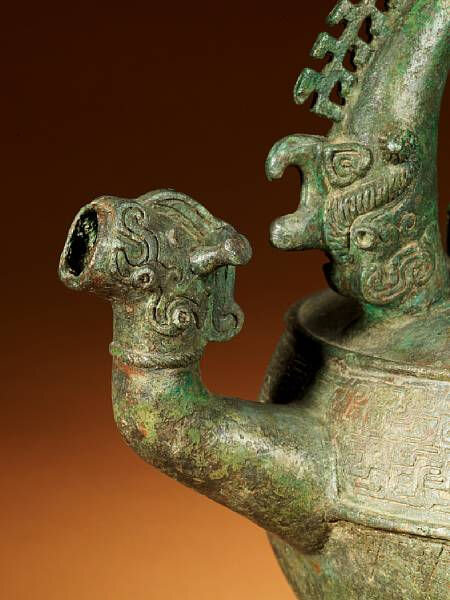 A rare archaic bronze inscribed wine vessel and cover, he, Spring and Autumn/ Warring States Period; 24cm (9½in) high. (2). Sold for £14,400.
Of compressed globular form surmounted by a ridged-spine overhandle terminating in a mythical bird head with its beak open before a horned beast forming the spout opposite its ridged spine on the reverse, the top with a circular opening encircled by an inscription and surmounted by a circular cover with a loop finial and encircled by a leiwen border, the shoulders cast with two bands comprising confronted interlaced dragons above cicada blades, all supported on three legs emerging from taotie masks.
Provenance: G. Chin Collection, New York, circa 1999

Note: A bronze he with similar form and inscription in the Poly Art Museum may be a pair to the present lot; see Selected Bronzes in the Collection of the Poly Art Museum, p.226. Compare related he vessels from the Shanghai Museum, dated to the Spring and Autumn Period, and from the Zhejiang Province Museum, dated to the Warring States Period, illustrated in Zhongguo qingtong qitu ji, Beijing, 2005, pp.354 and 358, showing similar features suggesting the present lot should be attributed to the late Spring and Autumn Period or Early Warring States Period. Similarly-shaped vessels were also produced in pottery, as exemplified by a vessel attributed to the Early Warring States Period with similar flanges on the overhandle and a zoomorphic spout, illustrated by B.S.McElney, The Museum of East Asian Art Inaugural Exhibition: Chinese Ceramics, Bath, 1993, Catalogue no.7.