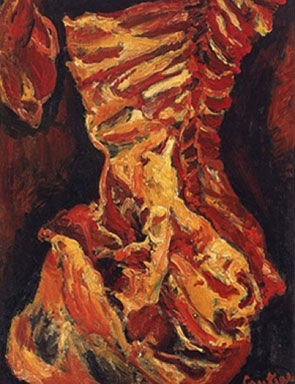 Piece de Boeuf (Piece of Beef c. 1923) - Chaim Soutine. (PRNewsFoto/The Shefner Family)
NEW YORK, NY/ PRNewswire.- A unique and unusual settlement regarding Chaim Soutine's iconic painting entitled Piece de Boeuf (Piece of Beef c. 1923) was approved last week by Judge Laura Taylor Swain of the Southern District of New York. Pursuant to the settlement, the painting is being returned to the Shefner Family in resolution of litigation commenced against the National Gallery of Art in Washington, D.C., Maurice Tuchman and Esti Dunow, the authors of the Soutine Catalogue Raisonne. The remaining non-settling defendants include Lontrel Trading S.A. and the Parisian gallery, Galerie Cazeau-Beraudiere.

The settlement is believed to be the first time that the National Gallery of Art has deaccessioned a non-Holocaust work of art from its permanent collection.

The stated policy of the National Gallery of Art is not to deaccession any of its permanent collection. In consideration of the unique nature of the settlement agreement and the circumstances surrounding the painting's return, the parties have agreed that the painting shall remain on loan to the National Gallery of Art for the benefit of the American public for the near future.

"The Shefner Family is pleased to be welcoming this iconic Soutine back to their family," said Karl Geercken, of Alston & Bird LLP, lead attorney for the plaintiff. "We believe this is a positive outcome for all parties involved."

Chaim Soutine, a Russian-born French expressionist painter, lived from 1893 until 1943. His series of ten beef carcass paintings are considered to be among his most notorious and controversial works. The majority of the beef paintings are currently in prominent museums. This painting is one of the last in the series to be privately owned.

As noted by the National Gallery of Art, Piece of Beef (accession 2004.126.1) is an outstanding example of 20th century expressionist art that makes "deliberate reference to a long tradition of the subjects of butchers, market-stalls, and game in paintings by Rembrandt, Chardin, and Goya, whose works Soutine studied in his visits to the Louvre." Soutine's work has also been described as being especially significant during the 1950s to painters such as Willem de Kooning.