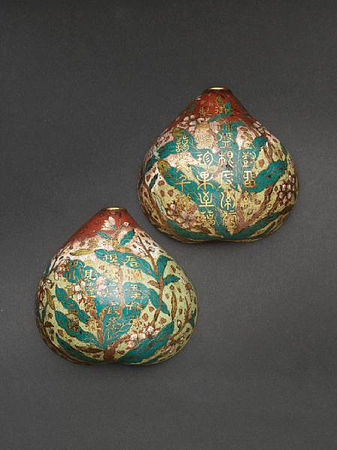 A very rare pair of cloisonné enamel peach-shaped wall vases. Qianlong

Each realistically shaped as a peach with a flat back, decorated with leafy and blossoming branches superimposed with poems, one written in lishu script the other in archaic script, both poems surmounted by the two characters reading yu zhi. 13.3cm (5¼in) wide. (2). Sold for £67,200
Provenance: a Swedish private collection, Stockholm

Note: Porcelain wall vases had been produced for the Imperial Court since the 16th century. A Court ceramic order from 1592 documenting the production of four hundred wall vases is testament to their popularity at Court, see R.Scott, For the Imperial Court: Qing Porcelain from the Percival David Foundation of Chinese Art, London, 1997, p.18. The popularity of wall vases during the Qianlong period in particular is demonstrated by the number mounted on the walls of the Studio of the Three Rarities in the Hall of Mental Cultivation during his reign, see E.Rawski and J.Rawson (eds.), China: The Three Emperors 1662-1795, London, 2005, p.44, fig.15. Cloisonné enamel wall vases are particularly rare. However, an 18th century pilgrim flask-shaped wall vase with a poem written in lishu script is illustrated by H.Brinker and A.Lutz, Chinese Cloisonné: The Pierre Uldry Collection, New York, 1989, Catalogue no.247.

The symbolism of the double peach is particularly significant in Chinese art, since the peach symbolised immortality, due to its affinity with the famous peaches of immortality that grew in the garden of Xi Wangmu. The double peach thus symbolised double longevity. Several examples of peach-shaped cloisonné enamel vessels are published, such as a Qianlong peach-shaped jardinière illustrated in Colorful, Elegant, and Enquisitie: A Special Exhibition of Imperial Enamel Ware from Mr Robert Chang's Collection, Suzhou, 2007, pp.122-123. See also a copper enamelled water pot in the form of two peaches from the Palace Museum, Beijing illustrated by E.Rawski and J.Rawson, China: The Three Emperors 1662-1795, London, 2005, Catalogue no.295.

A conjoined peach-shaped wall vase, similarly enamelled to the present lot, with the inscriptions written in cursive script, was sold at Christie's London, 13 May 2008, lot 50.


Bonhams. Fine Chinese Art, 14 May 2009. New Bond Street www.bonhams.com