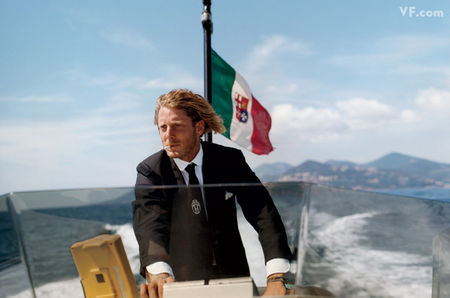 LAPO ELKANN
Born: October 7, 1977, in New York City. Parents: Fiat heiress Margherita Agnelli and novelist Alain Elkann. Siblings: Fiat vice-chairman John Elkann and Ginevra Elkann, vice president of Pinacoteca Giovanni e Marella Agnelli museum in Turin. Residences: "Turin is a family house, Milan is my flat, Paris is my flat, New York is my flat." Education: Sainte-Croix des Neiges in the French Alps, Lycée Charlemagne in Paris, London Guildhall University. Occupation: Entrepreneur and designer; founder of Italia Independent fashion brand and Independent Ideas advertising agency. Can be found at: L'Esplanade in Paris, Bar Pitti in N.Y.C., Caffè Mulassano in Turin. Causes: "Italy and Israel"; Tel Hashomer hospital, in Tel Aviv; international ambassador for Italy's Triennale Design Museum. Quote: "Life is complicated and hard, but that doesn't mean that you cannot find time, energy, passion, and love to be delivered to others." Photographed on the tender of the Stealth, the yacht designed for his grandfather Gianni Agnelli, off the coast of Cannes. .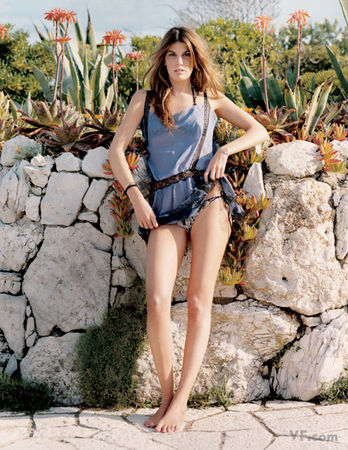 BIANCA BRANDOLINI D'ADDA
Born: June 25, 1987, in Paris. Parents: Count Ruy and Countess Georgina Brandolini d'Adda. Home base: Paris. Family residences: Geneva; Rio de Janeiro; Trancoso, Brazil. Heritage: Her grandfather Brando Brandolini d'Addadescended from a noble Venetian family with its own palazzo on the Grand Canal; her grandmother Cristiana is a sister of the late Fiat chairman Gianni Agnelli; her maternal grandfather was Prince Jean-Louis de Faucigny-Lucinge. Education: Institut du Marais–Charlemagne Pollès; currently at Studio Pygmalion acting school in Paris. Idols: Natalie Portman and Brigitte Bardot. Can be found at: Front row at the Giambattista Valli show. Quote: "I would love to have children with the guy I love and then many, many, many years later get married to him. I think it would be very romantic to close our lives with a wedding." Photographed at Jean Pigozzi's house in Cap d'Antibes, France.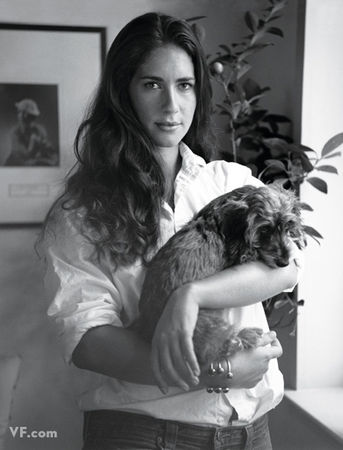 REBECCA DE RAVENEL
Born: August 6, 1982, in New York City. Parents: Marquis and Marquise de Ravenel. Father Jean-Charles is a French aristocrat and art collector; mother Jackie is an English banking heiress and noted international hostess. Hometown: Paris. Residences: Greenwich Village, Lyford Cay. Education: Le Rosey, École Active Bilingue Jeannine Manuel in Paris, Parsons School of Design. Occupation: Fashion consultant. Godfather: Decorator Alberto Pinto. Can be found at: Blue Ribbon Sushi in New York. Causes: Bahamas Reef Environment Educational Foundation, Bahamas Children's Emergency Hostel. Quote: "These days I don't think it matters who you are. Maybe a long time ago people paid more attention to names. Today everyone works hard. People who don't work hard don't get very far." Photographed with her wirehaired dachshund, Loulou, at her Greenwich Village apartment.
LADY ELOISE ANSON
Born: April 18, 1981, in London. Heritage: Her late father was the photographer Patrick Lichfield, a cousin of Queen Elizabeth's; her mother is Lady Leonora Grosvenor. Residence: London. Education: Delamar Academy; Collingham College; studied prosthetics design at Ealing Studios. Occupation: Makeup artist—trainee in the special-effects department at Leavesden Studios. Future plans: Makeup crew for the next two Harry Potter films. Mentors: Philip Treacy and the late Isabella Blow. Cause: Stroke Association. Can be found at: Battersea Park rose garden; the Cock and Bottle; Le QuecumBar. Quote: "I think it's enormously important not to make a career on the back of my family name." Photographed in London.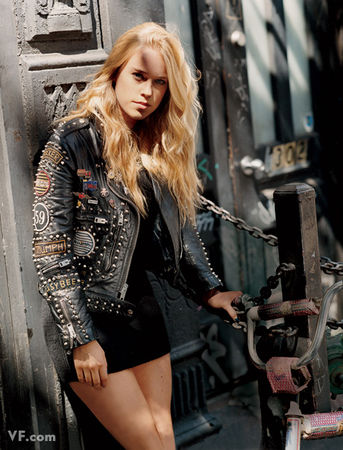 THE HONORABLE MARY OLIVIA CHARTERIS
Born: April 23, 1987, in London. Parents: Lord Neidpath and Catherine Guinness. Aunt: Daphne Guinness. Residences: London, Stanway House in Gloucestershire. Fortune source: Scottish landholdings dating back to the 14th century, Guinness Beverages. Education: Francis Holland, Parsons Paris. Occupation: Intern for stylist Tina Chai. Can be found at: Her summer rave at Stanway House. Mentor: The late Isabella Blow. Future plans: "I'd like to own my own sort of shop." Photographed at Patricia Field in New York City.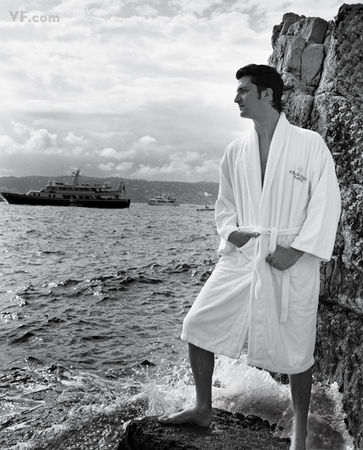 GABRIELECORTO MOLTEDO
Born: July 5, 1977, in New York City. Heritage: In 1962 in Vicenza, his parents, Laura and Vittorio Moltedo, founded Bottega Veneta, which was acquired by the Gucci Group in 2001 for an estimated $156 million. Family residences: Padua, Florence, Paris, New York. Education: Loyola High School, B.A. from N.Y.U., M.A. from Emerson. Occupation: Founder and designer of Corto Moltedo, a leather-goods company. Quote: "I don't have a car. I don't drive. I use mass transport to get places and do stuff." Photographed at the Hôtel du Cap in Cap d'Antibes, France.
ALICE BAMFORD
Born: April 26, 1976, in Baltimore, Maryland. Heritage: Daughter of Lady Carole and Sir Anthony Bamford, the construction-equipment magnate. Family seat: Daylesford in Gloucestershire. Residences: London, Paris. Education: St. Mary's School Ascot; Prince of Wales Institute of Architecture. Occupation: Film producer and documentary-film maker; she co-produced The Darjeeling Limited and is currently working on a documentary about organic farming. Perk: Her father owns the 204-foot Virginian, one of England's largest yachts. Causes: Kids Company, N.S.P.C.C., Soil Association. Quote: "Horses teach so much about trust, love, and communication." Photographed with her Brandenburg warmblood, Ace, in the stables at Daylesford.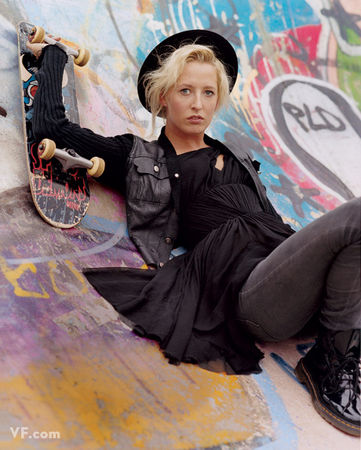 THE HONORABLE SOPHIA FERMOR-HESKETH
Born: October 30, 1984, in London. Residences: New York, London, South of France. Heritage: Father Lord Alexander Hesketh was a minister in the Thatcher government. Education: Stowe. Occupation: Stylist for Vogue Japan. Can be found at: Beatrice Inn; raves outside of London. Quote: "I used to go to the opening of Parliament when I was nine. It was really cool." Photographed at the Ladbroke Grove skate park in Notting Hill.
.
HARRY MORTON
Born: April 7, 1981, in London. Heritage: Father Peter founded Mortons Restaurant in L.A. and Hard Rock Hotel & Casino Las Vegas, and co-founded the Hard Rock Café chain; grandfather Arnie founded the Morton's Steakhouse chain. Residence: Los Angeles. Education: Harvard-Westlake, studied business and hospitality at N.Y.U. Occupation: C.E.O. of Pink Taco restaurants, owner of the Viper Room in L.A. Quote: "Pink Taco is like my leader, Viper is my passion project." Photographed at the Gramercy Park Hotel in New York City.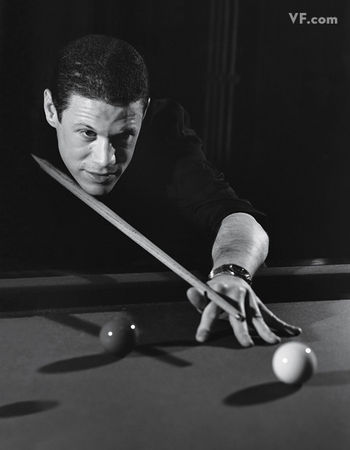 BADR JAFAR
Born: August 9, 1979, in Sharjah, United Arab Emirates. Heritage: Descends from more than 50 generations of noble Iraqi sayyids. Residences: London, Dubai, Florence. Education: Eton, Cambridge. Occupation: Executive director of Crescent Petroleum, C.E.O. of Crescent Investments AE, chairman of Gas Cities. Cause: Happy Hearts Fund. Future plans: "To develop private-sector business initiatives in order to bridge cultural divides, including encouraging the formation of a nonpolitical Arab-Israeli businessmen's council." Quote: "Observe everything, communicate well, and create, create, create!" Photographed at his home in Belgravia, London.