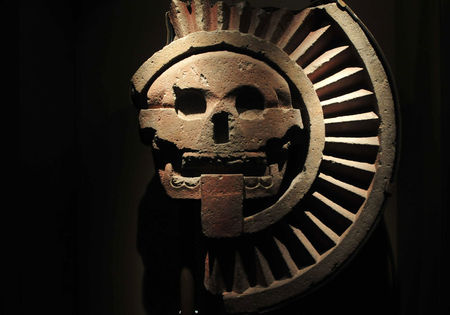 Aspect of "Disc of Death", one of the pieces included in the exhibition "Teotihuacan: City of Gods" which opens this week at the National Museum of Anthropology in Mexico City. Photo: EFE/ Mario Guzmán
MEXICO CITY.- From May 29th 2009 to the end of August 2009, the National Museum of Anthropology (MNA) will show the great exhibition "Teotihuacan, City of Gods", integrated by 435 items from the Prehispanic city, the largest in the world during its age (150 BC – 650 AD).

The National Institute of Anthropology and History (INAH) show will be displayed in an exhibition space measuring 3,500 square meters at the MNA.

Felipe Solis Olguin, who died recently, designed the curatorial proposal. He once explained it represented the intention of INAH to share with the national and international public the richness of Teotihuacan findings, within the frame of INAH's 70th anniversary.

Patricia Real, museographer and director of INAH Museums network, informed in a press conference that the show gravitates around quotidian life at the city, represented by replicas of patios and halls, which can be circulated by the public.

Other replicas exhibited are those found between 1998 and 2004, as part of the Moon Pyramid Project; humans and animals ritually sacrificed were found at the monument.

Archaeologist Miguel Baez declared that this exhibition is important because it offers a broad panorama about the Mesoamerican city, which was "a pole of attraction due to its commercial and military force, and a collegiate government, where the institution, not the ruler, was highlighted".

35 figures that represent common inhabitants are displayed; the color of their garments, headdresses that distinguished the different social classes, and the way they used their hair can be appreciated.

Material found in the early 20th century by Leopoldo Batres is exhibited, as well as the most recent discoveries located at Xalla Palace, to the north of the Sun Pyramid.

The exhibition complemented with multimedia effects is the result of investigations made since 17th century, by Carlos de Sigüenza y Gongora until the 21st century, conducted by INAH researchers.

"Teotihuacan, City of the Gods" will later visit different European cities: Quai Branly Museum, in Paris, France; Rietberg Museum, in Zurich, Switzerland, and Martin Gropius Bau, in Berlin, Germany, as well as Spain, Italy, Denmark and Sweden between 2011 and 2012.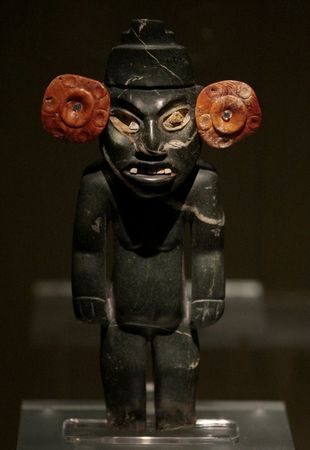 And now, some pieces displayed at the Fundidora Park in Monterrey as part of the Mexican archaeological exhibition of the ancient city of Teotihuacan i September 19, 2008. The exhibition "Teotihuacan : City of the Gods" is the biggest of its kind with more than 400 pieces from different museums and collections.