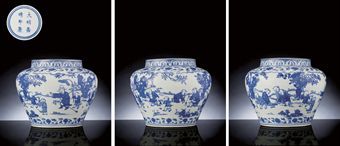 A fine and exceptionally rare Ming blue and white 'boys' jar. Jiajing six-character mark within double-circles and of the period
Of compressed globular form, exquisitely painted in cobalt-blue of soft purplish tone to depict sixteen lively boys at play in a continuous landscape, one group in mock procession with a boy 'attendant' using a lotus leaf parasol shading a boy 'official' on a hobby horse behind a boy carrying a staff, observed by another boy in the foreground; another group of three boys are kneeling over a bowl, possibly containing fighting crickets, beside a boy holding a net in pursuit of the insect; in the further distance a group of four boys playing with a marionette, a flute and a gong; a pair of boys playing a balancing game with chopsticks, while another holds a whip to a skittle observed by his companion, all set in a garden landscape with large pierced ornamental rocks and pine trees, between lotus scrolls and double bands at the foot, the shoulder surmounted by a short neck decorated with a frieze of trefoil lappets. 10 3/8 in. (26.2 cm.) high, Japanese wood box. Estimate on request
Provenance: Richard de la Mare collection, sold at Sotheby's London, 2nd April 1974, lot 207
John Sparks, London
Literature: Sekai Toji Zenshu, vol. 14, pl. 72, Shogakukan, Japan, 1976
Exhibited: London, Oriental Ceramic Society, Chinese Blue and White Porcelain, 14th to 19th Centuries, 1953, Catalogue, no. 160
Venice, Exhibition of Chinese Art, 1954, Catalogue, no. 674
Tokyo, Far Eastern Blue-and-White Porcelain, 1977, Catalogue, no. 53
Notes: The depiction of children in Chinese art has its roots in Buddhist beliefs influenced by Daoism. Chinese Buddhism saw the soul newly born into paradise as an infant, although this is not how it is described in the Sukhavati-vyuha, 'The Sutra on the Buddha of Eternal Life'. This change to the Indian view was almost certainly due in part to the influence of the Shangqing Daoist vision of the self in embryonic state. It was also the Chinese monk, Zhi Dun (AD 314-366) who first described the re-born soul as entering Sukhavati, 'The Place of Great Bliss', through the calyx of a lotus flower. By the Tang dynasty images of round-cheeked children were no longer confined to religious art, but began to appear in a secular context as an auspicious symbol.

The theme of 'boys' became a favoured theme in Southern Song paintings, particularly by the Academy painter, Su Hanchen (active early 12th century). The Southern Song depiction of children with characteristic shaven heads, rounded faces and wide eyes evidently continued into the Ming period as can be seen from the children painted on the present jar. The theme of 'children at play' or 'a hundred boys' became symbolic of progeny and fulfillment of the Confucian ideal in the education, and advancement of sons.

The imagery was especially appropriate to the Jiajing Emperor. Being a devout Daoist and particularly concerned with producing male heirs. It was recorded in the Ming Shi, 'Ming History' that Emperor Jiajing had commissioned for a Daoist rite to take place in the Imperial Garden in the eleventh year of this reign (1532) for the intended purpose of praying for the birth of imperial sons. 'Boys jars' were good auguries for the emperor and highly regarded, thus were decorated with the best cobalt, such as the current jar.

Compare with similar examples of this size and pattern: the first in the collection of the National Palace Museum, Taipei, is illustrated in Blue and White Ware of the Ming Dynasty, vol. V, pl. 13, pp. 46-47; an example from the Wingfield Digby collection sold at Sotheby's London, 3 December 1974, lot 284; a jar in the Freer Gallery of Art, Oriental Ceramics, vol. 9, Kodansha series, 1975, no. 111; and one sold at Sotheby's Hong Kong, 14 November 1989, lot 31. Larger jars with this design were also made depicting the boys playing between fruit and floral sprays reserved on a wan-diaper ground on the shoulder, such as one from the J.M.Hu collection, sold at Christie's Hong Kong, Nov 27, 2007, Lot 1738; and a jar from the Idemitsu Museum, illustrated in Chinese Ceramics in the Idemitsu Collection, pl. 191.
Christie's. The Imperial Saleimportant Chinese Ceramics and Works of Art . 27 May 2009. Convention Hall. Hong Kong. www.christies.com