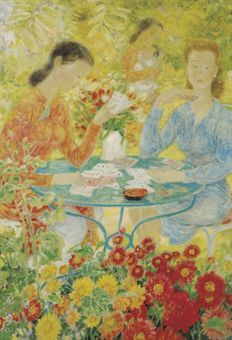 Lê Pho (Vietnam 1907-France 2001) La partie de cartes (The card game)
signed 'Le Pho' and signed again in Chinese (lower left). oil on canvas. 51 x 35½ in. (130 x 90 cm.). Estimate $31,107 - $41,476. Price Realized $67,917
Notes: Born in Viet Nam on August 2, 1907, Le Pho had a cosmopolitan background even as a young art student. Having studied at the Ecole des Beaux-Arts of Hanoi from 1925 to 1930 and then at the Ecole des Beaux-Arts in Paris the following two years, he returned to Vietnam briefly for three years before settling down in Paris in 1937.
His artistic career flourished in Paris. His first one-man show was held in 1938 in the city. He also served as artistic advisor to the Embassy of Viet Nam in Paris and was an annual exhibitor at the Salon d'Automne and the Salon des Independants in Paris. The Museum d'Art Moderne, Paris, has a collection of Le Pho's works.
Accomplished in various medium - ink and gouache on silk, lacquer work and oil on canvas - Le Pho's paintings reflect a cosmopolitan and romantic vision of Parisian life and is particularly evocative of an inherent grace and ideal belonging to a bygone era. Indeed, with the passing of the colonial era and the evolving changes of the fine art schools in Vietnam, the first generation of Vietnamese artists, including Paris-based Le Pho, have contributed and left an indelible mark in the development of Vietnamese painting that cannot be replicated. The refinement and elegance as seen in Le Pho's works gives a glimpse of an epoch when poetry was recited and the beauty of women, of nature and of landscape was celebrated unabashedly.
Christie's. Southeast Asian Modern and Contemporary Art. 24 May 2009. Convention Hall Hong Kong www.christies.com