Jean Dufy, « Trio de clowns musiciens ». Huile sur toile, 60 x 73 cm. Signée et datée « Jean Dufy 29 » en bas à droite. Peint en 1929. Galerie Jacques Bailly
PARIS.- Around seventy-five of the most prestigious galleries of the Elysées – Faubourg Saint Honoré area will open for an exceptional evening: the "Nocturne Rive Droite", held for the fifteenth consecutive year. Numerous collectors and art lovers impatiently await this annual event.

The most renowned professionals – antiques dealers, galleries and booksellers – will welcome you and present numerous special exhibitions and thirty-five vernissages of paintings, sculpture, furniture and objets d'art, from different epochs and styles, always of the highest quality, to satisfy the most demanding connoisseurs.

On Faubourg Saint Honoré, the newly installed Cadres Gault and well-established Galerie d'art Saint-Honoré join into the event, Gérard Orts participates again, as well as Pierre Lévy and Boccara Design on Avenue Matignon. Rue de Penthièvre is also very active, with newly installed David Bellanger and Galerie Guillaume who recently moved there into the heart of our quarter; Jean-François Heim has chosen Rue de Penthièvre to install his second gallery in the area. On Rue de Miromesnil, Jean-Charles Laporte, Visio dell'Arte and Russkiy Mir Gallery will join in.

The "Nocturne" is a new opportunity to push the doors of these precious sanctuaries, to meet some of the greatest art specialists in their own universe, to share their passion and their enthusiasm !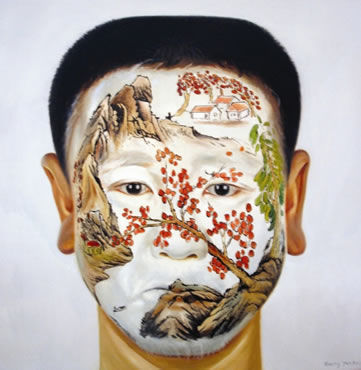 Huang Yan, Automne, 2007. Huile sur tole, 200x200cm. Galerie Albert Benamou
Depuis quinze ans à la même période, avec comme colonnes vertébrales la Rue du faubourg Saint Honoré et l'Avenue Matignon, 75 galeries vous accueillent pour une soirée « Portes Ouvertes ».
Ce prestigieux rendez-vous annuel est attendu avec impatience par les amoureux de l'Art.
Il réunit les plus grands professionnels : libraires, antiquaires, galeristes, de l'Art Ancien à l'Art Contemporain. De très nombreuses expositions sont organisées et trente-cinq galeries vous accueillent avec un vernissage.

Faubourg Saint Honoré, les Cadres Gault nouvellement installés, la Galerie d'Art Saint-Honoré, connue de longue date, nous rejoignent, Gérard Orts participe à nouveau, Pierre Lévy et Boccara Design, Avenue Matignon, également.
La très active rue de Penthièvre accueille David Bellanger, nouvellement installé, ainsi que la Galerie Guillaume qui migre au cœur de notre quartier ; Jean-François Heim y ouvre une seconde galerie. Rue de Miromesnil, les galeries Jean-Charles Laporte, Visio dell'Arte ainsi que la Galerie Russkiy Mir nous rejoignent.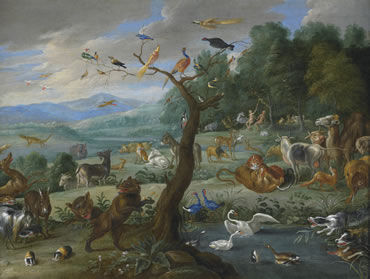 Jan van Kessel (1626 – Anvers – 1679), Paradis, signé et daté 1668, 43 x 56,5 cm. Galerie Florence de Voldère
Petits-fils de Brueghel de Velours, Jan van Kessel s'illustre avec la série des Quatre Continents de la Pinacothèque de Munich (commande des ducs de Bavière). Il renouvelle ici l'image brueghelienne du paradis en représentant l'instant crucial où celui-ci entre dans le temps historique, quand Ève touche la pomme. Alors le monde naissant qui surgit bruisse de mille chants d'oiseaux, cris et mugissements. Une force de vie traverse la multitude et offre un spectacle où l'humour le dispute à l'esthétique.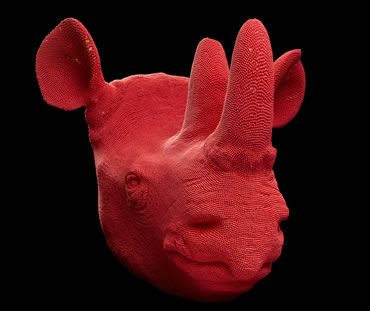 David Mach (né en 1956), Rhino, 2004-2009. Assemblage d'allumettes, 58,5 x 69 x 64 cm ©David Mach. Courtesy Galerie Jérôme de Noirmont, Paris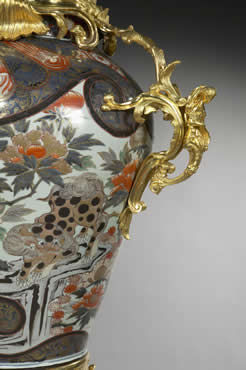 Paire de vases candélabres en po rcelaine du Japon « Arita » XVIIème , et monture en bronze XIXème ciselé et dore, éclairant a sept bras de lumières. Michel-Guy Chadelaud
Georges Lepape, Les Choses de Paul Poiret. 1911. Librairie Jadis et Naguère