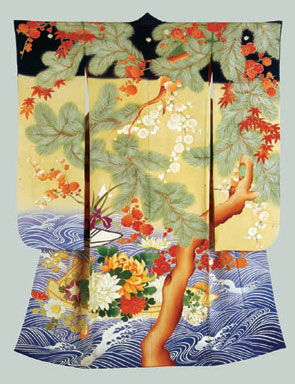 Woman's formal long-sleeved kimono (furisode), Taisho period, 1920s. Motif: Boat filled with flowers; water, maple leaf, plum and pine. Crest: paulownia. Silk crepe, plain weave; handpainted, rice-paste resist outlining (yuzen): couched gold, couched silver, and silk thread embroidery, 68 3/5 x 50 1/2 inches. The Jeffrey Montgomery Collection
TYLER, TX.- The Tyler Museum of Art casts an eye to the Far East as the venue prepares for its major summer exhibition, Fashioning Kimono: Art Deco and Modernism in Japan.

The exhibition, opening to the public Sunday, June 7, and continuing through Aug. 16 in the Museum's North Gallery, spotlights an array of kimono drawn from the celebrated collection of Jeffrey Montgomery, an American residing in Lugano, Switzerland, who is recognized throughout the globe as a peerless collector of Japanese arts and crafts.

Montgomery's collection is composed of more than 1,200 items, approximately 300 of which are textiles. This exhibition is drawn from that group, focusing on different varieties of kimono created in the late 19th- to mid-20th centuries.

Montgomery himself will be on hand to celebrate the exhibition's opening during a members' reception and preview scheduled for 6 p.m. Saturday, June 6. For more information or to inquire about TMA membership in order to attend, call (903) 595-1001.

"The Museum has been trying for years now to book this extraordinary exhibition, selected from one of the most stunning and dynamic collections of its kind in the world," said TMA Director Kimberley Bush Tomio. "Summer seemed the ideal time for such a rich and vibrant celebration of the elegance and timeless beauty that the Montgomery Collection represents, and we're particularly honored to have Jeffrey here to help us launch what I'm sure will be an extremely popular exhibition that appeals to visitors of all ages."

The kimono featured in the exhibition represent one of the most dynamic periods in the history of Japan's national costume, and also depict the last historical era of the "living kimono" – characterized as the time when kimono was being worn by the majority of the country's populace. Yet the kimono never lost its appeal, remaining the traditional dress form from the early 20th century until the 1940s, as the garment took on, little by little, a more ceremonial meaning. Featured among the more than 60 pieces in the exhibition are formal, semi-formal and casual kimono, as well as haori jackets.

A collection of period photographs, on loan from the International Hokusai Research Center in Milan, Italy, accompanies the exhibition.
Woman's formal, long-sleeved kimono (uchikake); early Showa period, 1930s. Silk, figured satin weave (rinzu), opposing lines and floral roundels pattern; hand-painted, rice-paste resist outlining; gold leaf, silk thread embroidery; 70 x 49 1/4 inches (detail). The Jeffrey Montgomery Collection