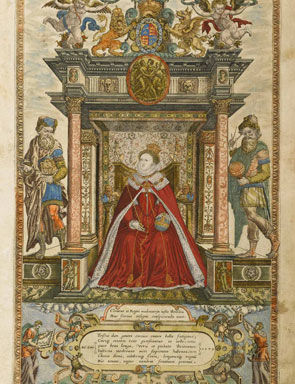 Christopher Saxton, An Atlas of England and Wales, 1579, est. $165/185,000). Photo: Sotheby's
NEW YORK, NY.- On 19 June 2009, Sotheby's will present The Graham Arader Sale. For almost four decades, Graham Arader has been one of the world's most recognizable collectors and dealers of color-plate books, atlases, cartography, and natural history watercolors. This June, Sotheby's will offer a remarkable selection from his holdings, ranging from original watercolors from Redouté's Les Lilacées to the celebrated 1513 edition of Ptolemy's geography, and from western views by Karl Bodmer, George Catlin, and H. J. Warre to ornithological illustrations by John James Audubon, Josef Wolf, John Abbot, Marc Catesby, and many others. Just as noteworthy as the content of the sale, however, is Mr. Arader's pledge to donate 20% of the hammer price of any lot to any recognized charity chosen by the successful purchaser of that lot. A selection of lots will also be sold without reserve. The offering will be on public exhibition from June 13- 18 prior to the auction. (Pictured: One of 53 fine lithographed plates from the first edition of John Gould's Family of Toucans, est. $45/65,000)

"I have been fortunate to spend nearly 40 years acquiring and selling some of the most historically important icons of American and European history from the 16th to the 19th century," said W. Graham Arader. "In deciding to part with a portion of my holdings for estate planning purposes, I recalled the myriad libraries, universities, foundations, botanical gardens, schools, zoos and other institutions that I worked with over the years and saw an opportunity to give back to those who have supported my field and improved the quality of life for all of us. My hope is that through this sale, the works that I have treasured will find new homes that will benefit not only their owners, but the charities they designate as well." (Christopher Saxton, An Atlas of England and Wales, 1579, est. $165/185,000)

The auction will be divided into ten different sections encompassing the various categories Mr. Arader specializes in: Pierre-Joseph Redouté; John James Audubon; The National History of the South; Icons of American Cartography; Atlases, Cartography, and Navigation; The Expanding American Frontier; Near and Middle East; Edward Lear; Natural History; and European and American Paintings.

Highlights
Among the most important works that will be offered is a highlight from the section of paintings – The Greenland Whale Fishery by the British marine artist Robert Dodd (est. $100/150,000). Known for his spectacular and detailed portraits of important ships and naval battles from both the Revolutionary War and the French Wars of 1793-1815, Dodd captures in the present work London-based vessels operating out of the Thames, from where the largest British whaling fleet emanated well into the 19th century. In 1783, the year in which this work is dated, the British whaling industry saw a marked revival after a wartime depression. Profits at the time were such that it seems plausible that this painting was commissioned simply to mark a general return to prosperity for the whaling industry rather than any specific expedition.
The Greenland Whale Fishery by the British marine artist Robert Dodd (est. $100/150,000). Photo: Sotheby's
From the section dedicated to cartography is the first complete edition of Johannes Blaeu's major Atlas Maior (est. $200/250,000). The Atlas Mair was a mammoth publishing achievement and hugely expensive. Sets were presented as diplomatic gifts by the Netherlands government and special furniture to contain it was produced. The present example comprises all eleven volumes encompassing: Northern Europe; Northern and Eastern Europe, Greece; Germany; Netherlands; England and Wales; Scotland and Ireland; France and Switzerland; Italy; Spain, Portugal and Africa; Asia and America.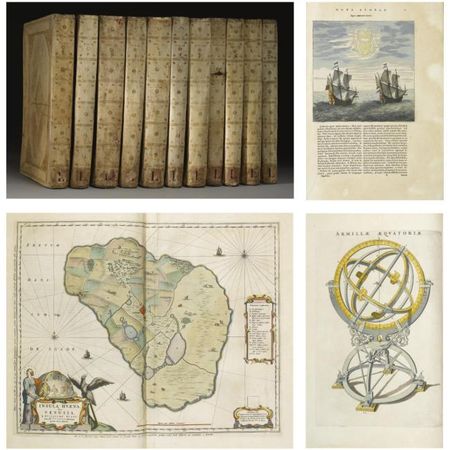 Johannes Blaeu, Atlas Maior, sive cosmographia blaviana. Amsterdam: Johannes Blaeu, 1662-1665 (est. 200,000—250,000 USD). Photo: Sotheby's
An outstanding copy of the second edition of Mark Catesby's landmark colorplate book – The National History of Carolina, Florida and the Bahama Islands is one of the most important Natural History works on offer (est. $250/275,000). With the encouragement of Sir Hans Sloane, William Sherard and others to whom he has supplied botanical specimens, Catesby returned to America in 1722 to continue work on his Natural History, and the next four years he traveled extensively in the Carolinas, Florida and the Bahamas. His preface provides a lengthy account of the development of this work, including his decision to study with Joseph Goupy in order to learn to etch his plates himself to ensure accuracy and economy.
Mark Catesby, The Natural History of Carolina, Florida, and the Bahama Islands (est. 250,000—275,000 USD). Photo: Sotheby's
The sale will also include an outstanding group of watercolors by the rare 16th century Huguenot artist Jacques Le Moyne de Morgues. Le Moyne was the earliest professional artist to travel to North America, and nothing is known of his training and earlier career until early 1564 when he seems to have been instructed by the French King Charles IX to travel as cartographer and official recording artist on an astonishing and ill-fated expedition to establish a Huguenot settlement in Florida. The thirteen watercolors to be offered represent only the fifth substantial group of works by the artist that has been identified to date. Le Moyne was one of the greatest and most original botanical artists of his time and there are virtually no surviving florilegia that antedate Le Moyne's known works of this type from his French period. Included in the group are Clove Pinks (est. $30/40,000), Pot Marigolds (est. $30/40,000), Cornflower (est. $22/26,000) and Lavender (est. $22/26,000).
Jacques Le Moyne de Morgues, Clove Pinks. (est. 30,000—40,000 USD). Photo: Sotheby's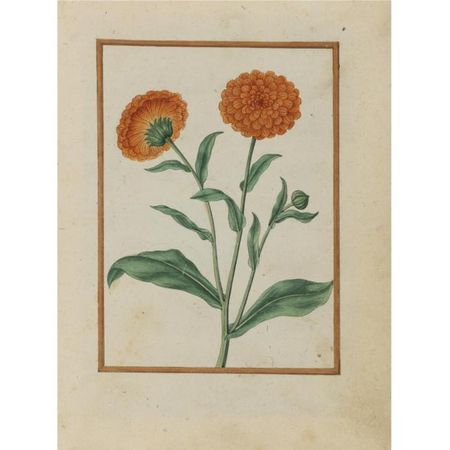 Jacques Le Moyne de Morgues, Pot Marigolds. (est. 30,000—40,000 USD). Photo: Sotheby's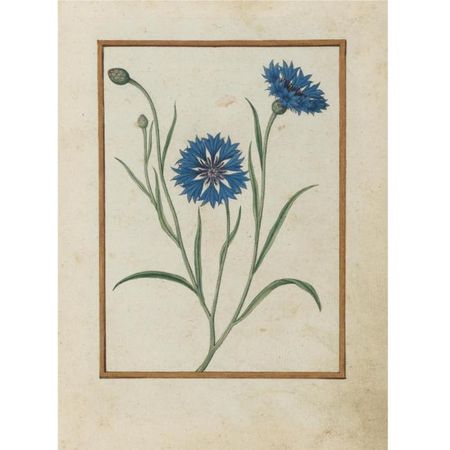 Jacques Le Moyne de Morgues, Cornflower. (est. 22,000-26,000 USD). Photo: Sotheby's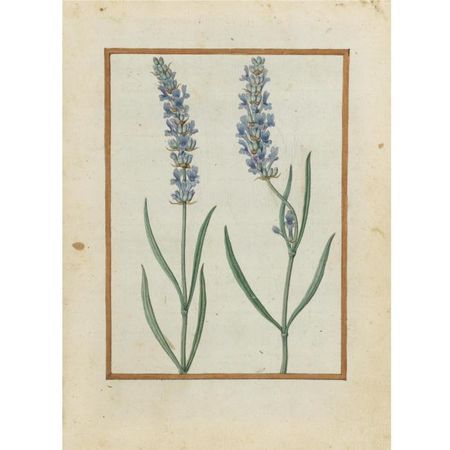 Jacques Le Moyne de Morgues, Lavender. (est. 22,000-26,000 USD). Photo: Sotheby's
Lots Sold Without Reserve
More than a third of the lots offered will be sold without reserve and many come beautifully framed and ready for hanging, representing a tremendous opportunity for collectors.

Among them are a group of nineteen very fine watercolors on vellum by Pierre Joseph Redouté, the original paintings for Les Liliacées, the artist's largest and most ambitious work, and generally considered his masterpiece (estimated at $10/15,000 each). Redouté entered the employment of Josephine Bonaparte in 1798, an association lasting until her death. As soon as she acquired the estate Malmasion, she began to collect flowers and plants, many coming from the Jardin des Plantes in Paris, from Kew Gardens in England and other centers. Redouté was tasked with recording these. In each illustration, the flowers are classical "portraits" which lack backgrounds or settings. The regal simplicity of the compositions allows the viewer to focus without distraction on the beauty and delicate complexity of the plants themselves.
Pierre Joseph Redouté, Allium scorzoneraefolium – Ail à feuilles de scorzonère., from Les Liliacées, (estimated $10/15,000). Photo: Sotheby's
More than twenty prints by John James Audubon from his historical folios The Birds of America and Quadrupeds will be offered without reserve and with estimates ranging from $1,500/2,000 to $7/9,000. Among them are: the Booby Gannet, the Purple Martin, the Lesser Tern, the Raven, the Columbian Black-tailed Deer and the Black American Wolf.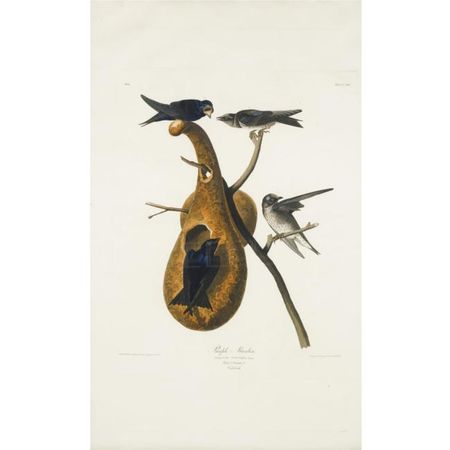 John James Audubon, the Purple Martin (est. 4,000—8,000 USD). Photo: Sotheby's
A group of unpublished original watercolors by the 19th century southern artist John Abbot of Birds of Georgia and the Surrounding Region will also be offered without reserve (estimated at $10/15,000 each). Executed circa 1819-1826, the watercolors of birds including the Red Grosbeak Female, the Prairie Warbler and the Solitary Flycatcher, show each subject perched on a branch with floral backgrounds. In his long career, Abbot is estimated to have completed over five thousand watercolor drawings of the flora and fauna of Georgia, but very few have been published or otherwise reproduced. Because of his limited publication, Abbot's work has only recently been recognized and elevated to the rank of such better-known contemporaries as William Barton, Alexander Wilson and John James Audubon.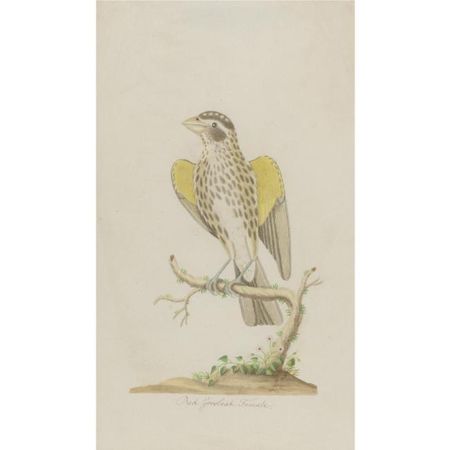 John Abbot, the Red Grosbeak Female (est. 10,000—15,000 USD). Photo: Sotheby's