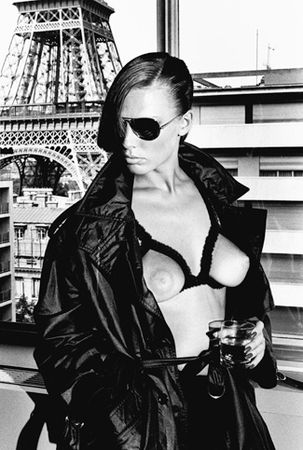 BERLIN.- With SUMO, the Helmut Newton Foundation presents what might just be the most spectacular and expensive photography book project ever. Ten years ago, publisher Benedikt Taschen persuaded Helmut Newton to agree to produce a gigantic book with a print run of 10,000 copies, all signed by the photographer. Accompanied by a custom-made book holder by Philippe Starck, the book found its way into the homes of well-heeled buyers.

Now, for the first time, its 394 photographs will go on display to mark the 10th anniversary of a photography publication that today is a much sought-after collector's item. To accompany this presentation, Taschen will publish a smaller and revised version of the book for the regular book market.

In addition to SUMO, Mark Arbeit, George Holz and Just Loomis will be presented at the Helmut Newton Foundation with their photography under the title "Three boys from Pasadena". In the late 70s, they were students at the Art Center College of Design in Pasadena, California and later became assistants of Helmut Newton.

In recent years, the photo book has attracted particular appreciation, not least of all through Martin Parr's "The Photobook: A History" that examines some quite unusual photographic publications. A growing number of collectors have turned to this new field, and some photo books can fetch sums that are dazzling. At photo fairs from Paris to New York, photo book dealers appear in increasing frequency with especially valuable publications in tow.

One of the most outstanding photo books of the last decade is Helmut Newton's SUMO, which appeared in 1999 in poster format with 464 pages and considerable weight. It was Benedikt Taschen who convinced the photographer to this publishing feat; it proved to be a smash hit. Philippe Starck crafted the metal stand for this extraordinary publication that appeared in an edition of 10,000 copies, all personally signed by Newton. The sales price matches the format and exclusivity of the photo book, and has found its way into the hands of only the best-endowed Newton enthusiasts. The limited availability contributed to the book's legendary status, the contents remained mostly unknown.

The some 400 photographs in the book, many of which were published here for the first time, capture the essence of Newton's work. His first and award-winning photo book in 1976, "White Women," was followed by numerous publications with decidedly descriptive titles, such as 1981's "Big Nudes," whose circulation of over 100,000 copies to date has been Newton's most successful book; or "World Without Men" from 1984. At irregular intervals between 1987 and 1995, Helmut Newton published his own magazine and showcase for his newest images, "Helmut Newton's Illustrated."

But it was with SUMO that the Newton/Taschen team topped them all in the field of photo books. Such monumental tomes already existed in the history of books and bookmaking, but these were bibles, books of hours and atlases, followed later – in the second half of the 19th century – by illustrated travelogues with inserts of original large format prints.

This presentation of the corpus of images comprising SUMO traces the book's unique history. All of the book's pictures appear 1:1 as framed pages; additionally, there is a selection of original photographs, in black & white and color. Still other prints document the book's own elaborate production and glamorous presentation. Newton's fashion and nude photography, portraiture as well as advertising images hang side by side in equal standing. Some of these images can be found in other Newton publications, while others premiered in the book and may only now for the first time be seen on exhibit.

This "best of" selection overlooks not a single aspect of Newton's opus. His portraits are intensely individual: Debra Winger returns our gaze while her half-hidden face fills the frame; David Bowie stoically bares his chest on the beach at Monte Carlo; and Liz Taylor bathes in the pool for Newton's camera, a green parrot perched on her finger. Helmut Newton visually escorted the exclusive and eccentric lives of the rich and beautiful including all of its eroticism and gluttony. While doing so, he both served and questioned the clichés at the same time.

In order to understand both his work and the vehement reactions it often evoked, one should try to imagine the cultural tenor and the dominant public conventions at the time of their publication. It is only then that the controversy and provocation of many photographs fully emerges. In the early 1970s for example, his portrayal of two women passionately kissing – the one naked, the other in a tuxedo – was seen as a direct affront on social mores. It is since these times that Helmut Newton became known for his insertion of subtle as well as radical nudity into his fashion and product photography.

Finding the borders and overstepping them belong to the trademark of the photographer who scorns in constant battle the established notions of "good taste". With his close-up reduction of a black stiletto heel, or the bulging fingers of a woman's hand reaching greedily for dollar bills, Newton succeeded in producing symbolic images beyond compare. Helmut Newton's seminal work remains singular and nonpareil. It is at the very latest while perusing SUMO that one realizes just how many icons of photographic history the photographer has indeed created.

As with previous exhibitions at the Helmut Newton Foundation, the work of Newton's companions will be presented in parallel to SUMO. Mark Arbeit, George Holz and Just Loomis were students at the Art Center College of Design in Pasadena, California, when they met Newton in the late 1970s; later they would assist him regularly.

Now in their first group exhibition, the "three boys from Pasadena" have been invited by June Newton to present a selection of their own photographic work. This will be complemented with memorabilia from their decades-long and close friendship with Helmut and June Newton.

Some of Mark Arbeit's pictures are formally quite unusual. In his photo-technical experiments with deconstructed Polaroids enlarged onto photo paper, he reveals the other, flip side of the photographic image and its creation. Here and in his collages with African tribal art, Arbeit makes reference to experimental phases in the history of nude photography, for example in Surrealism. In another series, he portrays nudes in Parisian artist ateliers. The painters themselves are absent, represented only through their works on the easels and walls. The nudes in the studio medially paraphrase the paintings through their presence.

In addition to his contract celebrity portraiture that includes the likes of Brad Pitt, Angelina Jolie and Madonna, George Holz also looks to the female form, naked and life-sized, in interiors or natural settings. Some of his more stylized images evoke stills from early Fritz Lang films, while others are strictly unaccessorized – such as his photograph of Rachele, reclining poolside in Hollywood. The reciprocal sexual attraction often evident in his images evokes a pastoral affinity reaching towards a mystical fusion of man and nature. What captures Holz's eye here is timeless, natural nudity, occasionally cast by refined shadows varying subtly across the body's surfaces.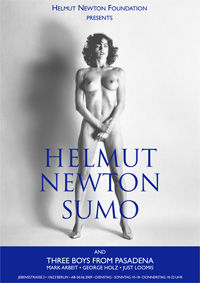 Just Loomis opts for a direct and unadorned look at American everyday life. In black & white and color, we see the faces of young waitresses, skateboarders or passers-by looking back at us, uninvolved and unaffected. Independent projects that have emerged from his magazine work in fashion and beauty, such as his documentations of the fashion industry backstage or images from on the road, are now on display at the Helmut Newton Foundation. Hardly anything seems staged – these are intensely visual encounters with strangers. Timeless and yet contemporary, the portraits of Just Loomis play with the beauty and the banality of the moment. Matthias Harder