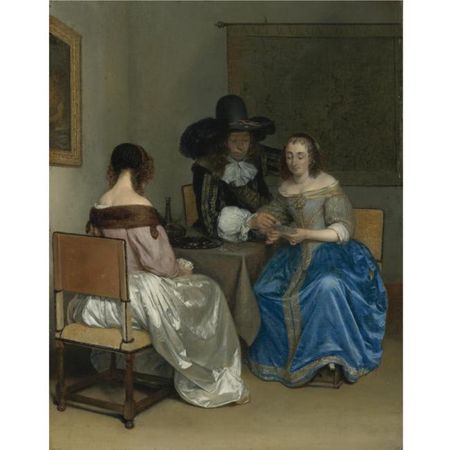 Gerard ter Borch (Zwolle 1617 - 1681 Deventer) The Card Players
oil on canvas laid on panel. 18 3/8 by 14 1/2 in.; 46.7 by 36.8 cm. Est. 400,000—600,000 USD. Lot Sold 1,594,500 USD
PROVENANCE: G. Braamcamp (1699-1771), Amsterdam, acquired 1752;
His sale, Amsterdam, July 31, 1771, lot 41, for 305 guilders, to Maclaine;
With Cornelis Ploos van Amstel (1726-1798), Amsterdam;
His sale, Amsterdam, Philippe van der Schley, March 3, 1800 and days following, lot 1, for 610 guilders, to Jan Yver, for Pieter van Winter;
Pieter van Winter Nicolaas Simonsz. (1745-1807), Amsterdam;
Thence by descent to his younger daughter Anna Louisa Agatha van Loon-van Winter (1793-1877), Amsterdam;
Acquired as part of the entire Van Loon collection by Alphonse, Gustave, Edmond, Lionel and Ferdinand de Rothschild acting in syndicate, 1877 and allocated by the syndicate to Baron Lionel de Rothschild, London;
Baron Alfred de Rothschild, London, by inheritance from Baron Lionel de Rothschild, 1882;
Arthur Sanderson, Edinburgh, by 1900;
With Thomas Lawrie and Co., London, by 1903;
John W. Simpson, New York, bought March 1905;
With P. & D. Colnaghi, London;
With M. Knoedler & Co., Inc., London, by whom sold November 1908 for £9,000 to Kappel;
Marcus Kappel, Berlin, by whom sold in 1914 to Caspari,
With Caspari Galerie, Munich, by whom sold in March 1928 to Knoedler;
With M. Knoedler &. Co., Inc., New York, by whom sold September 1928 to Balch;
Allan C. Balch, Los Angeles;
Gift of Mr. and Mrs. Allan C. Balch to the Los Angeles Country Museum of Art, Los Angeles, 1944, (acc. no. M.44.2.7).
EXHIBITED: Amsterdam, 1867, no. 194;
London, Burlington Fine Arts Club, 1900, no. 4, as property of Arthur Sanderson;
London, Thomas Lawrie & Co., 1903, no. 19;
Berlin, 1914, no. 168;
Los Angeles, Los Angeles County Museum, The Balch Collection and Old Masters from Los Angeles Collections, March 26-April 30, 1944, no. 46;
Santa Barbara, Santa Barbara Museum of Art, July 25-September 18, 1951;
Pomona, Los Angeles County Fair Association, 1951;
Dallas, Dallas Museum of Fine Arts, World Art Exhibition: The Art of Man, September 24-November 21, 1962;
La Jolla, La Jolla Museum of Art, Dutch and Flemish Paintings of the Northern Renaissance, June 13-September 20, 1964, no. 35
LITERATURE AND REFERENCES: G. Hoet, Catalogue of Naamlyst van Schilderyen met derzelver Pryzen, 1752, vol. II, no. 503;
J. Smith, Catalogue Raisonné of the Works of the Most Eminent Dutch and Flemish Painters, vol. IV, 1833, pp. 135-36, no. 58;
J. Smith, Supplement to the Catalogue Raisonné of the Works of the Most Eminent Dutch, Flemish and French Painters, London 1842, p. 534, no. 19;
C. Davis, A Description of the Works of Art Forming the Collection of Alfred de Rothschild, 1884, no. 32;
C. Hofstede de Groot, Catalogue of the Dutch Painters, London 1913, vol. V, p.42, no. 111 and p. 43, no. 114;
W. von Bode, Die Gemäldesammlung Marcus Kappel in Berlin, Berlin 1914, no. 33;
E. Plietsch, Gerard Ter Borch, Vienna 1944, p. 22;
R. McKinney, "Old Masters from the Balch Collection," in Los Angeles County Museum of Art Quarterly, Spring and Summer 1944, vol. 4, nos. 1 and 2, p. 10;
R. McKinney, "The Balch Art: Rich Gift for California," Art News, vol. 43, December 15, 1944, p. 11;
Los Angeles County Museum of Art Quarterly, Fall and Winter, 1945, vol. 4, nos. 3 and 4, p. 10;
Catalogue of the Balch Collection and Old Masters from Los Angeles Collections, Los Angeles County Museum, 1954, no. 57, p. 53;
P. Wescher and E. Feinblatt, Los Angeles County Museum, Catalogue of Paintings II: A Catalogue of Flemish, German, Dutch and English Paintings, XV-XVII Century, Los Angeles 1954, p. 53, no. 57, reproduced;
"Paintings in Los Angeles," Connoisseur, May 1955, p. 216;
S.J. Gudlaugsson, Gerard Ter Borch, The Hague 1959, vol. I, p. 125 and vol. II, pp. 157-58, no. 145 and reproduced p.302;
Los Angeles Count Museum of Art Handbook, Los Angeles 1977, p. 88;
T. Laurentius et al, Cornelis Ploos van Amstel 1726-1798. Kunsstverzamelier en printuitgever, Assen 1980, pp. 45 and 51, reproduced p. 47;
P. Sutton, A Guide to Dutch Art in America, Grand Rapids and Kampen 1986, p. 133;
J. Lloyd Williams, Dutch Art and Scotland, A Reflection of Taste, Edinburgh 1992, p. 170;
R. Priem, "The 'most excellent collection' of Lucretia Johanna van Winter: the years 1809-22, in Simiolus, vol. 25, 197, no. 2/3, pp. 118 and 218, reproduced fig. 25;
At the Museum, Los Angeles County Museum of Art, November 1998, p. 6 and 7, reproduced.
NOTE: Ter Borch's Cardplayers is datable to circa 16591 and exemplifies his paintings of this period, which are notable for their drapery, elegant forms and tantalizing ambiguity. The 1650s and early 1660s were a time during which he was instrumental in developing a new type of genre painting, set in fashionable interiors and focusing on the social life of the haute bourgeoisie. While his works were greatly prized by the audience for which they were created, in the intervening centuries their meaning has often been misundertood. During the late nineteenth century, Ter Borch's paintings and those of his contemporaries were regarded simply as realistic slices of life, while in the mid-twentieth century every gesture and object was interpreted symbolically. Now the pendulum has swung back, and we understand the subtle balance of realism and moralising that characterizes his paintings.
Here, in this deceptively simple composition, we see three people seated at a table playing cards, two elegantly clad women and an officer of the guard who is advising one of the women. Cards and cardplaying had overtones of, and sometimes direct references to, immorality in prints and paintings of the sixteenth and seventeenth centuries, and it is possible to see an implied seduction in The Cardplayers. Gudlaugsson suggests that the background originally had a canopy bed, though the only trace is the mysterious diagonal shadow on the wall,2 which would reinforce the sexual nature of the encounter. The couple across the table are clearly engaged with one another: the woman leans towards the man as he suggests which card to put down, while his left arm somewhat mysteriously disappears behind her back. But there is no bed in the finished painting, and the figures' attire and their carriage suggest that a more subtle interpretation is required.
They form a self-contained group, which we can observe but not join. We are pushed back by the corner of the table and the prominient knee of the woman in blue, but most of all our way is barred by the upright figure of the woman with her back to us. The square back of the chair contrasts with and sets off her elegant sloping shoulders and the beautiful line of her spine, which we glimpse just above the top of her fur stole. The pose recalls The Woman at a Mirror in the Rijksmuseum, Amsterdam, of circa 1650, but in that work we see the sitter's face reflected in the mirror, while here it is totally hidden from our view. She seems both physically and emotionally detached, her chair pulled slightly back from the table and her expression screened by abundant curls as she looks down at her cards. Although the setting is rather empty, the gilt frame, the map and the upholstery all suggest wealth and taste. What is most striking, however, are the figures and their clothing. While the keynote is restraint, Ter Borch allows himself to get carried away in his treatment of the women's costumes. He was renowned for his ability to paint satin and here the shimmering white skirt gleams out at us through the dim light, allowing us to trace every fold and reflection that he has so lovingly created.
The Card Players has a long and distinguished provenance, that has been traced back to the mid-eighteenth century, when it was in the collection of Gerrit Braamcamp, an Amsterdam merchant, who owned more than 200 paintings by Dutch artists. It was acquired after 1771 by Cornelis Ploos van Amstel, a multi-faceted collector, timber merchant, art theorist, print publisher and printmaker. He devised a sophisticated means of reproducing drawings in color and published them to great acclaim from connoisseurs and the greater public. His collection, which included paintings, drawings, sculpture, books, scientific instruments, coins, among other categories of works, was so large that after his death it had to be divided into three separate series of sales, which took place between 1799 and 1810. The Card Players was the first and by far most expensive lot in the auctions commencing March 3,1800.
The present work was acquired at that sale by Pieter van Winter through the dealer Jan Yver. Van Winter had one of the most important private collections of paintings in the Netherlands, including among other masterpieces, Johannes Vermeer's The Little Street, now in the Rijkmuseum. After his death in 1807, the paintings were go to his three children, but the actual division did not take place until 1817, owing in part to the number of works involved and the difficulties of fairly valuing them.3 The Card Players went to his younger daughter, Anna Louisa Agatha van Winter, who in 1815 had married Willem van Loon, himself a noted collector. The sale of their combined collection to the Rothschild family in 1877 provoked a chorus of disapproval in the Netherlands at such an important example of Dutch artistic heritage leaving the country.4 The Card Players was passed down in the Rothschild family, moving from Paris to London. By 1900 it belonged to Arthur Sanderson, whose collection Dutch pictures was of sufficiently high quality to be cited by Hofstede de Groot.
In 1908, Marcus Kappel purchased the present work from Knoedler & Co. Kappel was a retired financier living in Berlin who put together a wide-ranging collection, which he had housed in a specially built wing of his house (see fig. 1). Wilhelm von Bode, director of the Berlin museum advised him on his purchases of Dutch and Flemish paintings and helped install the collection . In 1928, The Card Players was acquired by Alan and Janet Balch, who were among founding donors of the Los Angeles County Museum of Art. It was given to the museum following Allan Balch's death in 1943.
1. See under Literature, S.J. Gudlaugsson, vol. II, pp. 157 and 302.
2. Ibid., vol. I, p. 125. The painting was x-rayed while at the Los Angeles County Museum of Art, but the results were inconclusive
because of the lead white in the support.
3. See under Literature, R. Priem, p. 172.
4.Ibid., p. 104.
Sotheby's. Old Master Paintings, European Sculpture & Antiquities. 04 Jun. New York www.sothebys.com