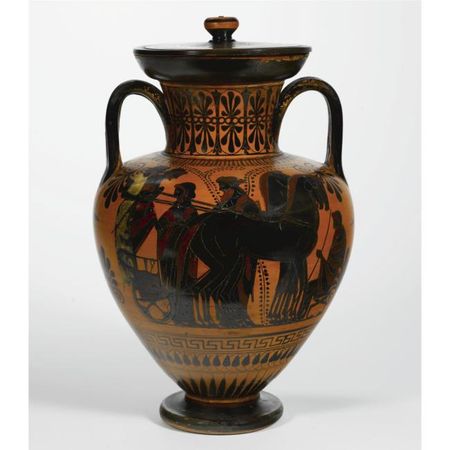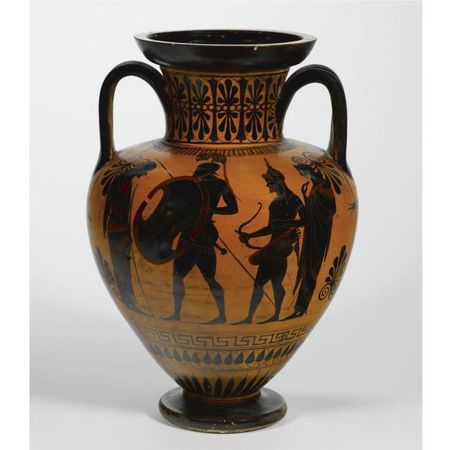 An Attic Black-figured Amphora and Lid, attributed to the Antimenes Painter, circa 530-510 B.C.
painted in front with a man and his charioteer in a quadriga, Dionysos holding vine branches, a standing man, and a seated man holding a staff, the reverse decorated with an archer and hoplite in full armor between two female figures, palmettes and lotus flowers in the handle zones, the details in added red and white, a graffito under the foot, another under the lid. height 15 1/2 in. 39.4 cm.; height with lid 17 in. 43.2 cm. Est. 100,000—150,000 USD. Lot Sold 194,500 USD
PROVENANCE: William D. Montalpert, Beverly Hills, California
Royal-Athena Galleries, New York
EXHIBITED: The Art Institute of Chicago, 1963
LITERATURE AND REFERENCES: John D. Beazley, Attic Black-figure Vase-Painters, Oxford, 1956, p. 273, no. 106
J. Burow, Der Antimenesmaler (Kerameus, vol. 7), Mainz, 1989, no. 67, pl. 67
Royal-Athena Galleries, New York, One Thousand Years of Greek Vases from Greece, Etruria & Southern Italy (Art of the Ancient World, vol. 66), 1990, p. 9, no. 28, and cover illus.
Beazley Archive Pottery Database no. 320117
NOTE: In regard to the Antimenes Painter John Boardman writes that "he continues the tradition of straightforward narrative exemplified by earlier artisits of group E, but with a remarkable range of scenes. Few of them may be of his own invention, but his presentation of them is telling and explicit, though very few are inscribed, and the compositions are neatly observed and simple, rarely with overlapping figures except of men and horses or dancing couples" (John Boardman, Athenian Black Figure Vases, New York, 1974, p.109). The number 9507 is written in ink in an old hand under the lid.
Sotheby's. Old Master Paintings, European Sculpture & Antiquities. 04 Jun. New York www.sothebys.com