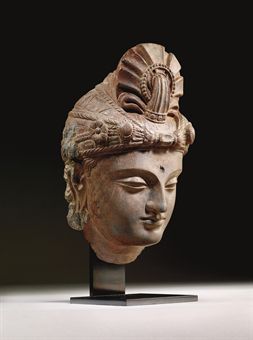 Rare tète de bodhisattva en schiste gris avec traces de polychromie. Région du Gandhara, IIème-IIIème siècle
Superbement sculptée, le visage légèrement ovale aux proportions idéales, la bouche fine légèrement ourlée, le nez aquilin, les yeux en amande aux paupières coupantes, les sourcils arqués, le front rehaussé de l'urna, paré de pendants d'oreilles, les cheveux ondulés, en partie masqués par une coiffe élaborée faite de tissus noués, maintenus par des perlages et rehaussés de bijoux, la partie centrale composée d'une bouffette travaillée, importantes traces de pigment rouge, socle. Hauteur: 47 cm. (18½ in.). Est. €60,000 - €80,000
Provenance: Private Asian collection, acquired in 1979.
Notes: This attractive image of a Bodhisattva head is remarkable for its serene countenance with its contemplative and deeply spiritual expression. The bejeweled turban is part of the rich suite of aristocratic accoutrements known as bodhisattvabharana which indicated the deity's divine identity and also acted as symbols representing the material and spiritual wealth to be gained by lay worshippers. As suggested by Francine Tissot, Gandhara, Paris 1985, pp. 212-215, the turban is based on an original which combined a metal cap, repousse decorated and textile.
This head is in superb condition retaining original pigments and it is reasonable to assume that many schist figures were originally polychromed, following Greco-roman prototypes, or in some cases gilt. Only very few examples bearing remnants exist in stone as opposed to stucco. It is likely that the whole sculpture was originally gilt, the underlying red pigment lending the gold a warmer tone in areas allowing for a variegated effect.
Compare a stylistically similar but smaller grey schist head of a Bodhisattva Sotheby's New York, 25 March 1999, lot 138.
Christie's. Art d'Asie. 10 June 2009. Paris www.christies.com