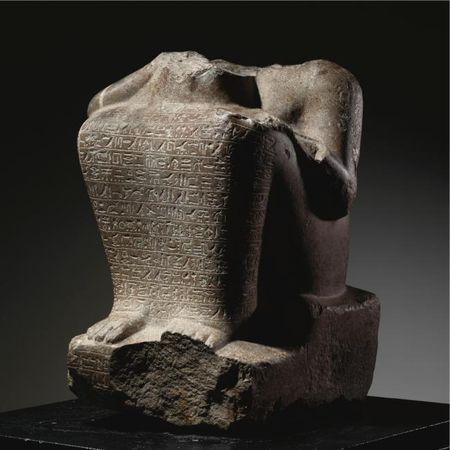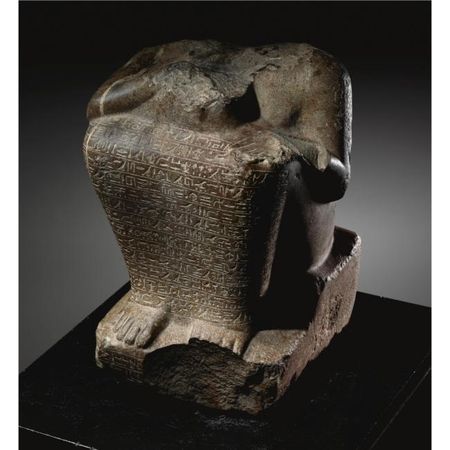 A Peridotite Block Statue of the Priest of Hathor Amenmose asking for Offerings, 19th Dynasty, 1292-1190 B.C.
seated on a stepped pedestal and holding his upturned hands before him, the folds of his ample belly indicated, and wearing a long kilt reaching to the ankles and carved with fourteen lines of inscription, inscriptions remaining on the pedestal and back pillar. height 18 1/4 in. 46.4 cm. Est. 100,000—150,000 USD - Lot Sold 134,500 USD
PROVENANCE: Butros Andraos Collection, Cairo, 1920s
European private collection, 1971
McAlpine Gallery, Clifford Street, London, acquired in 1974, probably from Rodney Brooke, Mount Street, London
William Bowmore, Australia, acquired from the above in 1977
EXHIBITED: "The Fine Art of Giving : 90 Masterpieces from the William Bowmore Collection," Art Gallery of South Australia, Adelaide, November 2nd, 1999 - April 1st, 2000
LITERATURE AND REFERENCES: Regine Schulz, Die Entwicklung und Bedeutung des kuboiden Statuentypus. Eine Untersuchung zu den sogenannten `Würfelhockern,' Hildesheim, 1992,, vol. I, p. 404 [236]; vol. II, pl. 103 [d]
Jacques J. Clère, Les chauves d'Hathor (Orientalia Lovaniensia analecta, vol. 63), Leuven, 1995, pp. 164-170, pls. XXV-XXVI, and fig. 58
Jaromir Malek, Diana Magee, and Elizabeth Miles, Topographical Bibliography of Ancient Egyptian Hieroglyphic Texts, Statues Reliefs and Paintings, vol. VIII, Part 2, Oxford, 1999, no. 801-643-730
Ron Radford, The Fine Art of Giving : 90 Masterpieces from the William Bowmore Collection, Adelaide, 1999, p. 79, illus.
NOTE: The text inscribed over the kilt reads: "[1] Amenmose, servant of the temple of the goddess Or, Spokesperson of Hathor, Majordomo of the City-of-the-South, [2] he says: 'I am one of the bald ones of this goddess, one who abhorrs being thirsty, and [3] she has indulged me with bread, beer, and ointment to put over my head. She made it so that I say good things to him whom she favors, and I detest [4] deceit and despise falsehood. I was sent here to soothe the heart of the one who gives birth... [5] and to make the breath (of life) enter her nostrils, to give happiness to the one who will give birth, to give a husband to the widow and a lover to the maiden, to provide food to the menials of my house and to take care of them, to provide a son to him who asks for one [7] – that he may be more useful to him than a thousand men -, to provide a support to the old man and a legacy to the orphan, (and finally) to give [8] a tomb after old age to him who has died childless.'
The bald one says to the inhabitants of his city, land of justice called Tep-ihu: 'O people of my city, noblemen of Tep-ihu, a city that exists since times immemorial, primordial, rich in nourishments, a mine of pure foods, I am a bald one of the temple of the goddess Or, one who stands watch in her presence, and she has favored me and indulged me by giving me the favor of the love of a goddess. As for anyone who enters bringing offerings into the temple of Hathor, let him begin [12] (by giving some) to her and then to me, giving me some of the first installment of offerings. I stand watch while all other men are asleep in their houses, and my place is here for eternity. Give me beer in the hollow of my hand which is ready to receive it, and place ointment over the top of my head, and then I will speak your requests, bringing them (to the goddess)..."
The text engraved on the back pillar reads: "(Adoration to) Hathor, bowing before the Mistress of Tep-ihu by the Majordomo of the king in the City-of-the-South, [2] (Amenmose, he who says)....... and I worship Your beautiful countenance: may you listen to my prayers [3]........ of Your sanctuary, and that I live off Your food, for, indeed, You love truth and my heart lives from it."
Sotheby's. Old Master Paintings, European Sculpture & Antiquities. 04 Jun. New York www.sothebys.com