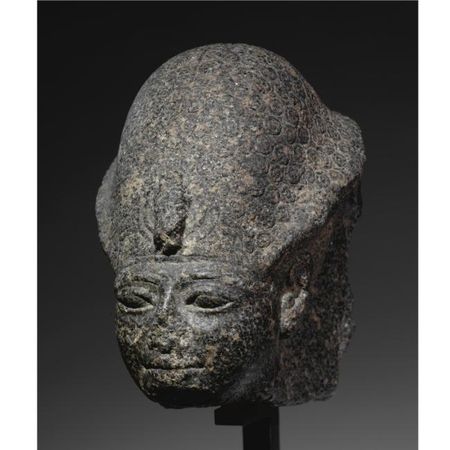 A Granite Head of Ramesses II wearing the Blue Crown, 19th Dynasty, reign of Ramesses II, 1279-1213 B.C.
representing the king early in his reign, resting against a rectangular back pillar with two fragmentary columns of inscription in sunk relief, and wearing the Blue Crown covered with dotted roundels, the coiled uraeus with tail trailing in a slender line over the top, his face with mouth indented at the corners, large eyes with incised folds on the upper lids, long cosmetic lines (barely visible on the left eye) flaring slightly at the ends, and long contoured eybrows. height 7 1/4 in. 18.4 cm. Est. 35,000—45,000 USD - Lot Sold 86,500 USD
PROVENANCE: Jack Josephson, New York (Sotheby's, New York, November 21st and 22nd, 1985, no. 128, illus.)
Sotheby's, London, December 11th, 1989, no. 64, illus.
Sotheby's, New York, December 14th, 1993, no. 167, illus.
EXHIBITED: The Brooklyn Museum of Art, 1976-1985 (L.76.10.1)
LITERATURE AND REFERENCES: Jaromir Malek, Diana Magee, and Elizabeth Miles, Topographical Bibliography of Ancient Egyptian Hieroglyphic Texts, Statues, Reliefs and Paintings, vol. VIII, part I, Oxford, 1999, p. 114, no. 800-732-701
Sotheby's. Old Master Paintings, European Sculpture & Antiquities. 04 Jun. New York www.sothebys.com