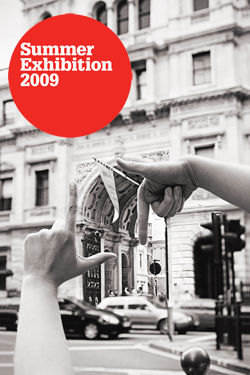 LONDON.- Now in its 241st year, the Royal Academy's Summer Exhibition 2009 continues the tradition of displaying a wide range of new work by both established and unknown artists in all media including painting, printmaking, photography, sculpture and architecture. This year's coordinators, Royal Academicians Ann Christopher, Eileen Cooper and Will Alsop have selected works for the exhibition around the theme of 'Making Space'. Since the founding of the Royal Academy of Arts in 1768, the annual Summer Exhibition has become the world's largest opensubmission contemporary art exhibition.

The Summer Exhibition attracts a high volume of entrants each year with around 10,000 works submitted this year. The majority of selected works are on sale, offering visitors an unrivalled opportunity to purchase original artwork by high profile and emerging artists.

Highlights of this year's exhibition include a gallery of film curated by Richard Wilson RA and will include a site specific installation created by the artist.

A memorial display in the central hall is dedicated to the artistic achievements of the late Jean Cooke RA. Dr.Leonard McComb RA has selected key paintings from throughout Cooke's career to represent her oeuvre including her Diploma work Jamais je ne pleure et jamais je ne ris.

The Architecture Room curated by Will Alsop includes works by Zaha Hadid RA, Eric Parry RA, Norman Foster RA and Piers Gough RA.

Following on from last year's successful BBC Series on the Summer Exhibition, the Royal Academy of Arts is delighted to be working with BBC TWO on an hour long Culture Show special to be screened on June 17th.

MEMORIAL ARTIST
Jean Cooke RA (1927 – 2008)
Born in 1927, Jean Cooke studied at the Central School of Arts and Crafts, Camberwell; Goldsmiths' College School of Art, London and at the Royal College of Art, London (where she would later become lecturer 1964 to 1974). Her works were exhibited in solo and group shows including The Dulwich Picture Gallery, The Norwich Gallery and Grimsby Art Centre. Her works are held in public collections including The Tate Gallery and the Royal College of Art. Cooke was elected Royal Academician in 1972 and lived and worked in London.

ANNENBERG COURTYARD
Triton III by Bryan Kneale RA has been installed in the RA's Annenberg Courtyard. Consisting of of three components, this arresting stainless steel sculpture, made in 2008, has previously been on display at the Cass Sculpture Foundation, Goodwood. Triton III comprises concave and convex forms; some surfaces have a satin finish and others are polished convex and reflect and distort its courtyard setting at the Summer Exhibition 2009.

Bryan Kneale's sculpture is the latest installation in the RA's programme of Sculpture in the Courtyard and follows on from the Sir Anthony Caro's Promenade, the Chapman's The Meek Shall Inherit the Earth, but not the Mineral Rights, Anselm Kiefer's Jericho, Rodin's Gates of Hell and Damien Hirst's Virgin Mother.

PRIZES
Each year, the Summer Exhibition recognises artists of exceptional merit, awarding a total of £70,000 prize money donated by commercial and industrial sponsors.

Established in 1978, the Royal Academy of Arts Charles Wollaston Award is, at £25,000, one of the largest and most prestigious art prizes in Britain. Previous winners include Jeff Koons (2008), Gavin Turk (2007), Jake and Dinos Chapman (2003), Alan Charlton (2002), Marc Quinn (2001), Gerard Hemsworth (2000), David Hockney (1999) and John Hoyland (1998).
Damien Hirst, Saint Bartholomew, Exquisite Pain, 2007, silver, 2500 x 1100 x 950mm, AP 1 (edition of 3). Damien Hirst Copyright photography by Prudence Cuming Associates.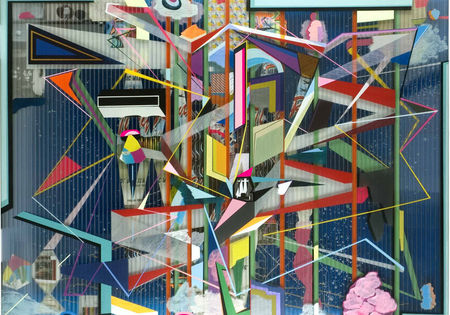 Danny Rolph, Gladstone, 2009, Mixed media on Tripplewall. Courtesy of the Artist and AR/Contemporary, Milan.