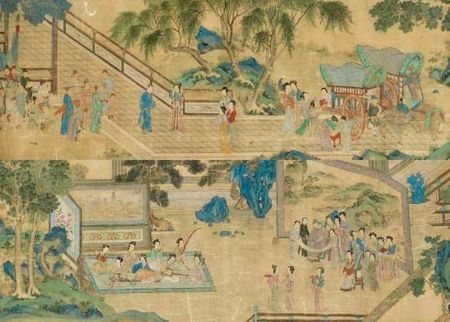 Peinture en largeur, encre et polychromie sur soie, représentant des personnages dans un paysage et pavillons. Chine, XVIIIe siècle.
Porte la signature apocryphe de Qiu Ying. Dimension 31 x 539 cm. (Accidents et restaurations). Estimation : 5 000 / 6 000 €
Vente du Mardi 9 juin 2009. Art d'Asie. Piasa - Paris
Qiu Ying (Chinese: 仇英; pinyin Qiú Yīng; Wade-Giles: Ch'iu Ying; 1494? - 1552) was a Chinese painter who specialized in the gongbi brush technique
Qiu Ying's courtesy name was Shifu (实父), and his pseudonym was Shizhou (十洲). He was born to a peasant family in Taicang (太仓 - now Jiangsu Province) and studied painting under Zhou Chen in Suzhou. Though Suzhou's Wu School encouraged painting in ink washes, Qiu Ying also painted in the green-and-blue style. He painted with the support of wealthy patrons, creating images of flowers, gardens, religious subjects, and landscapes in the fashions of the Ming Dynasty. He incorporated different techniques into his paintings, and acquired a few wealthy patrons. His talent and versatility allowed him to become regarded as one of the Four Great Masters of the Ming Dynasty.
Three of his best patrons were art collectors. One was Chen Guan from Suzhou. The other two were both younger than Qiu: Zhou Fenglai (1523–1555), from nearby Kunshan, and the well-known wealthy collector Xiang Yuanbian, whose home was in Jiaxing in Zhejiang Province. (wikipedia)