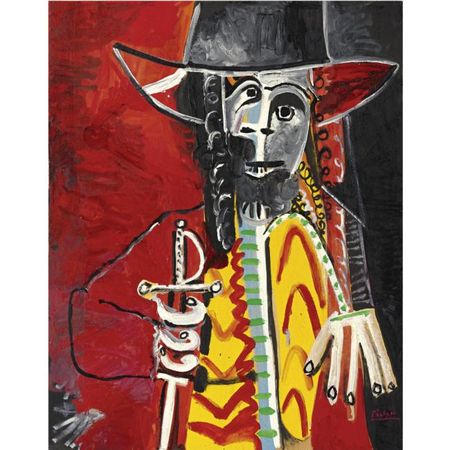 Pablo Picasso, Homme à l'épée, oil on board, 146 by 114 cm. Painted on 25th July 1969. Estimate: £6-8 million. Photo: Sotheby's.
LONDON.- Sotheby's forthcoming sale of Impressionist & Modern Art on the evening of Wednesday, June 24, 2009 will be led by rare works by Pablo Picasso, Alberto Giacometti, Claude Monet, Pierre-Auguste Renoir and Henri de Toulouse-Lautrec.

Pablo Picasso's Homme à l'épée, a striking and monumental depiction of a musketeer from the artist's late oeuvre, will be one of the centre-pieces of the sale with an estimate of £6-8 million. The vividly coloured painting dates from July 1969 and is one of his most important and iconic subjects of this period.

Throughout his career Picasso projected the different sides of his own identity in a number of ways and the musketeer was one of the most celebrated subjects and guises of his latter years. It was a theme which saw him align himself with the iconography so frequently used by great Old Master painters such as Rembrandt and Velázquez and hence merge his own personal history with the cultural heritage of the Western artistic tradition. In Homme à l'épée Picasso depicts a nobleman from the Spanish Golden Age, gaudily dressed and sporting a cloak and big black hat.

Talking about the painting, Helena Newman, Director of the Evening Sale and Vice Chairman of the Impressionist & Modern Art department, Sotheby's Worldwide, said: "Following the widely acclaimed exhibitions Picasso et les maîtres at the Grand Palais in Paris and more recently Picasso: Challenging the Past at the National Gallery in London – the latter of which closed its doors to the public on June 7 – we're delighted to be including Homme à l'épée from 1969 as one of the highlights of our forthcoming sale of Impressionist and Modern Art. This powerful, museum-quality painting, which has never before been at auction, comes to the market at a time when the interest in and assessment of Picasso's late oeuvre has never been stronger."

Picasso pared down his style in the final years of his career and painted works on a grand scale in bold, spontaneous brushstrokes - Homme à l'épée measures 146 by 114cm - and focuses on the elements of himself that fascinated and preoccupied him. Picasso captured these elements with a contemporary style and his own unique sense of wit. Homme à l'épée starred in the seminal exhibition of the artist's work at the Palais des Papes in Avignon in 1970 and was selected for the poster advertising the exhibition.

Picasso will also be represented by his monumental nude entitled Nu debout from 1968, estimated at £3-4 million, which has been in the same private collection for over 35 years. This painting belongs to a series of major works that he undertook on the theme of the female nude in the late 1960s. Distinguished by their larger than-life format and stunning display of painterly virtuosity, the figures depicted in this series have drawn comparison to his early masterpiece Demoiselles d'Avignon of 1907.

In this work Picasso takes as his muse and model the woman he loves and who lives with him, Jacqueline, the final love of his life whom he married in 1961. Although she did not pose for this or other works, features such as her almond-shaped eyes and strong nose are clearly distinguishable in Nu debout. The love that Picasso felt for his wife is reflected in the passionate vitality and excitement radiating from the present work. Her monumentality and her frontal pose confronting the viewer convey a universality and eternal presence, identifying Jacqueline as the ultimate feminine representation. The artist's creative energy at this time - when he was in his late 80s - was remarkable, and the present work is a striking example of the breath-taking flood of invention and fantastic vitality that characterised Picasso's late years.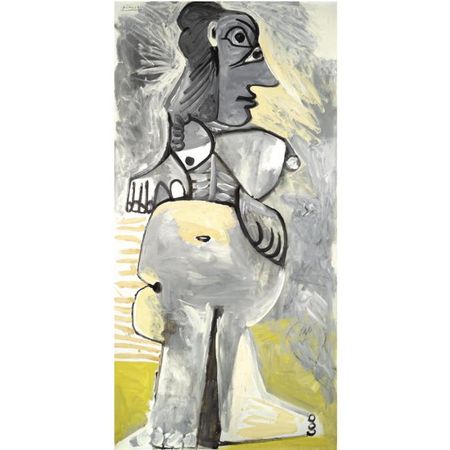 Pablo Picasso, Nu debout,1968, oil on canvas, 195 by 97cm. Painted on 19th December 1968. Estimated £3-4 million. Photo: Sotheby's.
A group of works by Alberto Giacometti from a private European collection will be a further notable highlight. This group which has a combined low estimate of £4.2 million, is led by Buste de Diego (Aménophis), an iconic sculpture of the artist's younger brother, estimated at £2-3 million. This work depicts Diego, whose slender head emerges from a voluminous bust, a style typical of many of the portrayals of Diego by his brother after World War II. A further Giacometti work is Diego (Tête au col roulé), estimated at £1–1.5 million and dating from the early 1950s, a painted plaster sculpture that merges his talents as both a painter and a sculptor. Another bronze from the group is an impressive bust of Giacometti's wife entitled Buste d'Annette VII, which belongs to a series of sculptures characterised by a delicate rendering of Annette's distinctive features. A slender neck supports a raised head, large eyes, pointed nose and delicate chin. Estimated at £1.2–1.8 million, this work is one of only two casts of Buste d'Annette VII, with the other in the collection of The Museum of Modern Art in San Francisco.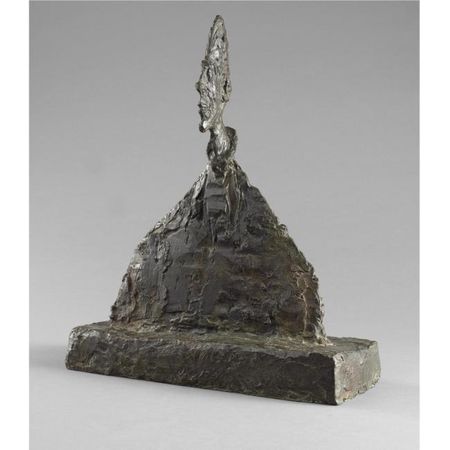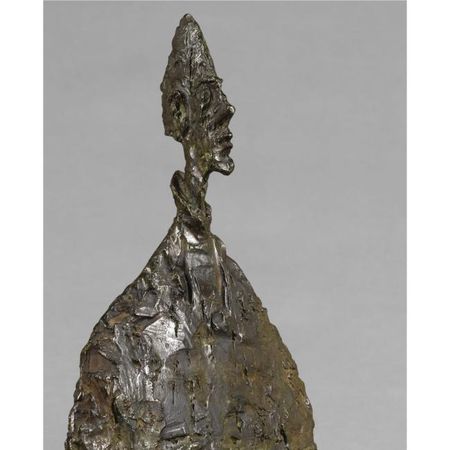 Alberto Giacometti, Buste de Diego (Aménophis), bronze, height: 37.8cm. Executed in 1954 and cast in bronze in an edition of eight. The present work was cast in 1955. Estimate £4.2 million. Photo: Sotheby's.
Among a strong group of Impressionist works is a prime example of Claude Monet's winter landscapes, an oil on canvas entitled Route de Giverny en hiver. Dating from 1885 and estimated at £3-4 million, this classic Impressionist scene depicts the snow-covered road leading to the town of Giverny, where the artist lived at the time and where he painted some of his most celebrated works. Inspired by heavy snowfall in 1885, Monet immediately started painting the newly transformed landscape and the present work is a quintessential example of his rendering of the differing effects of light on snow.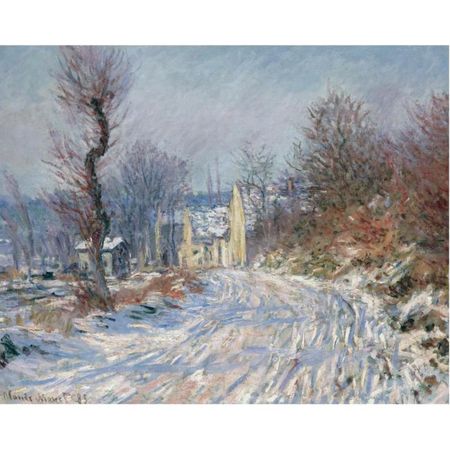 Claude Monet, Route de Giverny en hiver, oil on canvas, 65.5 by 81cm. Painted in 1885. Estimated £3-4 million. Photo: Sotheby's.
A rare painting by Henri de Toulouse-Lautrec from circa 1888 is inspired by the celebrated Cirque Fernando in Montmartre, a favourite haunt of the artist and his contemporaries. The painting - entitled Au cirque: dans les coulisses - is estimated at £2-3 million. Toulouse-Lautrec was known for capturing scenes from popular culture and the night life of turn-of-the-century Paris. As such he frequented the circus and these visits inspired a number of paintings and drawings around this time; unlike many of these works however, Au cirque: dans les coulisses focuses on a small group off-stage rather than capturing the full colourful performance. The grisaille technique, with contrasts between the light and dark grey tones, creates a sense of energy that adds to the dynamism of this classic Toulouse-Lautrec painting.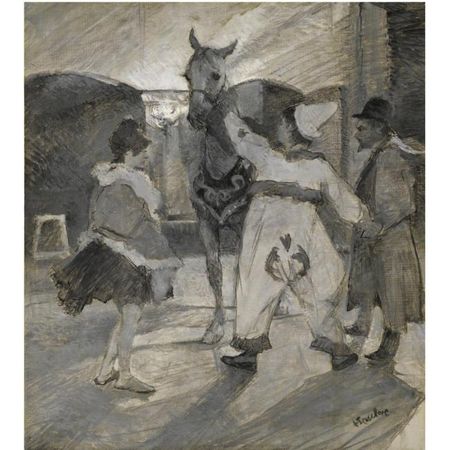 Henri de Toulouse-Lautrec, Au cirque: dans les coulisses, oil on canvas, 66.5 by 59.5cm. Painted circa 1888. Photo: Sotheby's.
Pierre-Auguste Renoir's oil on canvas Nature morte, fleurs et fruits, estimated at £1.8–2.5 million, is a vivid depiction of gladioli and lilies bursting from their vase and surrounded by succulent fruit. The painting dates from the prime of Renoir's career in the late 1880s and exemplifies the Impressionist techniques of rendering light and shadow that Renoir and Monet introduced at Impressionist group exhibitions in Paris. The distinctive majolica vase reappears in the artist's celebrated painting Jeunes filles au piano of 1892 which is today in the collection of the Metropolitan Museum of Art in New York.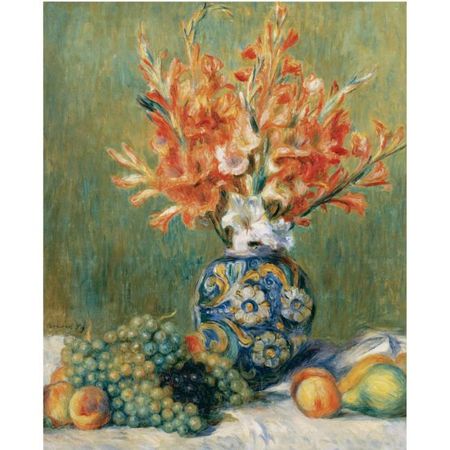 Pierre-Auguste Renoir, Nature morte, fleurs et fruits, oil on canvas, 65.5 by 54cm. Painted in 1889. Estimated at £1.8–2.5 million. Photo: Sotheby's.
The sale will also include a rare view of Constantinople by Paul Signac of 1907, a unique life-size stone carving by Barbara Hepworth and notable works by Joan Miró and René Magritte.