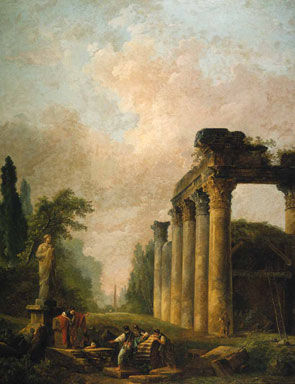 Hubert Robert, French, 1733–1808; The Ruin, 1789; oil on canvas; 95 5/8 x 77 inches; Saint Louis Art Museum, Gift of Mrs. Frederic W. Allen 22:1958
SAINT LOUIS, MO.- This summer, the Saint Louis Art Museum will transform one of its main level galleries into a painting conservation lab for Reviving Antiquity: Restoring Hubert Robert's Views of Ancient Ruins.

Beginning June 10, Paintings Conservator Mark Bockrath of West Chester, Pa., will clean and restore three large 18th-century landscapes by the French painter Hubert Robert (1733–1808). The three paintings—The Obelisk, The Ruin and Fantastic View of Tivoli—are part of four landscapes commissioned during the 1780s by unknown Russian clients.

Museum visitors may recall that the group of four Robert paintings hung for many years in the corners of Grigg Gallery. Ever since the reinstallation of Grigg Gallery in 2006, the paintings have been in storage, awaiting conservation.

In 1996, Museum Paintings Conservator Paul Haner cleaned and inpainted one of the four (The Column). The Column is currently on loan to the Pulitzer Foundation for the Arts, where it is on view as part of the Pulitzer's current exhibition, Ideal (Dis-) Placements: Old Masters at the Pulitzer.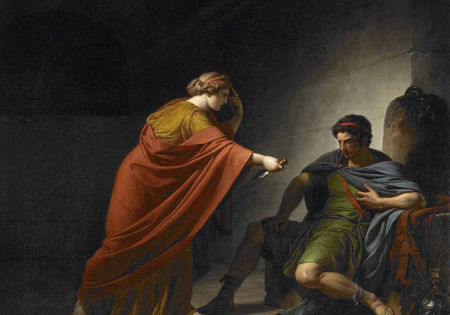 François-André Vincent, French, 1746–1816; Arria and Poetus, 1784; oil on canvas; 39 3/4 x 48 inches; Saint Louis Art Museum, Funds given by Mr. and Mrs. John Peters MacCarthy, Director's Discretionary Fund, funds given by Christian B. Peper, and gift of Mr. Horace Morison by exchange 27:2008