Urbain VIII - Maffeo Barberini (1568-1644)
The antique sapphire and diamond tiara, necklace, ear pendants and brooch once formed part of the jewels of the Barberini family. They were sold as a parure at Christie's Geneva on 18 November 1971 and realised $18,850.

The Barberinis were an Italian noble family who rose to prominence in 17th century Rome when Cardinal Maffeo Barberini was elected as Pope Urban VIII. The Barberini Palazzo created by Bernini in 1633 gives evidence of the family's importance and today houses the National Gallery of Ancient Art in Rome.
An antique sapphire and diamond tiara
The foliate wreath composed of seven graduated oval-shaped sapphire and old-cut diamond flowerheads applied on a rose-cut diamond branch with sapphire single-stone collet detail, mounted in silver and gold, circa 1850, 17.0 cm wide. Estimate £20,000 - £30,000 ($32,320 - $48,480) - Price Realized £61,250 ($98,980)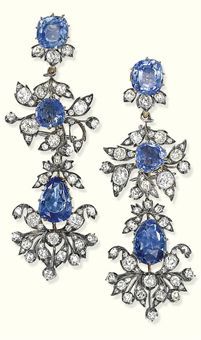 A pair of antique sapphire and diamond ear pendants
Each designed as two vari-shaped sapphire and old-cut diamond floral clusters suspended from a single-stone sapphire surmount with foliate detail, one diamond deficient, circa 1850, 7.8 cm long (2) Estimate £8,000 - £10,000 ($12,928 - $16,160) - Price Realized £18,750 ($30,300)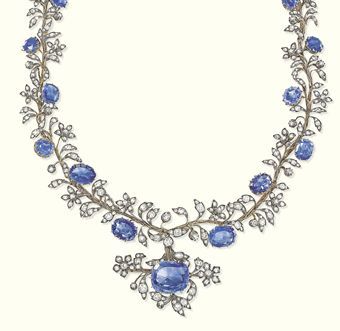 An antique sapphire and diamond necklace
Of foliate design, designed as an old-cut diamond articulated branch with oval-shaped sapphire intervals suspending a pendant of similar design, backchain later, circa 1850, 48.0 cm long. Estimate £10,000 - £15,000 ($16,160 - $24,240) - Price Realized £42,050 ($67,953)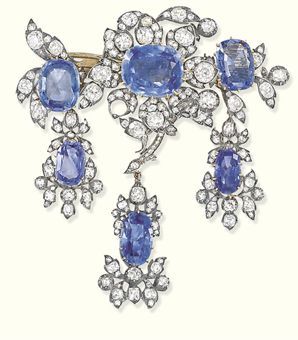 An antique sapphire and diamond brooch
Of girandole design, the oval-shaped sapphire and old-cut diamond flowerhead centre with sapphire and diamond foliate sprays to either side suspending three pendants of similar design, two diamonds deficient, circa 1850, 7.3 cm wide. Estimate £10,000 - £15,000 ($16,160 - $24,240) - Price Realized £30,000 ($48,480)
Christie's. Jewellery. 10 June 2009. London, King Street www.christies.com