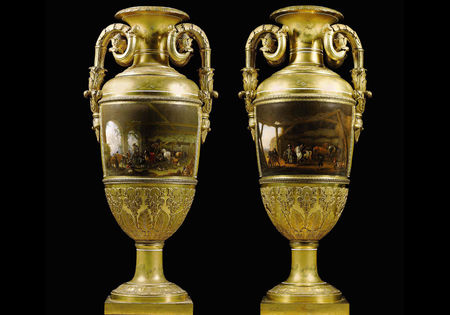 The Russian Imperial Porcelain Vases sold for the extraordinary sum of £2,617,250. Photo: Sotheby's
LONDON.- At Sotheby's London this afternoon, a magnificent pair of Russian Imperial Porcelain Vases sold for the extraordinary sum of £2,617,250, well in excess of the pre-sale estimate for the pair of £1.2-1.8 million. No less than five bidders - three in the saleroom and two on the telephones - competed for the vases, in Sotheby's biannual Russian Works of Art Sale, which after five minutes of bidding finally sold to a round of applause.

The magnificent pair of Imperial porcelain Palace vases, with masterfully decorated ornamental plants in two-colour gold and copies of Old Master paintings, comes from the collection of Grand Duke Vladimir Kirillovich (1917-1992). In keeping with the European trend for decorating porcelain with academic subjects, which flourished in St. Petersburg during the reign of Nicholas I (1825-1855), this pair features scaled-down versions of Stable Interiors by Philips Wouwermans and beautifully demonstrate the majestic splendour of the court of the Tsar. Traditionally works of such importance and grandeur were intended as presentation gifts for foreign rulers or formed part of wedding dowries and were made at the special request of His Imperial Majesty. The vases were acquired by the Grand Duke Vladimir Kirillovich in 1962, who assumed the title Head of the Imperial Family and Emperor and Autocrat of all the Russians upon the death of his father. Vladimir Kirillovich died in 1992 and is buried in the Grand-ducal tomb of the Peter and Paul Fortress of Saint Petersburg – the last member of the Russian Royal family to be laid to rest there.