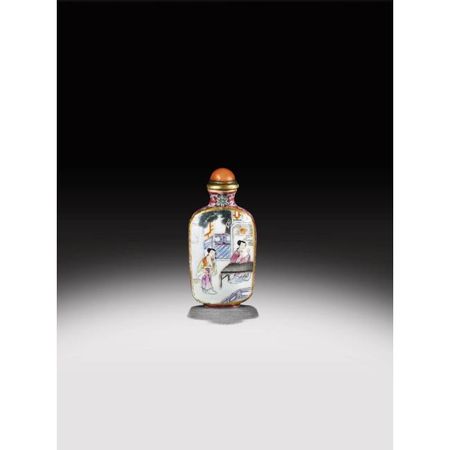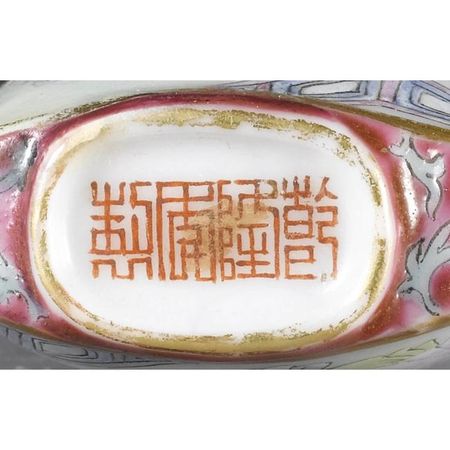 Tabatière en porcelaine famille rose. Chine, impérial, fours de Jingdezhen, marque Qianlong, 1760-1799
décorée sur les deux côtés de scènes de La Romance de la Chambre de l'Ouest ; bouchon en corail cerclé de métal. 7 cm, 2 3/4 in. Est. 7,000—10,000 EUR - Lot Sold 8,750 EUR
PROVENANCE: Galerie Bertrand de Lavergne
NOTE: The Romance of the West Chamber, written by Wang Shifu in the Yuan dynasty, tells of the romance between Zhang Junrui and Cui Yingying. While on his way to take the civil service examination, Zhang was instrumental in rescuing Cui Yingying from a group of bandits. Cui's hand in marriage had been offered by her mother to whoever could save her, but she subsequently reneged on her promise. On the present bottle, Zhang is shown conveying his sorrow through his music at a secret meeting arranged by Hongniang. The reverse shows Hongniang awaiting her mistresses' response to a note she has delivered from Zhang.

This style of bottles began during the late Qianlong production at the imperial kilns at Jingde Zhen and continued during Jiaqing reign.
A bottle with similar panels and with the Jiaqing mark is illustrated in Moss, Graham, Tsang, The Art of the Chinese Snuff Bottle, The J & J Collection, vol. 1, p. 365, no. 211 and was sold at Christie's New York, 29 March 2006, lot 33.
Sotheby's. Asian Art11 Jun 09. Paris www.sothebys.com