William Morris, 'Poppy' or 'Wreath', a wallpaper design, courtesy Bonhams
LONDON.- Two rare designs created and inscribed by William Morris have been acquired at auction by the V&A with help from independent charity The Art Fund, it was revealed today. The works were bought at auction yesterday, 10 June for a total of £60,000, of which £30,000 came from The Art Fund.

The first piece, an original design for 'Fruit' wallpaper, depicts leaves, lemons, oranges and pomegranates on a pale yellow background, and was painted by the artist with gouache on paper over pencil. The work was made c.1862 for Morris, Marshall, Faulkner and Company and is inscribed with instructions in the artist's hand on the reverse.

This fruit-themed pattern is one of Morris's earliest designs for wallpaper and is known to exist in two versions. This is the first version, which includes an olive branch motif. In later re-workings of the design, and in the actual Morris & Co. wallpaper, olive branches are replaced with sprays of oranges and peaches. However, the original olive pattern is of particular importance to the V&A as it strongly resembles the decorative plasterwork in the museum's Green Dining Room, or 'Morris Room', decorated by Morris's firm in 1866.

The second purchase is a design for 'Poppy' or 'Wreath' wallpaper, depicting poppies and acanthus flowers, dated c. 1880. Created in gouache on paper over pencil and crayon, it is inscribed with instructions by the artist on the front and back. This floral work belongs to Morris's later phase during which his designs became more formalised. Drawing upon the classical acanthus and Jacobean abstract floral motifs, the design is most probably influenced by Edward Burne-Jones, a fellow artist and friend of Morris.

The works were bought yesterday, 10 June at the major Bonhams sale, 'Design from 1860'. This is a significant acquisition for the V&A, which holds a substantial collection of Morris works, but only two other wallpaper designs, both from the 1870s.

Andrew Macdonald, Acting Director of The Art Fund, said: "We are thrilled to have helped the V&A seize this rare opportunity to acquire two precious designs by one of Britain's best loved artists. Now part of the V&A's permanent collections, they will inspire and delight viewers for generations to come."

Beth McKillop, Keeper of Collections at the V&A, said: "The V&A has a long association with William Morris. We have wonderful works by him in our collection, but very few of his famous wallpaper designs. It is wonderful to be able to redress this with these original designs. They will be on display in the New Acquisitions Gallery and later in the British Galleries alongside tapestries and other works by Morris.'

William Morris (1867 - 1896) was a poet, artist, manufacturer and socialist associated with the Pre-Raphaelite Brotherhood and the English Arts and Crafts Movement. In 1861, Morris founded the decorative arts firm Morris, Marshall, Faulkner & Co. together with Edward Burne-Jones, Ford Maddox Brown, Dante Gabriel Rossetti and Philip Webb.

During his lifetime Morris designed over 50 wallpaper designs, and his firm produced a further 49 by other designers.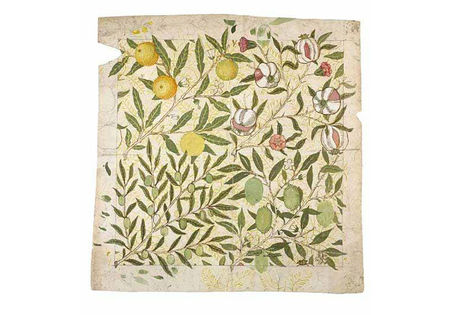 William Morris, 'Fruit' or 'Pomegranate', a wallpaper design, courtesy Bonhams