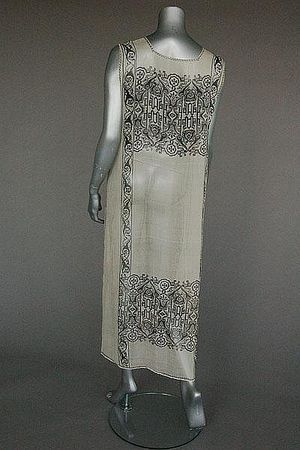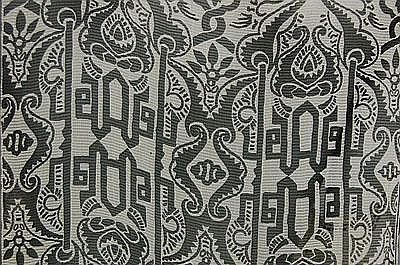 A Mariano Fortuny stencilled white gauze tabard, early 20th century
printed with Near Eastern motifs of black scrolls and edging lines, side slits, chest approx 101cm, 40in. Estimate £600 - £800
Note : cf. Mariano Fortuny His Life & Work, Guillermo de Osma, p.214 for a photograph of an identical tunic in the Museo Fortuny, photograph archive Venice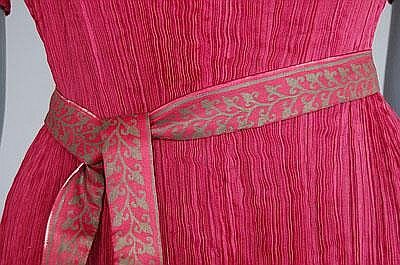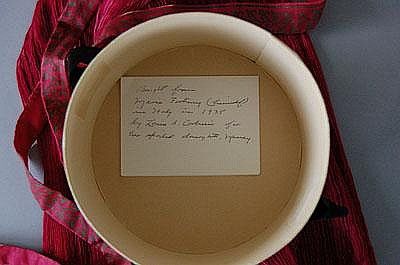 A Mariano Fortuny raspberry-pink silk Delphos gown, circa 1935,
the stencilled tie belt marked to the reverse `Fortuny', the shoulders threaded through with cords weighted with brown and white flecked Murano glass beads, contained in original Fortuny box, (4) Estimate £1,500 - £2,000
There is a Provenance note which states "Bought from Mariano Fortuny (himself) in Italy in 1935 by Louise A. Corbusier for her spoiled daughter Nancy"
Note : Pleats have fallen out of place at the rear seat and the underarms. There is a small and faint brown stain on the front skirt of the gown approx 2cm x 3mm; faint perspiration stains at the underarms and one tiny pinhead sized hole. Drawstring at neck has been replaced with a cream cord, slight soiling to inside of neck edge. The hem is generally good - approx 1cm of silk ribbon hem binding has come away and needs re-stitching, a few fairly miniscule holes/separations in the silk to the hem but generally good, fabulous colour. The belt looks as though it has been made narrower, more tapering. There are splits in the silk along the edge of the belt. Where two lengths of silk have been joined vertically across the width of the belt the silk has separated. The box has 2 ½ in strip from lid edge/side which has detached. The box has been initialled in ink 'CKW'.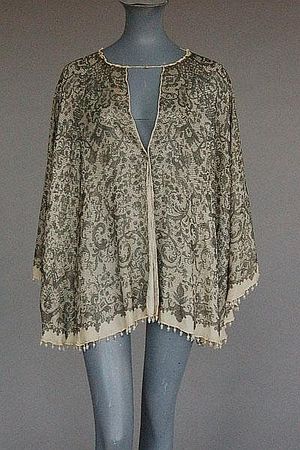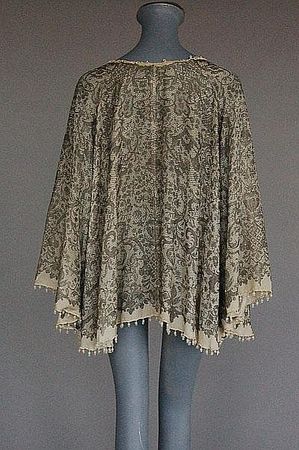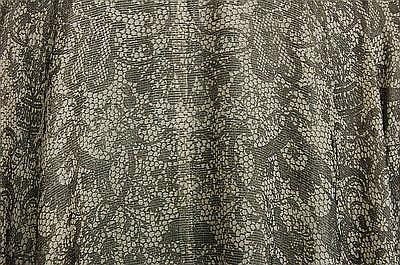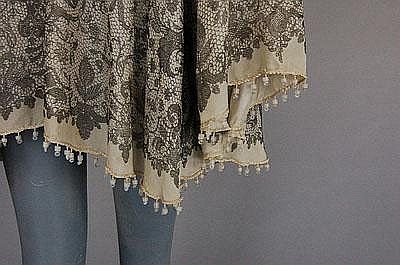 A Mariano Fortuny stencilled silk batwing jacket, early 20th century
the ivory silk ground stencilled in silver with an 18th century needlepoint lace design, the edges weighted and adorned with white and clear glass Murano beads Estimate £600 - £900
Note : Edging cord at neck and front panels has become stretched and loose. Small hole to silk rear left shoulder, faint brown stain to silk lining approx 2cm diam.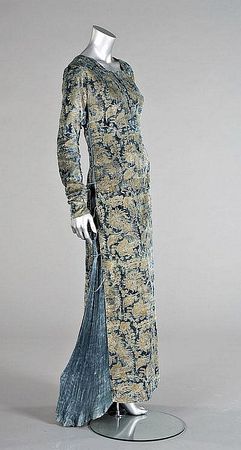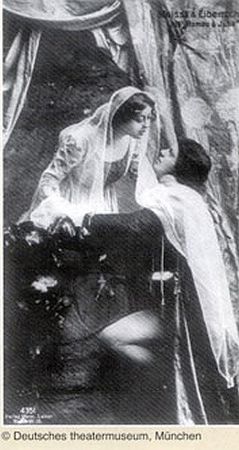 A fine and rare Mariano Fortuny stencilled velvet gown, early 20th century
`labelled Mariano Fortuny, Venise', the soft blue velvet ground stencilled in gold with Medieval style patterns, the sides inset with pleated silk and laced with silk cords and fastened with Murano glass beads, bust 91cm, 36in. Estimate £2,500 - £3,500
Provenance : Camilla Eibenschutz, the beautiful and talented wife of Dr Wolfgang Huck editor of some of the most influential newspapers during the Weimar Republic. She was a renowned German actress and was a role model for many women of her generation. She limited her career to the stage, performing mainly in productions by Max Reinhard (1873-1943). She performed in his 1907 production of Shakespeare's Romeo & Juliet as Juliet (see image).
Note : A couple of faint brown marks to the side panels near the hem on each side, remarkably fresh condition,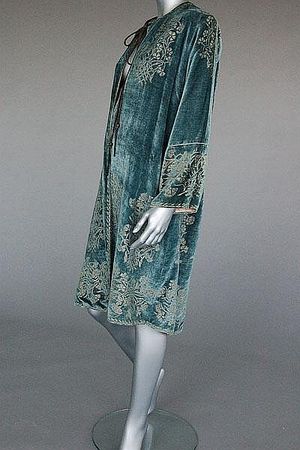 A fine Mariano Fortuny stencilled velvet jacket, early 20th century
labelled to the pink faille lining, stencilled in silver with sprays of carnations, chest 122cm, 48in. Estimate £1,000 - £1,500
Provenance: : Camilla Eibenschutz.
Note : Good condition, faint brown stain near hem of front left panel but not immediately noticeable, pink silk shoulder pads later added, lining has a few small speckled brown stains to one side but not very noticeable, a few small spotted marks to lining lower left hem and one small grey smudge mark (minor), very faint impression in the pile of the velvet on the front right panel possibly from an iron - hardly noticeable through, 2 small brown rust marks on reverse of right cuff, tarnishing to metal ties.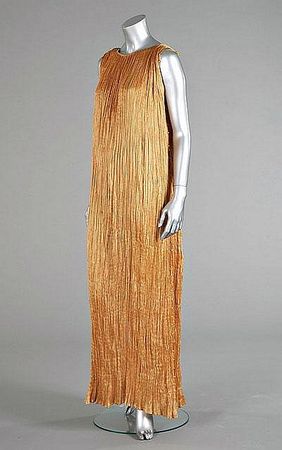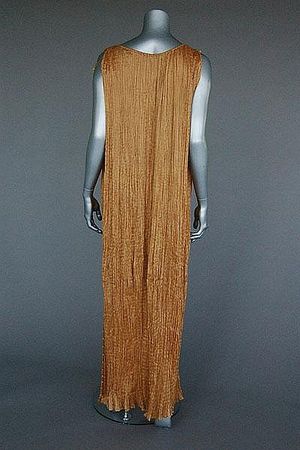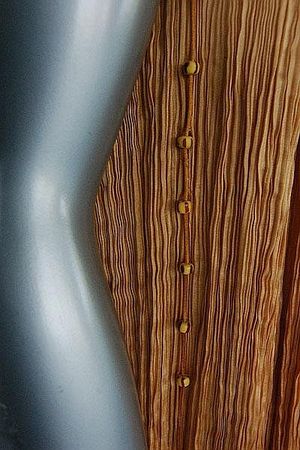 The Property of a Lady of Title. A Mariano Fortuny Delphos gown, early 20th century
of golden apricot pleated silk, the armholes and sides adorned with striped Murano glass beads, one of the inner selvedges printed `Made in Italy, Fabrique en Italie, Fortuny Depose'. Estimate £1,200 - £1,800
Provenance : by descent from the original purchaser.
Note : some bagging to pleats at groin and buttocks region. Drawstring at upper armhole edge has been stretched and come loose and needs re-stitching, one or two tiny pinhead sized holes to the hem. Very faint stains in the silk to front and back but very hard to detect.
Kerry Taylor Auctions - London - June 17, 2009, 2:00 PM GMT