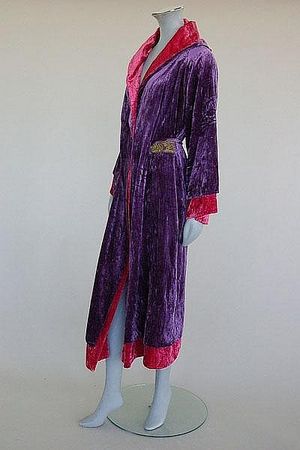 A rare Poiret for Liberty velvet house robe, circa 1930,
of double-layered contrasting purple and crimson velvet, frilled collar, with simple tie belt threaded through gold lace edged openings, embroidered to the velvet lining in chain stitch `Liberty by Poiret', chest 96cm, 38in
Note : When Paul Poiret's business empire crumbled in the late 1920s (he became bankrupt in 1929 also the year his wife divorced him) he became a freelance designer as a means of scraping a living. In 1933 Printemps commissioned him to design a ready to wear range but it ended in failure due to Poiret's inability to make affordable clothing.
This rare example of Liberty clothing must have been a similar venture.
Edna Chase the celebrated US Vogue editor wrote of a visit to Paris where she came across him one morning "I hated the hotel coffee so would walk to a small nearby restaurant run by Sherry's for my breakfast. On several mornings I saw Poiret there looking soiled and shabby and someone told me he was completely broke and that Sherry's gave him his breakfast." cf 'Always in Vogue' Edna Woolman Chase p.120.
Kerry Taylor Auctions - London - June 17, 2009, 2:00 PM GMT