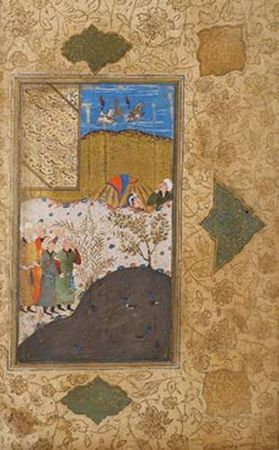 Le vol des canards. Iran, école de Tabriz, 16e siècle.
Sept hommes, cinq au bord d'un étang peuplé de canards, deux autres derrière les collines, contemplent avec stupéfaction, yeux levés vers le ciel, deux canards en vol. Un cartouche de cinq lignes obliques en « nasta'liq » figure dans le champ, en haut de la miniature. Le verso se compose de deux colonnes à bandes vertes ornées de motifs floraux or, encadrant le texte horizontal ou oblique. La page beige est ornée à l'or sur les deux faces de tiges fleuries et de cinq médaillons polylobés, roses ou verts, décorés de fins motifs végétaux or. Usures. Miniature : 16,5 x 9 cm. Page : 27 x 17 cm. Estimation : 7 000 / 8 000 €

A Persian miniature showing a group of people gazing the flight of two ducks. Tabriz, 16th century.
Vente du Jeudi 18 juin 2009. Arts d'Orient. Boisgirard et Associés - Paris