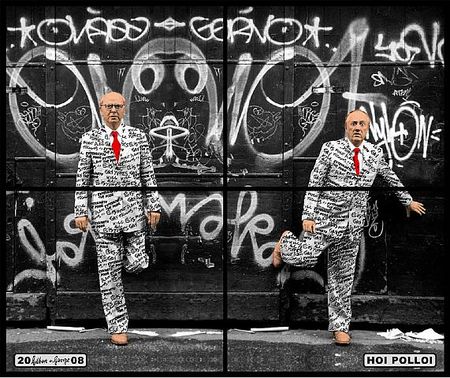 Gilbert & George, HOI POLLOI, 2008
As the international tour of the last Gilbert & George retrospective (2007–2009) did not include Berlin, Arndt & Partner are now all the more delighted to present a solo exhibition of the celebrity artist duo in its gallery rooms behind the Hamburger Bahnhof. It is the first Gilbert & George solo show in Berlin for 14 years. The exhibition features a selection of 20 large-scale pieces from the Jack Freak Pictures, the largest Gilbert & George group of pictures to date. The thrust of the content is given by the colors and shapes of the Union Jack flag that dominate the bulk of the pictures as well as the recurring motive of medals, emblems and trees. In the Jack Freak Pictures the artist duo explores aspects of nationhood and of the sentient individual in the nets of society. In his essay published in the catalogue accompanying the exhibition the British writer Michael Bracewell describes these pictures as "the most iconic, philosophically astute and visually violent works that Gilbert & George have ever created..."
Gilbert & George, who met as students of sculpture at St. Martin's School of Art in London 42 years ago, embarked on a joint artistic career that was to encompass a wide range of media from drawing to video and their trademark pictures. Further, the pair revolutionized the concept of sculpture by presenting themselves as "living sculptures" dressed in the quintessentially British tailored suit, shirt and tie. But it was their monumental trademark pictures composed of a gridlike array of smaller images which they began to create in the early 70s that first brought them international fame. Figures, cityscapes, symbols, plants, bodily fluids, excrements and text interlock in pictorial messages as visually powerful as their content is provocative. The pictures, which started out in black and white and later assumed increasingly luminous, bold colors, generally also depict portraits of the artists themselves and seize on taboo subjects like sexuality, race, religion and national identity with a brash and fearless candor.
The Jack Freak Pictures again feature the bodies and/or faces of the artists. In these compositions, their bodies function as stylized representatives of the individual in society, whose relationship to social norms and categories, to national, religious and sexual identification processes is relentlessly explored and commented upon. Departing from their earlier oeuvre, some of their new pictures split the raw images into much smaller fragments before merging them into new forms. The result is a fascinating kaleidoscopic mix of the monstrously grotesque with an intricate ornamental structure reminiscent of sacred art. In ever new variations, Gilbert & George order the signs and fragments of social life they find in their neighborhood – the multicultural East End of London –, where solidarity and friendship are as visible as intolerance and marginalization.
An artists' talk with Gilbert & George chaired by Hans Ulrich Obrist will take place at the exhibition venue on June 13, 2009, at 4pm.
A fully illustrated catalogue with an essay by Michael Bracewell will be published by the Hatje Cantz Verlag, Ostfildern, to accompany the exhibition.
GILBERT & GEORGE
Gilbert, born in 1943 in the Ladin Dolomites, Italy, studied at the Wolkenstein School of Art in South Tyrol, the Hallein School of Art in Austria and the Munich Academy of Fine Arts before coming to London and enrolling at St Martin's School of Art. George, born in 1942 in Devon, England, studied at the Dartington Hall College of Art, the Oxford Art School and St. Martin's School of Art, where he met Gilbert in Anthony Caro's sculpture class in 1967. They have lived and worked together in London ever since.
The duo has accumulated a long list of international distinctions and exhibitions at major institutions. They were awarded the Turner Prize in 1986, a prize they had already been nominated for two years earlier, and represented the UK at the 51st Venice Biennial in 2005. Solo exhibitions of their art have been held at the Stedelijk Museum, Amsterdam (1971 and 1996), the Guggenheim Museum, New York (1985), Wiener Secession, Vienna (1992), the National Art Gallery, Beijing (1993), the Musée d'Art Moderne de la Ville, Paris (1997), the Kunstmuseum Bonn (1999), the Serpentine Gallery, London (2002), and the Bonnefanten Museum, Maastricht (2006). Their second retrospective, which toured museums including the Tate Modern, London (2007), and the Haus der Kunst, Munich (2007), was on show at the Brooklyn Museum, New York, until the beginning of the year.
Jun 13 - Sep 18, 2009. Arndt & Partner. Zimmerstrasse 90-91 10117 Berlin, Germany www.arndt-partner.de