Vase archer en jade céladon pâle sculpté. Chine, dynastie Qing, époque Qianlong (1735-1796)
de forme balustre, le pourtour sculpté à décor de lions archaïques dans les nuages, le col avec deux cylindres de part et d'autre et une frise de leiwen, la pierre d'une belle teinte blanche céladon avec un doux poli, le couvercle manquant. 15,9 cm , 6 1/4 in. Est. 25,000—35,000 EUR Lot Sold 30,750 EUR
NOTE: Vessels of this type were much favoured by the Qianlong emperor who was a keen collector of jade artefacts, especially those made in the form of archaic vessels. The origins of the form of this vase can be found in early bronze wine vessels, such as the Western Zhou bronze hu excavated from a site in Shaanxi province and now in the Fufeng County Museum, illustrated in Zhongguo qingtongqi quanji, vol. 5, Beijing, 1996, pl. 146. The archaic bronze vessel form was later adapted by Song potters who developed the 'arrow' vase form well known in 'Ge' wares, such as the vase, from the Qing Court collection and still in Beijing, published in The Complete Collection of Treasures of the Palace Museum. Porcelain of the Song Dynasty, vol. II, Hong Kong, 1996, pl. 37; and another 'Ge' vase illustrated in Shen Zhiyu, The Shanghai Museum of Art, Beijing, 1981, pl. 41.
For examples of Qianlong period miniature vessels see a set of three pieces that includes a censer, box and an arrow vase with chrysanthemum petal design, published in The Complete Collection of Treasures of the Palace Museum. Jadeware (III), Hong Kong, 1995, pl. 70, together with another set made of spinach green jade that contains a box, censer and a vase, pl. 71.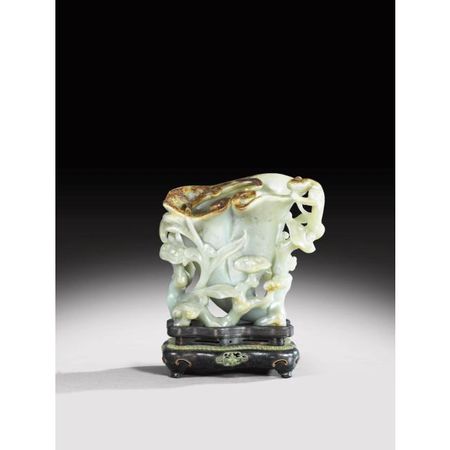 Vase impérial en jade céladon avec inclusions rouille. Chine, dynastie Qing, époque Qianlong (1736-1795)
sculpté de façon très élaborée en forme d'un grand lotus et champignon de longévité lingzhi, deux dragons archaïques qilong escaladant les pétales de la fleur, la tête de l'un s'appuyant sur le rebord du vase son corps formant une anse, la pierre d'une belle teinte céladon veinée d'inclusions rouille exploitées par le sculpteur pour accentuer l'impact visuel de la composition, avec un socle original en bois et ivoire teinté vert, détails d'arabesques en fil de métal. 14,2 x 15,5 cm (sans le socle), 5 5/8 x 6 1/8 in. Est. 25,000—30,000 EUR. Lot Sold 96,750 EUR
PROVENANCE: Collection Logé.
Etude Ader Picard Tajan, vente Drouot 18 octobre 1976, lot 108 (illustré en couverture du catalogue).
EXHIBITED: Musée Cernuschi, mars 1927 no.1237 et avril 1929.
NOTE: This exceptionally carved and beautifully finished vase takes its form and decoration after smaller rhinoceros horn libation cups. As with the majority of jade carvings this vase appears to be a unique piece and no other close example can be found recorded.
For the inspiration of this vessel see a horn cup in the Chester Beatty Library, Dublin, illustrated in Jan Chapman, The Art of Rhinoceros Horn Carving in China, London, 1999, pls. 205 and 206, decorated with large lingzhi fungus issuing from a stem curling around the base and extending on the body and two sinuous qilong with long curling bifurcated tails climbing up the sides. Another rhinoceros horn cup carved with a related decorative motif, in the Gerard Levy collection, Paris, is included ibid., pl. 204, where the stem is used as a handle; and a third example of this type, previously from the Desmond Gure and Arthur M. Sackler collections, was sold at Christie's New York, 1st December 1994, lot 21, and again at the same location, 20th September 2002, lot 127.
The sacred lingzhi fungus is an especially important symbol of immortality and vessels decorated in this manner may have been presented as a birthday gift.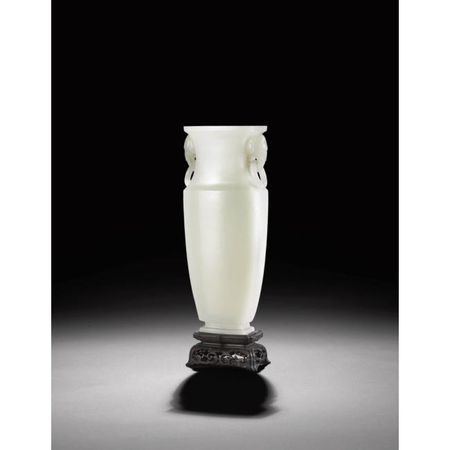 Vase archaïsant en jade blanc. Chine, Dynastie Qing, époque Qianlong (1736-1795)
de forme balustre élancée se rétrécissant vers un pied étagé, les anses en forme de têtes d'éléphants tenant dans leur trompe un anneau mobile, la pierre d'une belle teinte blanche céladon avec un beau poli, socle d'époque en bois sculpté. 19 cm, 7 1/2 in. Est. 4,000—6,000 EUR. Lot Sold 120,750 EUR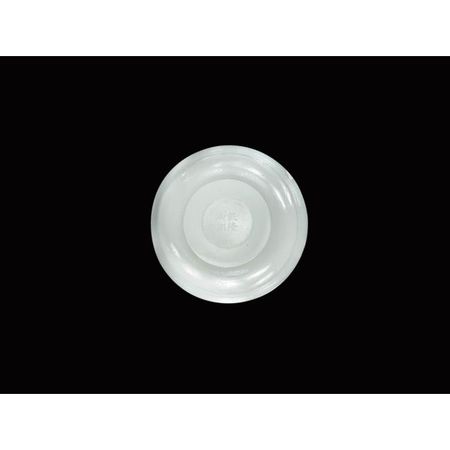 Bol impérial en jade blanc. Chine, dynastie Qing, marque Qianlong Yuyong et époque Qianlong (1736-1795)
circulaire la lèvre évasée sur un petit pied droit, le contour ciselé d'un poème et daté Qianlong gui si xia yu ti (1773), la base avec la marque incisée à quatre caractères Qianlong yuyong. 5 x 14,1 cm, 1 15/16 x 5 9/16 in. Est. 80,000—120,000 EUR. Lot Sold 192,750 EUR
NOTE: The present bowl is inscribed with a poem by the Qianlong emperor, dated to the summer of 1773 A.D. and recorded in The Anthology of Imperial Qianlong Poems (Qing Gaozong Yuzhi Shiwen Quanji, Volume 6, Juan 15, P. 32, under the title Hetian yu wan (Jade Bowl from Hetian).
The perfectly balanced form and the exceptional quality of the stone make this bowl an outstanding piece. The finest jades in China have traditionally been mined from Hetian, located in the southwest of Xingjiang province of Northwest China. Hetian jade has a history of over 2000 years, recorded as early as the Spring and Autumn period (770-476 BC). Historically, it has been considered a priceless treasure, and jade of pure white colouration, such as the present piece, was especially highly prized and sought after.
This bowl is comparable with the fine white jade bowl of similar form and size, carved with the emperor's poem dated to the Spring of the yiwei year of his reign (equivalent to 1739 A.D.) and with a similar four-character Qianlong yuyong mark on the base, from the Qing Court collection and still in Beijing, published in The Complete Collection of Treasures of the Palace Museum. Jadeware (III), Hong Kong, 1995, pl. 209.
A slightly smaller white jade bowl with an imperial poem dated to 1765 A.D., from the Elizabeth Parke Firestone collection, was sold at Christie's New York, 22nd March 1991, lot 532, and again in our Hong Kong rooms, 26th October 2003, lot 33. Another Imperially inscribed and dated bowl was also sold in our Hong Kong rooms, 25th April 2004, lot 51; and one carved with the emperor's poem Sanqing cha (Three Purities Tea) was sold in our Hong Kong rooms, 2nd May 2005, lot 526, of slightly smaller dimensions.
See also a pair of white jade bowls in the British Museum, London, of related form and size to the present piece, illustrated in Jessica Rawson, Chinese Jade from the Neolithic to the Qing, London, 1995, p. 400, pl. 29:13, where the author mentions that bowls of this type represented the highest quality of eating and drinking utensils and were made for the palace and the court. Rawson further notes, ibid., p. 400, that 'both the sumptuary laws, which restricted the use of jade vessels, and passages in novels that mention the use of jade cups and bowls for eating and drinking, make it evident that jade was highly valued and used for these purposes'.
Sotheby's. Asian Art. 11 Jun 09. Paris www.sothebys.com