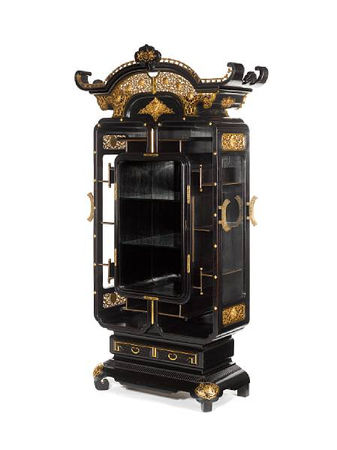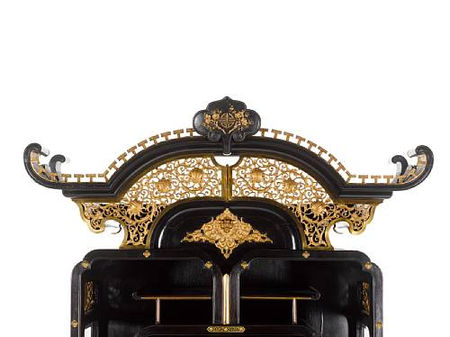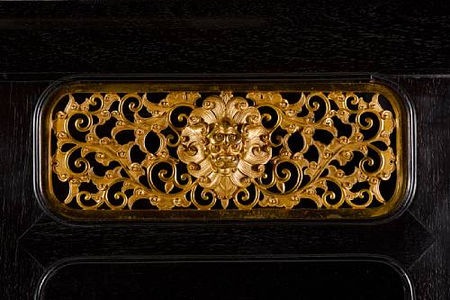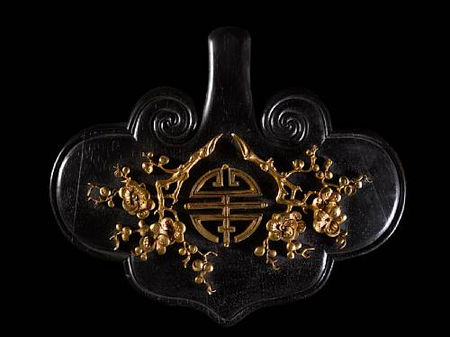 An important ormolu-mounted ebonised Brazilian rosewood vitrine cabinet after a design by Edouard Lièvre, Paris, late 19th century

the pagoda-form pediment centred by a carved lotus flower with blossom branches flanking the longevity Chinese symbol, above a pierced foliate arched section and a Chinese-type lion's mask within an arabesque surround, above a central vitrine, the interior fitted with two shelves, surrounded by open sections with stepped shelves, flanked to each side by stylised handles, the spreading base with a long drawer, on bracket feet, 142cm wide, 56cm deep, 260cm high (55.5" wide, 22" deep, 102" high). Estimate: £200,000 - 300,000, €220,000 - 330,000
Note: The pagoda form and the T gallery surmounting the pediment, the pierced decoration of lotus leaves and the lion's heads are typical of Edouard Lièvre's work, associating Chinese and Japanese ornaments to create inventive pieces. His creations such as the present lot were influenced by a popular fascination for the Japanese culture developing in the 1870s and which will lead to the Art Nouveau.
An identical Chinese longevity symbol can be seen on an aquarium designed by Lièvre and executed by Barbedienne, exhibited in the "Design Contre Design" exhibition at the Grand Palais in Paris (September 2007-January 2008) and illustrated in l'Estampille l'Objet d'art, p.110.

Edouard Lièvre (1829-1886) was one of the most talented designers of the second half of the 19th century. He submitted designs to the most prestigious firms such as Barbedienne or Christofle and later the firm A L'Escalier de Cristal executed some of his creations. Some of his works can be seen in the Musée des Arts Décoratifs in Paris.

Literature:
- Edouard Lièvre, Connaissance des Arts, No. 228, Paris, 2004, pp. 28, 31 and 34.
- R. Polo, Edouard Lièvre, un créateur des arts décoratifs au XIXe, l'Estampille l'Objet d'art, septembre 2004.
- P. Thiébaut, Contribution à une histoire du mobilier japonisant: les créations de l'Escalier de Cristal, Revue de l'art, no 85, 1989.
- D. Ledoux-Lebard, Le Mobilier français du XIXe siècle, pp.190-192.
Bonhams. Fine Continental Furniture & Works of Art, 17 Jun 2009. New Bond Street www.bonhams.com