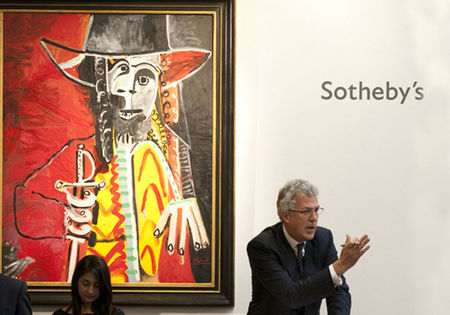 Pablo Picasso's Homme à l'épée selling at Sotheby's this evening
LONDON.- Sotheby's Evening Sale of Impressionist & Modern Art tonight brought a total of £33,531,150/ US$55,323,044/ €39,479,519* – a figure comfortably within the pre-sale expectations of £26,750,000-37,270,000 – and saw 23 of the 27 lots offered find buyers. The sale achieved the best sellthrough rates since last June for an Evening Sale in this category at Sotheby's - a sold-by-lot rate of 85.2% and a sold-by-value rate of 90.8%. Furthermore, eight works sold for prices in excess of £1 million, with an average lot value of £1,457,876. The auction saw active bidding within the room and on telephones from international collectors. Pablo Picasso's Homme à l'épée (lot 8) was the top-selling lot of the evening when it realised £6,985,250/US$11,524,964/ €8,224,421, comfortably within its estimate of £6-8 million, and this represents the highest price of the Impressionist & Modern Art sales series in London this summer.

Commenting on tonight's results, Melanie Clore, Co-Chairman of Impressionist & Modern Art, Sotheby's Worldwide, said: "Tonight's auction saw strong prices achieved across the board and this is a very positive message for the market. We were particularly delighted with the £7 million realised for Picasso's Homme à l'épée - the highest price of the season. The sell-through rate of 85.2% was the highest that we have seen in an Evening Sale in this field at Sotheby's since last summer. This impressive performance is testament to our discriminating selection process when assembling the sale to respond to current market conditions. This evening, we've seen once again that there is still a very healthy ongoing market for great Impressionist and Modern works of art."

The top prices of the evening were:
Pablo Picasso's Homme à l'épée from July 1969 (lot 8), which sold to a private collector for £6,985,250/US$11,524,964/ €8,224,421 against an estimate of £6-8 million. The richly coloured and monumental depiction of a musketeer from the artist's late oeuvre is one of his most important and iconic subjects of this period. Throughout his career Picasso projected the different sides of his own identity in a number of ways and the musketeer was one of the most celebrated subjects and guises of his latter years. The painting starred in the seminal exhibition of Picasso's work at the Palais des Papes in Avignon in 1970 and was selected for the poster advertising the exhibition.

Discussing the price achieved for Picasso's Homme à l'épée tonight, Helena Newman, Director of the Evening Sale and Vice-Chairman of the Impressionist & Modern Art department, Sotheby's Worldwide, said: "This striking painting from 1969, which had never been at auction before this evening, came to the market at a time when the interest in and assessment of Picasso's late oeuvre has never been stronger. It was extremely satisfying to see the painting so admired during its pre-sale exhibition. The price it achieved tonight is indicative of its rarity, quality and iconic nature, having been selected for the poster advertising the seminal exhibition of the artist's work at the Palais des Papes in Avignon in 1970."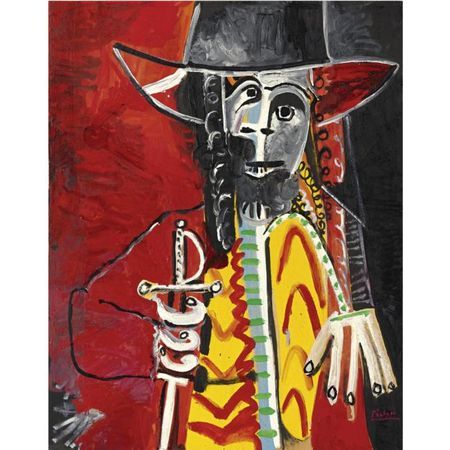 Pablo Picasso (1881-1973) Homme à l'épée, oil on board, 57 1/2 by 44 7/8 in. (146 by 114cm). Painted on 25th July 1969. Lot Sold 6,985,250 GBP. Photo Sotheby's.
A second work by Picasso - a larger-than-life nude entitled Nu debout from 1968 (lot 17) - also performed strongly tonight, selling for £4,297,250/ US$7,090,033/€5,059,575, in excess of the estimate of £3-4 million; it was the second highest lot of the sale. The painting, which belongs to a series of major works that Picasso undertook on the theme of the female nude in the late-1960s, had been in the same private collection for more than 35 years. Executed when Picasso was a man in his late-80s, it is a striking example of the breathtaking flood of invention and fantastic vitality that characterised Picasso's late years.

Claude Monet was represented in the sale by a quintessential winter landscape entitled Route de Giverny en hiver (lot 11), which sold to an Asian private collector for £3,849,250/ US$6,350,878/ €4,532,100, near its high estimate of £4 million. The classic Impressionist scene from 1885 depicts the snow-covered road leading to the town of Giverny, where the artist lived at the time and where he painted some of his most celebrated works.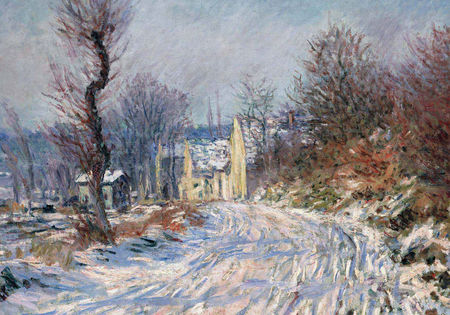 Claude Monet, Route de Giverny en hiver, 1885. Estimate: £3-4 million, sold for: £3,849,250. Photo: Sotheby's
The sale was also distinguished by strong prices for sculpture. In particular, three works by Alberto Giacometti from a private European collection (lots 5, 6 and 7) were highly sought-after and sold for a total of £7,403,750/ US$12,215,447/ €8,717,162, above the combined estimate of £4.2-6.3 million. Diego (Tête au col roulé) was the subject of the lengthiest bidding-battle and soared above its estimate of £1-1.5 million to sell for £2,729,250/ US$4,502,990/ €3,213,414. Dating from the early-1950s, the plaster sculpture merges Giacometti's talents as both a painter and a sculptor. Prominent British artist Barbara Hepworth's unique largescale stone carving Three Standing Forms - inspired by her triplets - ranked among the most important works by the artist ever to appear at auction and it sold for £780,450/ US$1,287,664/ €918,900, against an estimate of £700,000-1,000,000.

The eye-catching vista of Istanbul by Paul Signac entitled La Corne d'or. La Suleimanie (lot 15) attracted interest from a number of prospective buyers and sold to a private collector for £1,385,250/ US$2,285,524/ €1,630,991, against an estimate of £1.2-1.8 million.
Paul Signac, La Corne d'or. La Suleimanie. Estimate: ,200,000—1,800,000 £, sold for: 1,385,250 £ . Photo: Sotheby's