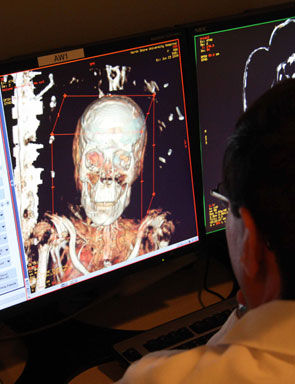 CT Scan Image of the Skull of the Mummy of Hor. Photo © Adam Husted
BROOKLYN, NY.- Four human mummies from the Brooklyn Museum's renowned Egyptian collection underwent computed tomography or CT scanning at North Shore University Hospital on Long Island yesterday.

Hospital spokeswoman Michelle Pinto said to MSNBC that the testing enables radiologists to learn about the bones and skeletal system of the mummies in extraordinary detail, without having to do invasive or damaging procedures.

The CAT scan revealed a mummy named Lady Hor was male. "It's definitely a man," said Edward Bleiberg, curator of Egyptian art at the museum to the New York Daily News. "Physiologically, it's really clear.

The discovery was made after Chusid, a radiologist, and Dr. Amgad Makaryus, director of cardiac CT and MRI at the Manhasset hospital, performed a 64-slice computed tomography, or CT scan, on the mummy, reported Newsday.

The Brooklyn Museum's collection of ancient Egyptian art, considered one of the finest in the United States, includes mummified remains of several animals and eleven humans. Through the CT scanning, Brooklyn Museum curators are learning more about each of the four mummies and the ancient civilization in which they lived.

The mummies that underwent CT scanning are a Royal Prince, Count of Thebes, who is more three thousand years old; Hor, who was believed to be female prior to yesterday's CT Scan and is actually male; Thothirdes, who is more than 2,500 year old; and a mummy about which little is known, that dates back to the first century C.E.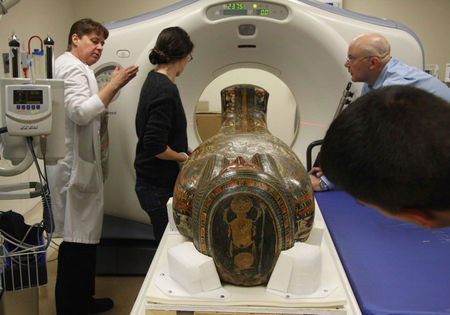 Cartonnage Containing Mummy of Hor (ca. 712-664 B.C.E.) is Prepared for CT Scanning at North Shore University Hospital. Photo © Adam Husted