26 juin 2009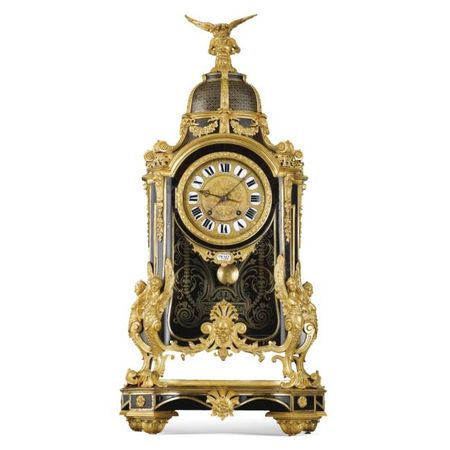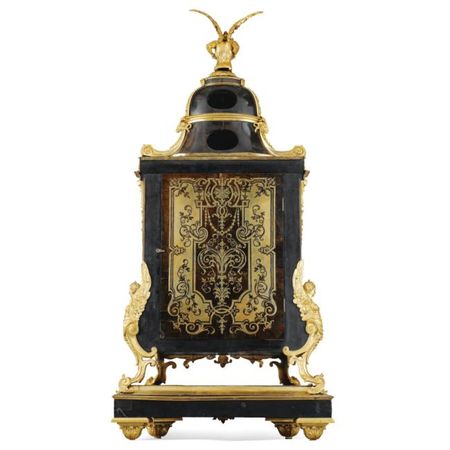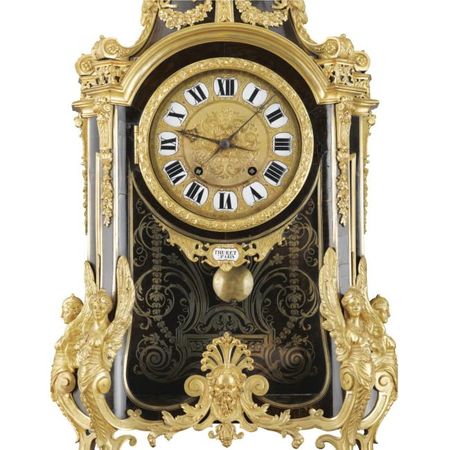 A turtleshell and brass boulle marquetry cartel clock, the dial signed by Isaac Thuret horloger du Roi Louis XIV, early 18th century
Estimate 80,000—120,000 GBP
LITERATURE AND REFERENCES : Royal Clocks, Cedric Jagger, P.124-125
French Clocks The World Over, Tardy, Vol. I, P.154
NOTE : The design of the case of this clock is generally attributed to André-Charles Boulle, (1642-1732), who was appointed cabinet maker to Louis XIV in 1672, (see fig.1.). Referred to by Tardy as a 'helmet' clock, it is also known as a 'pendule aux harpies'. A rare model, the known examples all differ slightly in the composition of the mounts and inlay. Sometimes supplied on a pedestal, another example on a similar stand was sold Sotheby's, Mentmore, 18th May, 1977, Lot 5.
Isaac Thuret, (circa 1630-1706), a great French clockmaker. After serving his apprenticeship he was received as a master clockmaker at Faubourg St. Germain-des-Prés in 1662 and in Paris before 1675. He held a number of Royal appointments and was an ingenious and inventive maker. His finest clocks were housed in cases supplied by André-Charles Boulle.
Sotheby's. Important Furniture, Silver, Ceramics and Clocks. 07 Jul 09 03:00 PM. London www.sothebys.com
Commentaires sur A turtleshell and brass boulle marquetry cartel clock, the dial signed by Isaac Thuret horloger du Roi Louis XIV, early 18th c.