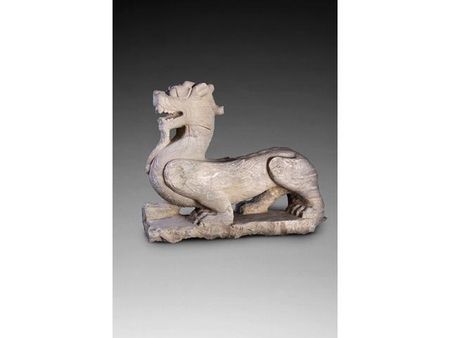 Sculpture en ronde bosse figurant une Bi Xie. Chine, Han de l'Est, IIIe-IVe siècles.
Calcaire oolithique. Dimensions : 74 x 55 cm. Cette pièce devait faire partie d'une paire. Analyse scientifique du CIRAM. Estimation : 40 000/50 000€
Provenance: collection de Monsieur Tony Anninos (Sausalito, Californie).
Muséographie : Musée de Kansas City, The William Rockhill Nelson Collectio, p. 148 , Blitz Chinese ceramics & works of Art, Maas¬tricht 09, p. 208. Dynastie des Royaumes combattants (453 – 221 avant J.-C.)
Note: La Bi Xie, l'un des enfants du dragon, est un animal mythique doté du pouvoir magique d'éloigner les esprits malfaisants et les influences néfastes.
Lundi 29 juin, salle 4 - Drouot-Richelieu. Wapler Mica SVV. M. Cohen. wapler@aol.com