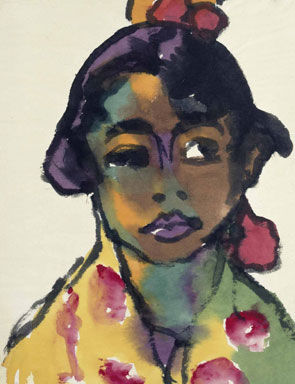 Emil Nolde, Spanierin, 1921. Aquarell, dünnes Japanpapier, 47,4 x 35 cm, sign. o.l.: Nolde © Nolde Stiftung Seebüll bpk / Kupferstichkabinett, SMB. Foto: Jörg P. Anders
BERLIN.- As a main proponent of expressionism, Emil Nolde (1867-1956) ranks as one of the most renowned German artists of the 20th century. With its 110 works (made up of some 36 watercolours and approx. 70 of the artist's most important graphic prints - including etchings, lithographs and woodcuts), the Museum of Prints and Drawings in Berlin not only owns one of the oldest, but also one of the most comprehensive public museum collections of the artist's work, second only to the Nolde Foundation Seebüll, which administers Nolde's estate, and the Sprengel Museum Hanover, which owns a large collection of Nolde's prints.

In the numerous Nolde exhibitions that have come to be held both at home and abroad, the spotlight is usually placed on the artist's paintings above all else. Nolde appears to be somewhat lesser known as the creator of exceptional printed works which take profound themes as their subject and which are executed with brilliant technical skill. The graphics also reveal Nolde's distinctly painterly temperament, something which often came to the fore in his technical experimentation (etching technique) and variegation. As a printmaker, for instance, Nolde was to have a decisive influence on the 'Brücke' artists, and on their etchings in particular.

All key aspects of Nolde's work are depicted in the exhibition and are spread across six thematic areas: Joie de vivre and the Existential - Portraits - Pictures of the Sea and Ports - Cities and Landscapes - Biblical Pictures - Journey to the South Seas. Of all the works on display, the 26 watercolours detail the journey to the South Seas, which formed part of a bundle of some 50 sheets which were presented as a gift in 1919 from the Reich Colonial Office to the National Gallery and which mark a highpoint in Nolde's oeuvre (in 1937, twenty-four of the watercolours were confiscated for being 'degenerate').

As an accompaniment to this particular aspect of Nolde's work, several of the artist's paintings as well as sculptures and pieces of jewellery from the inhabitants of the South Sea islands will also be on display, on loan from the National Museums in Berlin's Ethnographic Museum.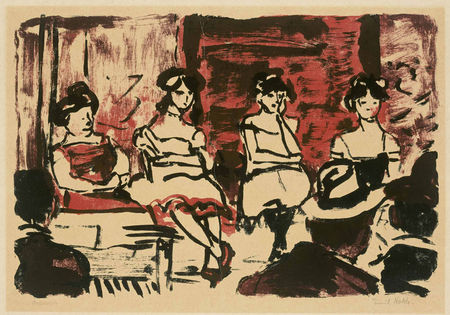 Emil Nolde, Tingel-Tangel II., 1907. Farblithographie, Tusche, Pinsel, dreifarbig (Dunkelblau, Rot, Violett), Bild: 32,5 x 48,5 cm, Blatt: 43,1 x 61 cm, Probedruck © Nolde Stiftung Seebüll bpk / Kupferstichkabinett, SMB. Foto: Jörg P. Anders