Jakob Bogdany (Eperjes circa 1660-1724 London) Cherries, plums and peaches with a façon de venise wine glass on a marble ledge with a red admiral butterfly
oil on canvas. 37 x 30.2cm (14 9/16 x 11 7/8in) Estimate: £6,000 - 8,000, €6,900 - 9,200
PROVENANCE: with Brian L. Koetser, London, 1965
Sale, Christie's London, 11 December 2002, lot 62

NOTE: Mr Fred G. Meijer of the RKD has confirmed the attribution to Bogdany upon firsthand inspection of the painting.
Bonhams. Old Master Paintings, 8 Jul 2009. New Bond Street www.bonhams.com
COMMENTAIRE: Jacob Bogdani is best known as the foremost painter of exotic animal and bird compositions of the late seventeenth and early eighteenth centuries. He was born in Eperjes, Saros, in Hungary in 1658. He worked in Amsterdam from 1684 and in 1686 shared a residence there with Ernst Stuven, the well-known still life painter. Bogdani arrived in London in 1688 and became known as 'The Hungarian'. Here he soon acquired a considerable reputation as a specialist still life and bird painter at the court of Queen Anne and several of his paintings are in the Royal Collection.

One of his early commissions was a set of flowerpieces for Queen Mary's 'Looking glasse closett in the Thames gallery' at Hampton Court Palace. Bogdani also supplied paintings for King William's palace at Dieren, Holland. One of his most important patrons was Admiral George Churchill, the Duke of Marlborough's brother, whose famous Windsor aviary might have provided subjects for some of his works. Several of George Churchill's pictures are now in the Royal collection, having been acquired by Queen Anne after his death in 1710.

His canvases are usually crowded with groups of exotic wild fowl displaying all their colourful finery to their best.

Museums where examples of the artist's work can be found include:

Budapest (Hungarian National Gallery), Chatsworth House, London (The Victoria and Albert Museum, The Royal Collection), Nottingham Castle Museum.
Jakob Bogdany, Fruit-piece with Stone Vase, Oil on canvas. Hungarian National Gallery, Budapest
Jakob Bogdány (1660-1724), Still Life Of Grapes, Peaches, And Figs With A Landscape Beyond. Oil on canvas, 29 x 24 inches (75 x 62.9 cm) Private collection
Anoter still life from Jakob Bogdany available for purchaise at Rafael Valls London :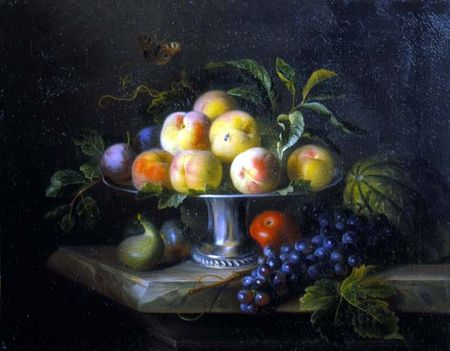 Jakob Bogdany, A Still Life of Peaches on a silver Tazza with a Melon, an Apple, Grapes and Figs on a stone Ledge
Oil on Canvas. 19 x 24 inches (48 x 61.1 cms) Signed. Enquire about this painting www.rafaelvalls.co.uk
PROVENANCE: Mr Mansford, England;
his sale, Christie's, 3rd July 1880, lot 112;
English Private Collection