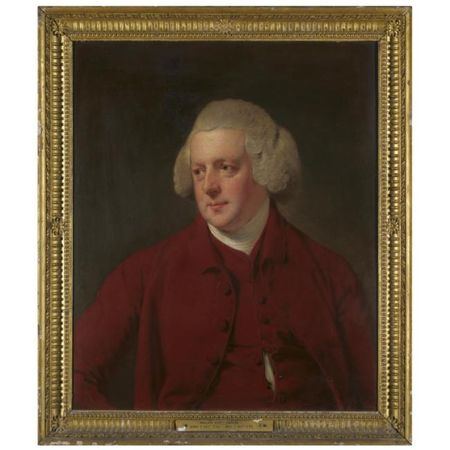 Joseph Wright of Derby, Portrait of William Alvey Darwin (1726-1783) is expected to bring £40,000-60,000. Photo: Sotheby's
LONDON.- In the anniversary year when interest in the life and work of Charles Robert Darwin (1809-1882) is as high as ever, Sotheby's announced that it will offer for sale three exceptionally rare portraits of members of his family in its sale of Early British Paintings on Thursday, July 9, 2009. The three portraits depict Charles Darwin's grandfather, the consultant and physician Erasmus Darwin (1731-1802); his great uncle, William Alvey Darwin (1726-1783) and also William's wife, Jane Darwin (1746-1835) with their son, William Brown Darwin (1774-1841). All three paintings are the work of Joseph Wright of Derby, one of the foremost portrait artists of the day. The three works have never appeared at auction before, having been commissioned by William Alvey Darwin in the late 18th century and having since passed down through successive generations of William's family. The group has a combined estimate of £290,000-410,000.
Joseph Wright of Derby, Portrait of Erasmus Darwin (1731-1802) is expected to bring £100,000-150,000. Photo: Sotheby's.
Portrait of Erasmus Darwin (1731-1802) is expected to bring £100,000-150,000 and the sitter was one of the most famous men of the his day and is here portrayed by his friend Joseph Wright of Derby, one of the foremost portrait artists of the day. The sitter was born on the 12th December 1731 at Elston Hall, near Nottingham, the seventh child of Robert Darwin (1682–1754), a lawyer and his wife, Elizabeth née Hill, (1702–1797). He was sent to the Chesterfield School in 1741 and in 1750 became a student at St. John's College, Cambridge, where he studied medicine. He held the Exeter scholarship there and whilst a student travelled to London to attend the lectures of the surgeon William Hunter. He subsequently studied medicine in Edinburgh, then the major centre for medical education in Europe.
Darwin established his first medical practice in Nottingham in 1756 and soon moved to Lichfield, where his practice flourished. He married Mary Howard (b. 1740), the daughter of Penelope (née Foley) and Charles Howard, a Lichfield solicitor, in 1757. Mary died in 1770 leaving three surviving children, Charles, who died at the age of nineteen, Erasmus, who became a lawyer and Robert Waring who became a successful physician and father of Charles Darwin, the author of The Origin of the Species. Darwin later formed an attachment to a Mary Parker (1753–1820) with whom he had two illegitimate daughters, Susan and Mary Parker.
At the time this portrait was painted in 1770, Darwin's medical practice dominated his life. He travelled extensively to treat patients and maintained a lively medical correspondence, providing advice and reflecting on specific cases. Innovative in his treatments, he experimented with drugs (including digitalis), gases, and exercise regimes, as well as unsuccessfully attempting inoculation of his own children. He was concerned with illnesses of both the body and mind, with heredity and with broad public health issues, including improving nutrition and ventilation. A keen inventor, among his many mechanical contrivances was a new steering mechanism for carriages, a copying machine and even a mechanical bird. Botany also became an absorbing practical and theoretical interest for Darwin by the late 1770s. He constructed his own botanic garden outside Lichfield and undertook the translation of writings of the Swedish naturalist Carl Linnaeus (1707–1778).
Wright was a friend of John Whitehurst, the Derby inventor, who was well known to Darwin, being a member of the 'Lunar' group. When Wright became unwell c. 1767, Whitehurst would have recommended him to consult Darwin and it is probable that Wright stayed at Darwin's house in Lichfield on several occasions in the late 1760s and early 1770s. This portrait is one of two versions of Darwin portrayed in his role as consultant and physician dated 1770, the second is now on permanent loan to Darwin College, Cambridge (a copy which is not certainly original was acquired by the National Portrait Gallery in 1859). Darwin's friend Anna Seward recalled that the present portrait of Darwin was a good likeness, 'Dr Darwin sat to Mr. Wright. That was a simple contemplative portrait, of the most perfect resemblance.'[i] And indeed here Darwin is portrayed contemplating the viewer as if momentarily pausing during a consultation.
Darwin and Wright's paths continued to cross throughout their subsequent careers. It is possible that Wright introduced Darwin to his second wife Mrs Elizabeth Pole (1747–1832), widow of Colonel Edward Sacheverell Pole, who had sat to Wright and subsequently consulted Darwin on medical matters. A true icon of the Age of Enlightenment, Darwin was a founder of provincial scientific societies whose aim was to forward the progress of knowledge in these fields. They included the Botanical Society at Lichfield, the Lunar Society of Birmingham, and the Derby Philosophical Society. Wright was not invited to join any of these societies but he painted the portraits of members of both Societies and was clearly influenced by their revolutionary and enlightened ideals on topics from manufacture to slavery. Darwin was clearly also captivated by the artistic talents of Wright and in his later poetry he makes reference to the skills and attributes of Wrights landscapes. Darwin sat to Wright again in c. 1792-3 (Private Collection) seated, as a gentleman of letters, contemplating the middle distance with a quill in his hand.
In 1801 Darwin became seriously ill from pneumonia and retired from medical practice. Although he continued work on poetic works he and his family moved out of Derby in March 1802 to Breadsall Priory, which had been purchased by his son Erasmus. Darwin died there, apparently of a lung infection, on 18 April 1802 and was buried in Breadsall church.
Joseph Wright of Derby, Portrait of Jane Darwin (1746-1835) and Her Son William Brown Darwin (1774-1841) has an estimate of £150,000-200,000
Portrait of Jane Darwin (1746-1835) and Her Son William Brown Darwin (1774 1841) has an estimate of £150,000-200,000 while Portrait of William Alvey Darwin (1726-1783) is estimated at £40,000-60,000.
Jane Darwin was the daughter of Joseph Brown of Balderton, Nottinghamshire. She married William Alvey Darwin on the 28th October 1772. Her son William was born on the 12th February 1774 and died on the 10th June 1841. On the 22nd May 1817 he married Elizabeth daughter of Nicholas de St. Croix.
Following four years in Rome, Wright decided his best chance of success lay in filling the place left vacant in Bath since Gainsborough had left the town and settled in London. Wright moved to Bath with his family that autumn and only remained there for two years. He returned to Derby in the September of 1775 and the following year he painted the portraits of William Alvey Darwin (see first image) and Jane and her son.
At this time Wright had developed a close friendship with William Hayley and his friend the portrait artist George Romney. Romney's influence can be seen in this portrait which appears to owe part of its inspiration to Romney's portrait of Mrs Cawardine and her Child painted in the previous year. Both portraits acknowledge a debt to Raphael's Madonna della Sedia (Pitti Palace, Florence).
George Romney, Portrait of Mrs. Anne Carwardine and her eldest son, Thomas, 1775, Oil on Canvas. Estimate 200,000—300,000 GBP. Lot sold 408,800 GBP. Sotheby's London: Thursday, November 27, 2003 [Lot 9] Important British Pictures. photo Sotheby's
Raphael. Madonna della Sedia. 1512-1514. Oil on panel. Palazzo Pitti, Galleria Palatina, Florence, Italy
[i] See A. Seward, Memoirs of the Life of Dr Darwin, 1804, p. 21